Mare Street Market | An Old Office Block Transformed Into A Hip East London Hangout
Let's all give a big hand to the office blocks of the 60s.
Dismissed as criminally ugly for decades, brutalist blocks across London are being gutted and transformed, ugly duckling-style, into artful, mid-century-styled hangouts like Toklas and Netil 360.
Just across the road from Netil… Mare Street Market.
It's a sprawling project from Barworks (the people behind the Wenlock & Essex, Electricity Showrooms and the 5cc bars) that, unsurprisingly, is planted on Hackney's Mare Street. They've taken over a previously nondescript council office block, giving it a big architectural rejig, and filled their now open-plan space with a record shop, a florist, a bakery, a deli, a cocktail bar, a barber, a tattooist… and several restaurants. Here's how the 10k sq ft of space all breaks down:
–
THE FOOD
Mare Street Market's showstopper restaurant is The Dining Room, starring an abundance of eclectic chandeliers and quirky, assorted touches like gothic statues and life-size replica giraffe necks. And in fact, all of those things – chandeliers included – are available for sale from the in-house furniture store Pure White Lines.
If you don't fancy dining under the sword of Damocles, you can grab a more casual bite at the Open Kitchen in the open-plan heart of Mare Street Market. Both spots serve the same, all-day menu, featuring BBQ'd tamarind seabass; burnt aubergine with tahini yoghurt; classic rib-eye steak with garlic & herb butter; and a lengthy list of sourdough pizzas. Of course, this is Hackney, so you can also drop in for a hearty brunch (try the potato rosti) and Sunday roasts on weekends.
And last but not least, there's the deli, serving up Canon & Canon charcuterie and Secret Smokehouse fish in sandwiches and salads by day, and more elaborate small plates by night.
–
THE DRINK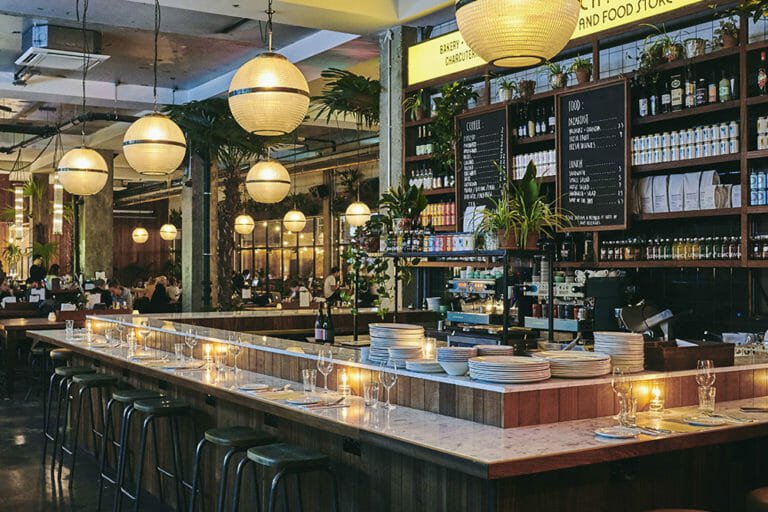 Quenching thirst in the daytime, Mare Street Market has a coffee roastery from the Flying Horse coffee shop, and quenching thirst in the nighttime is The Bar, whose vast, 15-page menu spans everything from vegan-friendly wines and booze-free options to craft beers, ciders, amaro and classic cocktails.
–
THE REST
Amongst Mare Street Market's other charms, you'll also find a vinyl record store, Stranger Than Paradise, run by a former Rough Trade East manager (which even has its own DIY podcast studio); a rotating guest pop up shop; and a neon-soaked outpost of local florists Rebel Rebel.
It's not just your garden variety market.
NOTE: Mare Street Market is open daily – you can find out more, and book tables, on their website HERE.
Mare Street Market | 89-115 Mare Street, E8 4RT
---
Want to know what's coming up? Check out our guide to London restaurants opening soon…