Market Hall Victoria has increased in size.
It's now called Market Halls Victoria.
On a serious note, though, since the initial launch in 2018, they've also added a rooftop terrace that looks out over Victoria Station, so you can eat your food calmly while watching all the folks below make the last-minute dash to catch their trains. The slight name tweak is probably to keep it from feeling left out compared to other halls the team handle; Market Halls Oxford Street and Market Halls Cargo Canary Wharf.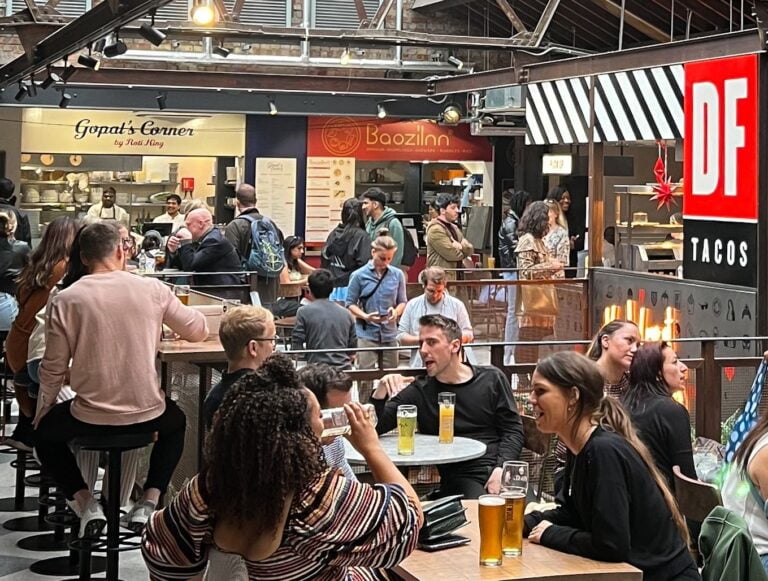 Market Halls Victoria is set in a beautiful old building – previously a club, but originally an Edwardian arcade – that's been restored to its former glory. By that we mean the baroque cornices, stained-glass windows and skylights are still in full view, and are accompanied by modern touches like marble-topped communal tables, slick parquet floors and suspended greenery. Any dancing may be frowned upon….
The main hook is still the food, of course, as is the Market Halls standard, and they've reeled in eight vendors of various cuisines, all jostling for your attention and subsequently paralysing you with choice (there's 60 dishes all told, to further emphasis the choice paralysis). They are as follows:
Butchies | All about buttermilk fried chicken, in a burger, on their ownsome, and with dips like buffalo sauce and chilli honey.
BaoziInn | Northern Chinese dim sum, with spicy influences from Sichuan.
Gopal's Corner | Kalpana Sugendran's homage to his parents' Sri Lankan restaurant of the 70s, where you can score flaky roti and Malaysian & Tamil dishes.
Fanny's Kebabs | An import from the original Market Hall Fulham, serving wraps, rice boxes and flatbreads.
Hotbox | Succulent, slow-cooked and insanely-tender cuts of meat, nurtured inside a 1-tonne rotisserie smoker.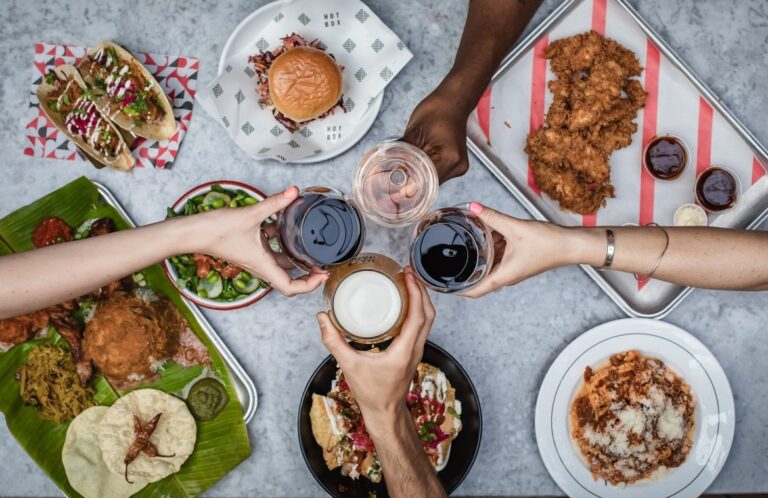 Pasta Evangelists | The name sums it up, but it's two Italian chefs doing pasta from a failsafe carbonara to a deluxe black truffle mac & cheese.
DF Tacos | A trimmed down version of the Shoreditch store, so tacos filled with sustainably sourced meat and nachos levelled-up with chorizo & homemade guacamole.
House of Cinn | Have the dessert market all to themselves, purveying their perfectly-formed cinnamon buns with flavours spanning from the classic cream cheese to modern day faves cookies and cream & salted caramel and pecan. The company is also involved in the commendable mission of breaking the cycle of homelessness, which you can read about here. Best to take two or three buns then…
…as a gesture of goodwill.
NOTE: Market Halls Victoria is open daily. You can find out more, and check out their website right HERE.
Market Halls Victoria | 191 Victoria Street, SW1E 5NE
---
Looking for a place to eat in the area? Check out the best restaurants in Victoria