Mayha | Omakase Under A Stunning Canopy of Lights
Traditionally, following a white rabbit can lead to some interesting adventures.
And if you find yourself walking over one painted onto a manhole cover on Chiltern Street, we recommend that you follow that rabbit towards the otherwise dark, innocuous frontage of Mayha.
It's the sister to an omakase restaurant of the same name in Beirut, run by the excellently named Nothing But Love Group (who are behind a good portion of some Beirut's finest food and drinks spots like The Backburner, Skirt, and Maryool).
Passing through a kind of airlock with two glass doors, you'll emerge into a tiny dining room, sheltered under a stunning, tree-like canopy of lights. There's space for just a dozen diners along the curved wooden counter, behind which a small, denim-clad team assemble the impressive line-up of dishes. But while the food is taken seriously, there's a lightheartedness to Mayha – from the chopstick rests (variously representing laughing pigs, dogs and an octopus) to the eclectic soundtrack that encompasses Nina Simone, T. Rex and La La Land.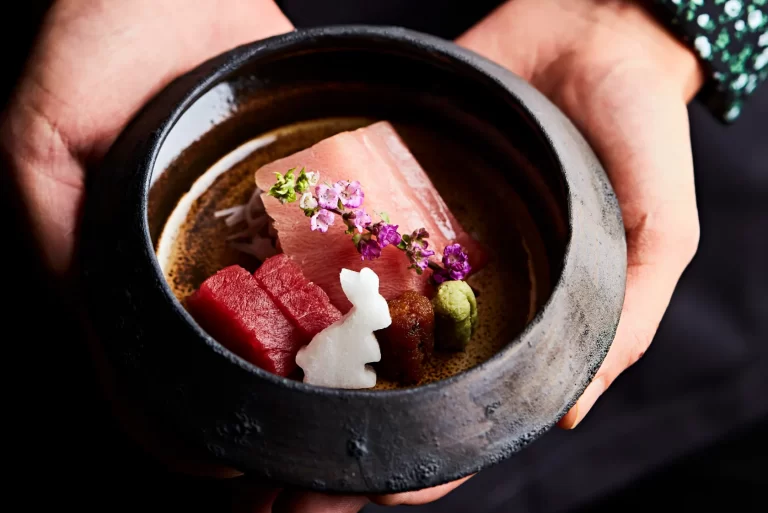 Doing the business in the kitchen are chefs Jurek Wasio and Yuichi Nakaya, who have made the trip from Mayha in Beirut. Here, as with the original, they preside over the omakase menu – essentially a blind tasting menu where they plate up whatever's good that day. Of course, that means the dishes could be different from week to week (and even day to day) but you might get to sample the likes of melt-in-the-mouth tuna sashimi (presented on a scale from lean maguro to fatty otoro cuts); stone bass nigiri and pungent uni (sea urchin roe) wrapped in nori. The quality of the fish is absolutely exceptional. It all builds to a larger dish – perhaps a hearty donburi – and you can cap it all off with desserts like the twist on tiramisu, served with coffee ice cream and a dusting of matcha.
Oh, and that wrought-iron spiral staircase behind you? Follow it down, down, down…
…because it leads to a low-lit basement bar and a bijou heated courtyard. Here you can retreat for a Japanese whisky nightcap, a little sake, or cocktails like the Ikki Smash (with Japanese shiso and citrus). There's also the option to book in at the bar for a miniature omakase experience, featuring five cocktail-paired courses including scallop crudo served with a Goose Spritz (fresh gooseberries, elderflower and Champagne).
It's a rabbit hole you'll be glad you fell down.
NOTE: Mayha serves lunch (£100) and dinner (£220) from Tuesday – Saturday, with the bar's omakase menu priced at £135pp. They take walk-ins for lunch, drinks & bar snacks, but for dinner you can book ahead HERE. Please inform them of any allergies in advance; vegetarian menus can be prepared with 48h notice.
Mayha | 43 Chiltern Street, Marylebone, W1U 6LS
---
Like staying on top of the food and drink scene? Then you might like our guide to London restaurants opening soon