Milk Balham | South London Brunch Café of Legend
Milk is good for you – by which we mean, this South London brunch spot will help you to hit your recommended weekly intake of caramel-topped buckwheat pancakes, sweetcorn fritter stacks and scrambled eggs with smoked caviar.
Milk has been a Balham fixture since 2012 and a beacon calling diners from all corners of the city. Three years in they bought the shop next door, knocked through the walls and doubled their size; a move that did absolutely nothing to thin out the queues weaving through the door and along Hildreth Street market. They remain, unfortunately, a walk-in only restaurant, but even at weekends you're unlikely to wait for longer than half an hour for a table.
Outside, there's a smattering of al fresco tables on the pedestrianised street which are frequently blessed with sunshine, while inside you'll be met with elegant interiors from Duelle Studio, who have dressed the place with whitewashed brick walls and neat square tiling, retro formica-topped tables, and plenty of plants adorning the unusually-shaped space.
The menu at Milk Balham is a combination of regular and guest cast members. Classics include the Young Betty, a souped up eggs royale made with dry cured and oak-smoked bacon from nearby Clapham butchers M. Moen; alongside baked eggs with feta and sage; Full English burgers packed with hash browns, eggs, and showered in soft curls of parmesan; and the Sweet Maria – a reclining stack of sweetcorn fritters, halloumi, avocado and chopped tomato…
…but on any given weekend, you'll also find a seasonally changing topping to their buckwheat pancakes. Previous riffs have included coco de nata, yuzu parfait, green tea and sesame praline; strawberries and wild meadowsweet; and blood orange, stem ginger posset and burnt marzipan. They're also jaw-droppingly beautiful.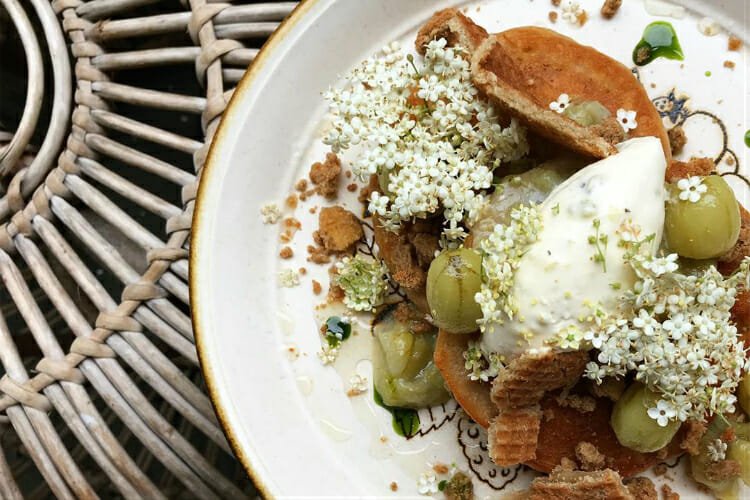 Drinks and desserts are equally worthy of top billing – there is, of course, excellent coffee (both hot, from Swedish roasters Koppi, and iced, served in Milk-branded beer bottles); freshly pressed juices; and Milk's famous soft-serve ice cream, in quirky flavours like kaffir lime leaf, roasted kinako (Japanese soy flour) and bee pollen with honeycomb.
It's a big claim, but if anyone can bear the title of best brunch in South London… it's Milk.
NOTE: Milk is open for brunch all day, every day, 8am-3.30pm (4pm Sat, 9am-4pm Sundays). There are no bookings; find out more HERE.
Milk Balham | 18-20 Bedford Hill, SW12 9RG
---
Got Milk? Then tick off somewhere new from our Ultimate London Brunch Guide