Noble Rot Soho | Fine Wines & Relaxed Fine Dining
London has a rot problem.
There's not enough of it.
Thankfully however, Bloomsbury's Noble Rot – one of the best wine bars & restaurants in the city – is finally spreading. After spending 4 years blowing people's socks off there, it's borne a yet-more central restaurant in the former home of the Gay Hussar.
Those are some pretty big boots to fill too: the Gay Hussar had been there for 65 years, and was notoriously a hotbed of political plotting, backstabbing, and other such traditional Westminster pursuits. Unfortunately, Westminster itself is now a little too far to trek from just for lunch & a little light conspiracy; those things are both available on Deliveroo these days. So the Hussar's main client base ended up declining, and it finally closed in 2018.
Fortunately, Noble Rot has an equally memorable name (it refers to a kind of fungus at grows on grapes which in certain conditions can, instead of killing you, actually produce a rather nice sweet wine) and some top shelf talent behind it, thanks to award winning chefs Stephen Harris (The Sportsman) and Alex Jackson (Sardine).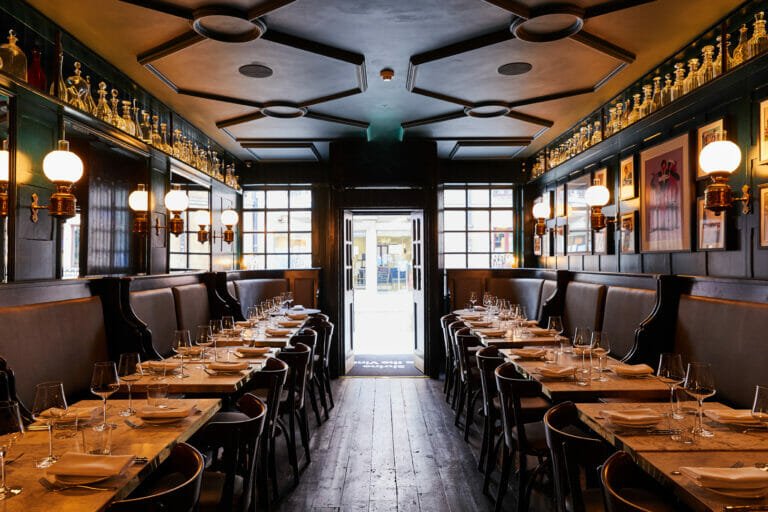 They've created a menu of seasonal British food, like this roast chicken with morels and vin jaune; or perhaps a little Delica pumpkin and spinach salad drizzled with Roquefort butter; or choux buns with duck liver parfait and Tokaji jelly. There's also the occasional sly nod "to The Gay Hussar's glory days", with dishes like eggs Casino, and a daily goulash.
And of course, there's a wine list like no other. Biblically long, it pokes into some truly interesting corners of the wine world, thanks to the owners Dan Keeling and Mark Andrew, both of whom run a wine import business and a wine magazine. Their own house white – the iconic Chin Chin – is made in partnership with Antonio Monteiro over in Northern Portugal, and starts at a very reasonable £3 a glass.
Chin chin indeed.
NOTE: Noble Rot Soho is open for lunch and dinner, Mon-Sat. You can reserve a table right HERE.
Noble Rot Soho | 2 Greek Street, W1D 4NB
---
Like dining in central London? Check out our pick of Soho's best restaurants.