Officina 00 | Fresh Pasta in Old Street
Cottoning on to a recent trend in Italy (and by 'recent' we mean '750 years old'), London can't seem to get enough of fresh pasta.
From Borough Market's Padella, to Mayfair's 10 Heddon St, to Soho's Lina Stores, it seems to be everywhere. And now an important gap has been filled in Shoreditch, thanks to Officina 00.
It's opened just off the Old Street roundabout, and if you happen to wander past their restaurant space sometime in the morning and glance in the floor-to-ceiling windows, you'll more than likely see the chefs busily kneading, rolling, and delicately shaping fresh pasta in all its wondrous variety.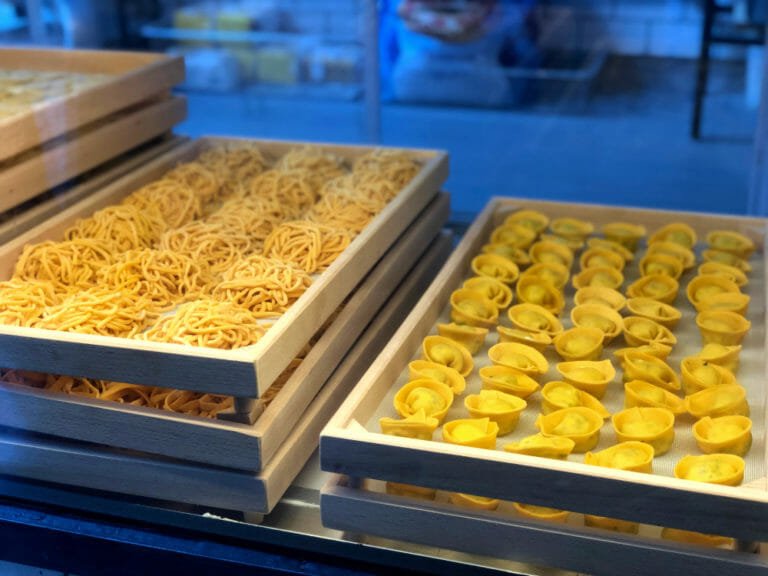 The all-new space was "an empty shell" when the owners (Elia Sebregondi and Enzo Mirto, both of whom hail from Naples) got the keys. Between now and then they've gilded the bare concrete interior with glazed bricks, some simple wooden furnishings, a bar, a pasta workshop, and a couple of shelves for greenery.
Officina 00, by the way, means 'office 00' and is a reference to the fine-milled double-zero flour they use in the kitchen, and not just for pasta either: you can whet your appetite with some house-made sourdough & olive oil; some grissini breadsticks with buffalo ricotta, lemon zest, and chilli powder; or a few Southern Italian tarallo bread rings with almond, black pepper, and lard.
The starters then include some refreshingly light dayboat fish tartare with citrus & pink peppercorn; a tomato salad with anchovies, capers, and basil; or a stupendously rich fried ravioli with cacio & pepe.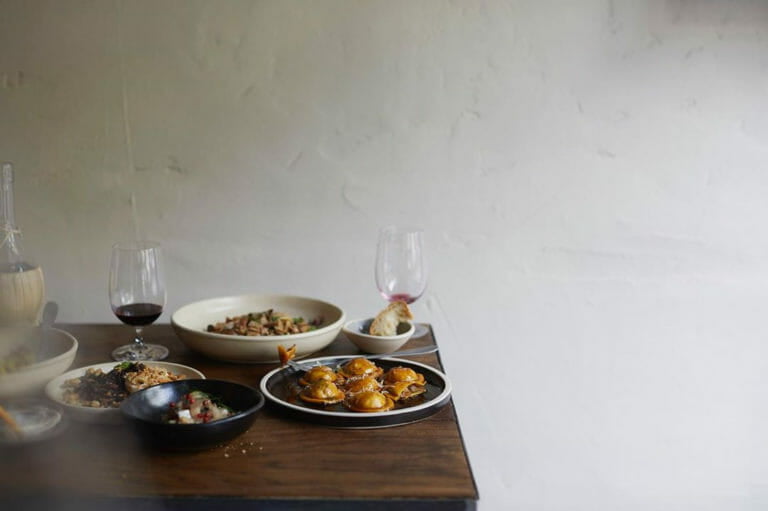 Then, the pasta menu then kicks in, including corzetti (pasta discs, about the size of a very large coin) with wild mushrooms, fennel sausage, and parsley; some linguine with egg yolks, lemon and clams; cavatelli (they looks like teeny-tiny hot dog buns) with padron peppers, almond pesto and crispy coppa; and some plump, circular occhi ravioli filled with a braised pork Genovese, sour parsley, and aged provolone.
For dessert, there's just one option – profiteroles, which are also made fresh each day, then filled with lemon cream and enrobed in chocolate. And to drink? You'll find a few cocktails, some Italian wines on tap, and a little home-made limoncello to round it all out.
Gotta drown those carbs somehow.
NOTE: Officina 00 is open for lunch and dinner, Monday-Saturday. You can find out more, and book a table, HERE. Officina 00 also runs pasta-making masterclasses, starting at £70. You can find out more here.
ALSO NOTE: Heading central? Check out the sophomore branch, Officina 00 Fitzrovia.
Officina 00 | 152 Old Street, EC1V 9BW
---
Love pasta? Then make a dent in our bucket list of fresh pasta restaurants