Okan | Osakan Cooking in Brixton
We've just discovered a really great new restaurant in Brixton.
Mum's the word.
Seriously though, it's called Okan, or 'mum' in Osakan slang and it's all about showcasing Osaka cuisine.
For anyone wondering, Osaka is the third biggest city in Japan (after Tokyo and Yokohama). It's also nicknamed 'the nation's kitchen' which, as it happens, has a lot more to do with its role in the Japanese rice trade than its food, although really it could/should be both.
Location-wise, you'll find it tucked away in the bustling foodie hub that is Brixton Village. Like most places there, it's a pretty small, no-frills kind of space, with a mix of tables both inside and out. The food menu too is pretty straightforward. In fact, there is a grand total of four dishes to choose from:
Teppan yaki – 'teppan' meaning 'metal plate' and 'yaki' meaning 'griddled' or 'pan-fried', i.e. a selection of griddled meats, served on a bed of bean sprouts, and sprinkled with spring onions.
Omu yakisoba i.e. your usual ramen-style wheat noodles tossed about with various vegetables and meats. Except this time, it's all folded into a bright yellow omelette.
Spicy miso udon pot, which essentially does what it says on the tin: thick, wheat-flour noodles, served in a hot, spicy soup.
And then the star of the show, Okonomiyaki (a sort of frittata-like, savoury Japanese pancake, made with cabbage and spring onions, plus your choice of vegetables, cheese, or meat). At Okan Brixton you can choose between king prawns, beef, cheese & corn, or the 'Special Okonomiyaki' (king prawns, squid, kimchi and sweetcorn) which truly is as wild as it sounds.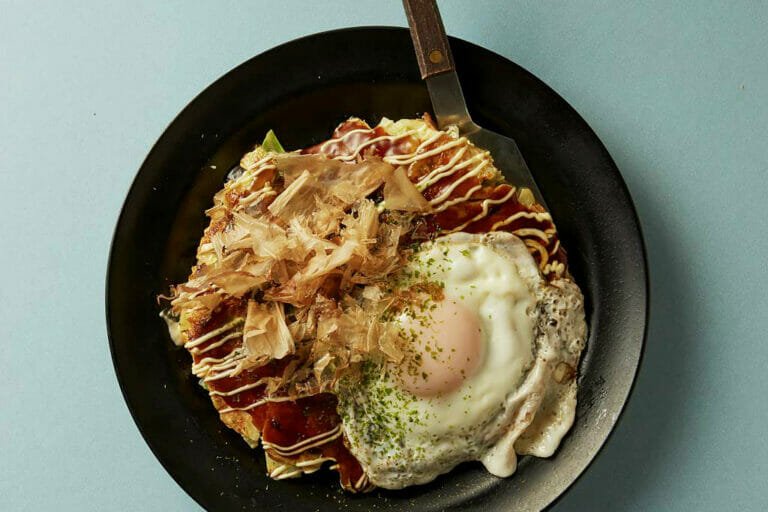 Of course, all that food and you'll probably find yourself a little thirstful. Which is good because it means you won't miss out on their sparkling elderflower and fresh ginger juice, or their cold green tea. They also have a small selection of stiffer stuff available: some Japanese beers and sakes which are hard to turn down. You're meant to be having the night off?
Mum's the word.
NOTE: Okan in Brixton Village is open for lunch and dinner, Monday-Sunday. Don't forget, it's walk-ins and card payments only. For any more information you can visit their website here.
Okan Brixton | Unit 39, Brixton Village, Coldharbour Lane, Brixton, SW9 8PS
---
You know where else is good nearby? These other excellent Brixton restaurants…