Orasay | Exquisite Seafood in Notting Hill
Chef Jackson Boxer is going for lucky number three.
That is, of course after already nailing it with lucky numbers one and two.
Completing the hat trick in his restaurant portfolio – which includes Brunswick House and St Leonards – is Orasay. You'll find it in Notting Hill (on the extremely likeable Kensington Park Road), where it's nestled itself into a charmingly light sleeve space filled with wood & wicker, and opening out into a skylight-illuminated alcove at the back.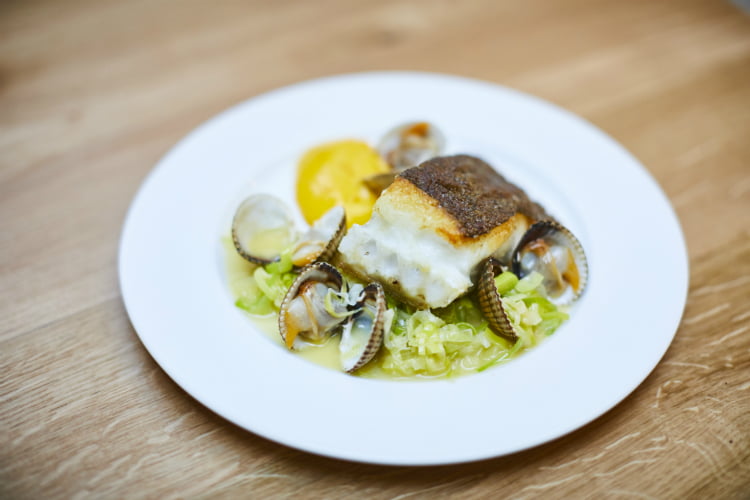 For the menu, Boxer has drawn on his own Scottish roots for inspiration – specifically, his "lifelong love affair with the Outer Hebrides". Which means a lot of really, really good seafood. You can expect river oysters with shallots & elderflower champagne; grilled Bara surf clams with smoked bacon & black sesame; white leg shrimp & pork agnellotti, and more. But there are a few land-based dishes too, and they include a magnificent shorthorn rib with black kale.
The drinks are mostly grape-based, and those wines come housed in glasses, carafes, and bottles, and in colours from white, to red, to orange, to pink. Boxer's even dipped into his own "extensive personal cellar" for a few rarer bottles on the reserve wine list, should you want to spring for one.
So at least he's not being shellfish.
NOTE: Orasay is open Mon 6pm-12am; Tues-Sat 12pm-12am; Sun 12-6pm. You can check out their website, and make a booking right HERE.
Orasay | 31 Kensington Park Road, W11 2EU
---
While you're in the area… check out Notting Hill's best bars