Park Row | Fine Dining… Inspired by Gotham City
What should you use after Batman shampoo?
Conditioner Gordon.
Speaking of whom… Park Row is London's immersive Batman-styled restaurant, which opened in Soho in 2021. The general idea here is to recreate the sweepingly grand Art Deco vibe of early, old-school Batman, and bring Gotham city to life by drawing inspiration from its more notable residents, including The Penguin, Harley Quinn, The Joker, Catwoman and more. But to be clear, no-one is in costume. Actors won't accost you. Waiting staff aren't 'in character'. Patrons who dress up will be turned away. It's a less 'in-your-face' more 'subtle attention to detail' form of immersive experience. A fine dining, high end version of Gotham, if you will.
So what to expect? Well, walking in to Park Row's ground floor reception area, you'll find yourself in the living room at Wayne Manor itself. A word to the butler, and you'll see the bookcase open up, and reveal the Bat-cave style staircase to the lower levels. Then, you'll be surrounded by a specially designed mist and enter into Pennyworth's which is the first of Park Row's five separate areas (yes, five – the whole place is 18,000 sq ft). Next door – and also serving the same main menu – you'll find the other two restaurant spaces; The Iceberg Lounge is centrepiece by a giant penguin statue, with live '30s-era music throughout the week, and then there's the Rogue's Gallery (main photo) where you can dine underneath famously stolen artworks.
The menu in all of these various spaces is now the work of one Alyn Williams – and if that name doesn't ring any bells yet, just know that his debut restaurant, Alyn Williams at The Westbury, won a Michelin Star less than a year after opening. He's also worked with chefs like Marcus Waering and Gordon Ramsay, helping their restaurants to win multiple Michelin Stars, too.
Now, he's brought all that culinary nous and flair to Park Row, partnering with illusionist & mental magician Chris Cox to imbue the whole menu with theatricality and showmanship. You can start with a cocktail like the Blue Boy, for instance, which is poured out of a painting. You'll see the colour drain from the character in the frame, and pour right into the cocktail glass. After that, you can try some 'nitro popcorn' which sees a tray brought table side, with toffee popcorn instantly chilled to a brittle-cold temperature by a mist of dry ice.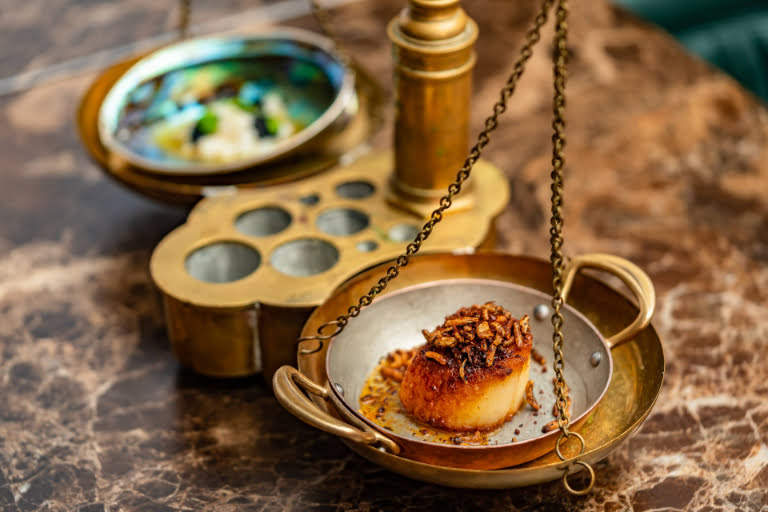 After that, the mains and the sides don't slow down – there's southern fried soft shelled crab served on a Gotham City newspaper, there are two scallops served in a set of scales (The Scales of Justice) seared on one side, and ceviche'd on the other. There's even a rabbit & smoked chicken terrine plucked from a hat. But not everything has a bombastic entrance, if you want a steak, you can get a steak, whose only flashy accompaniments will be a small copper pan of bernaise, or a whole Scottish lobster (conveniently de-shelled) that's been grilled and bathed in tomato bisque. It's fun, but without compromising the quality.
Then we come to Park Row's pièce de résistance: The Monarch Theatre. This is their 20 seater, tasting menu-only experience. The space has been decked out with floor-to-ceiling screens, and tables assisted by 360-degree projection mapping so as to create an overwhelmingly immersive experience. The 11-course meal will play out over three hours and in two 'acts', with a digital-theatrical accompaniment. You'll get to eat the pearl necklace Bruce Wayne's mother wore, plus wagyu steak, truffle, scallops, oysters and more. It's a snip at £195 per head.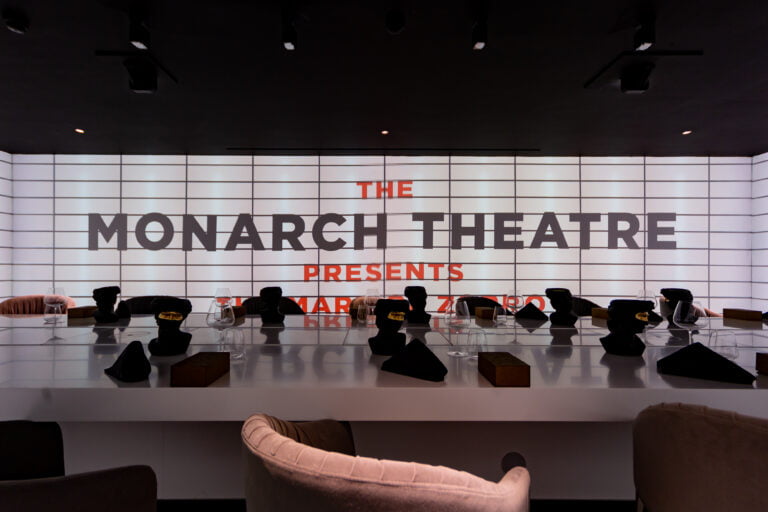 And finally, if you fancy a drink after all of that then you'll be able to retire to hidden late night bar Old Gotham City, where they're serving "clever cocktails". Of course, we assume they know what goes into Batmans's favourite drink…
…just ice.
NOTE: Park Row is open daily. You can find out more and reserve your table at the website right HERE.
Park Row | 77 Brewer St, W1F 9ZN
---
If you like this… there's every chance you'll love these hidden bars across London.