When you hear the phrase "run by the former head chef at the Palomar" in relation to a new restaurant, it tends to be a good sign. A very good sign.
Exhibit A: Bubala, run by former Palomar head chef Helen Graham. Exhibit B: Nutshell, run by Helen's successor Jeremy Borrow (and sadly now closed, but hugely popular in its time). Which brings us, ladies and gentlemen of the jury, to Exhibit C: Pascor.
Planted on Kensington High Street, it's the work of chef Tomer Amedi, the erstwhile kitchen commander at Soho's best Middle Eastern restaurant. The venue itself has been around for a few years now, going through a couple of name changes in the process. So when Tomer came aboard he decided to change everything except the name, so as to avoid giving the impression of an identity crisis.
Everything else has been overhauled – the interior, the menu, you name it, making it for all intents and purposes a totally new restaurant. Downstairs it's got an airy, brick-walled space dominated by the open kitchen, where you'll see Tomer do his glorious thing. He sings, he dances, he cooks, and he chats to the patrons lining the bar. His attitude is infectiously upbeat and – when you see him croon to classic tune – it comes as no surprise that he personally curates the music playlists. Upstairs is the slightly more refined dining area that makes up for its lack of energetic chefs with a beautifully arched window flooding the place with light.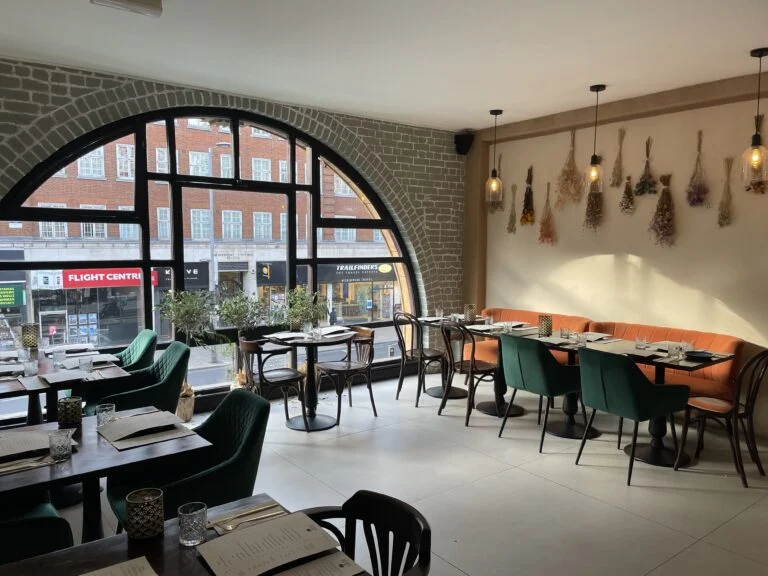 The food is – brace yourself – Middle Eastern, and most of it has spent some time on a open flame, starting with the smoked black tahini which accompanies the huge, fluffy bricks of Sanmneh challah bread; then moving onto the beautiful cured mackerel, which comes with charred beetroot & labneh Sour cream. Going larger you'll find a dukkah-spiced Egyptian duck breast salad, and there's a thinly sliced charcoaled Wagyu skirt that comes with a whole bone's worth of meltingly good bone marrow, and a pomegranate & herb chimichurri.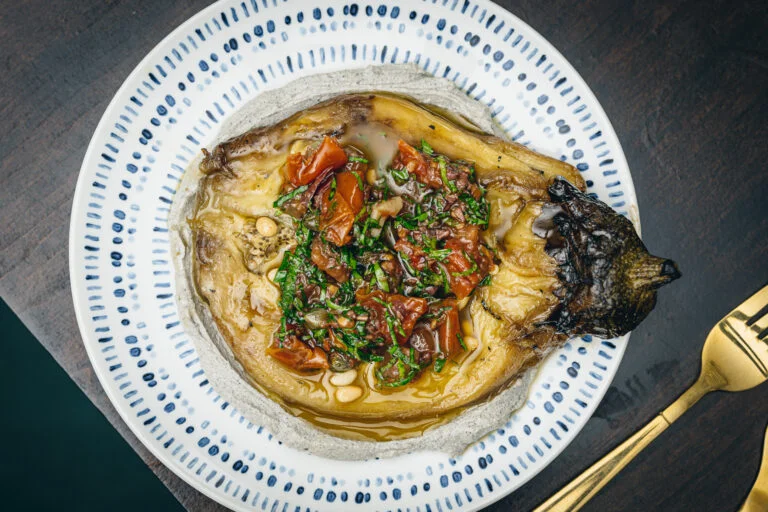 As for the cocktail situation? There's a Turkish twist on the White Russian, made with Turkish coffee & cardamom-infused vodka; and the astringent Avi Bitter Lemon, apparently named after an Israeli celebrity known for his "sour" expression, and made with ouzo, mint, grapes, and bitter lemon. If you fancy some wine, the chef has gone to the trouble of curating the list there, too. He's compiled a whole load of Levantine vintages, and made almost all of them available by the glass thanks to the venue's Coravin machines.
The verdict?
There are some truly wonderful dishes on offer here, the benefits of having a tightly curated menu from a first-rate chef. Just ask Tomer what to recommend, and he'll point you toward something delicious. And probably regale you with a tune, too.
NOTE: Pascor is open now. You can find out more, and make a booking at the website right here.
Pascor | 221 Kensington High St, W8 6SG
---
Want to see the competition? Here are the best restaurants in West London…