If you're going to put up rooftop pergolas, you need good rooftops. And if you want good rooftops, you need tall buildings. And if you want tall buildings, you need to go to Canary Wharf.
So it seems strange that it's taken the guys behind Pergola Paddington this long to do exactly that.
But they have, and what we've got in return is a remarkably lush venue with a stellar terrace that looks like it's wearing a 50ft visor. It's in the former home of Giant Robot, one of the more unique spaces in the capital, and it's accessed through a quasi-futuristic botanical garden on a rooftop several stories up, and overlooking a river. Wend your way through the greenery, and you'll emerge into Pergola on the Wharf, which has enough plant-life dotted around the space to make it seem like a seamless transition between garden and restaurant.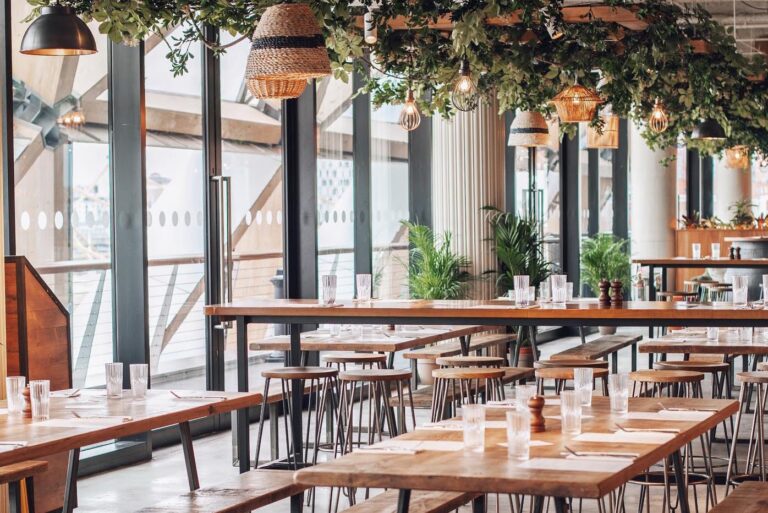 And make no mistake, this is a restaurant. Unlike the other Pergola venues in the portfolio, there are no street food traders, no food trucks, or pop up bars. The menu is all an in-house operation, put together by the former Executive Chef of Mac & Wild, Nick Wyborn. He's split the menu offerings between the Earth, Land, and Sea – thus you can expect everything from a béarnaise burger (Land) to masala-spiced monkfish (Sea), to charred cauliflower with fermented chilli sauce (Land). Oh, and brioche doughnuts, too.
That said, it's doubling as one of the best bars in Canary Wharf too, with 10 draught taps putting out everything from Camden Hells, to a Wild Card Brewery special that perpetually changes. For the cocktails, they're following the restaurants lead, and sticking to the Earth, Land & Sea theme, with the likes of a Sweetroot Sour with sloe gin & beetroot (Earth), a Breakfast Bourbon with bacon fat-washed whiskey (Land), and a Salted Cucumber Spritz, with vodka, sea salt, and apple (Sea).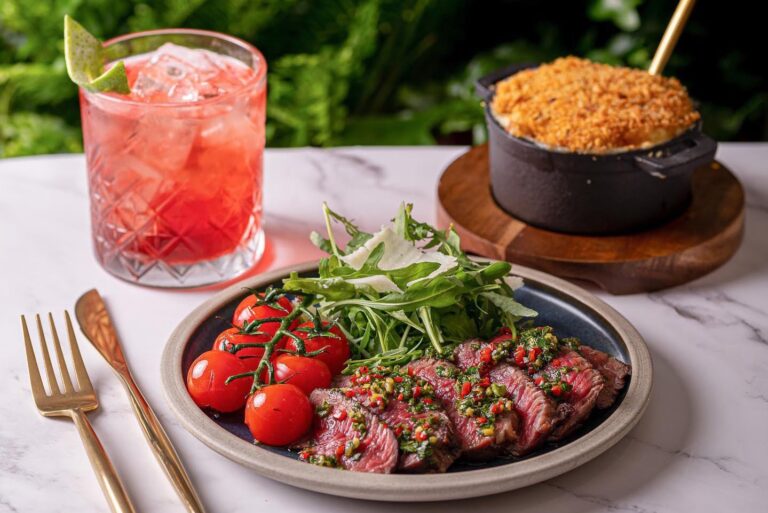 Finally, they're also quite bravely putting on Pergola Lates every Friday, with a lineup of DJs running from 7.30pm, through sunset, and up to 1am. There are no tickets, no entry fee, no nothing. But if you still don't think it's brave…
…you just haven't seen Canary Wharf on a weekend.
NOTE: Pergola on the Wharf is open daily, 12pm-late. You can find out more, and book, at the website right HERE.

Pergola Canary Wharf | Garden Level, Crossrail Place, Canary Wharf, E14 5AR
---
Looking for outdoor dining ideas? Behold our list of (really good) places to eat outside in London