Pizza Pilgrims Soho | Dean Street Restaurant
A couple of years back the Elliot brothers were fed up.
So they quit their jobs, bought a three-wheeled 'Piaggio Ape' van and travelled around Italy at 32 MPH, getting drunk and eating as much pizza as possible.
Since returning from their impromptu gap year they've turned that van into one of the most popular food trucks in Soho; become the poster boys for London street food; published a book; starred in their own TV series; and, have now opened the doors to dozens of Pizza Pilgrims restaurants in London, and beyond.
And they've achieved all of this without any sort of discernible plan, or ever stopping having fun.
Which, we can all agree, is a really annoying story.
Making the situation even worse (for everyone who isn't them) is the fact that they're both extremely likeable. And they rather gamely decided to open their first spot right next door to Pizza Express in Soho.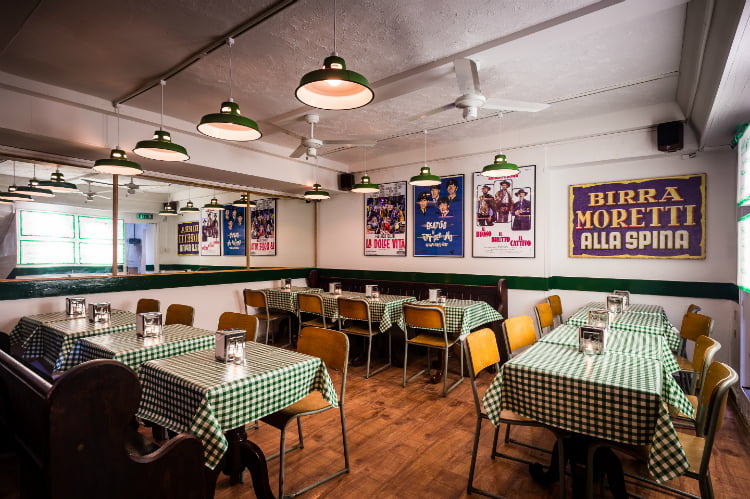 Packing in the punters since 2013, it's still worth a visit to where it all began because:
A) Their pizzas are great,
B) You'll have fun, and
C) They're serving wine on tap.
From the outside the restaurant looks like a little takeaway kiosk. The real action, however, is underground: descend the spiral staircase and you'll find a bustling pizzeria decked out in green and white; a bespoke Pizza Pilgrims fussball table; a selection of Lambrusco (which they firmly believe shouldn't only be drunk in bus shelters); plus Negronis and homemade limoncello accompanying those famous pizzas – topped with everything from spicy Calabrian sausage to black pepper salami from Naples – and desserts like mini ice-cream cones and Nutella pizza rings.
And you definitely wanna pizza that.
NOTE: Pizza Pilgrims Soho is open for both lunch and dinner, all week long. They don't accept reservations so just turn up whenever you fancy. They also offer takeaway, and Soho Square is just up the road…
Pizza Pilgrims Soho | 11 Dean Street, Soho, London W1D 3RP
---
Love pizza? Then consider our list of best London pizza spots your duty to complete