London is awash with wine bars, but we all know it's never been about quantity.
Instead it's about places like Quality Wines, a Farringdon-based bottle shop, bar and restaurant, offering up a hefty list of mostly natural wines and Mediterranean-leaning small plates so good, you'll think your Nonna cooked 'em. 
As you might have guessed, it comes from the same folks behind its neighbour, the esteemed Quality Chop House (which has been running for over 153 years now), so even before it opened we suspected it might be good. But then we actually visited –  we saw the shelves stocked with wine bottles and delicious, independent produce; took a perch at the big central bar; and dizzied ourselves on too much plonk in the warm glow of low-hanging pendant lighting – and we realised, it actually wasn't good. It was great.
Early on in the week they operate exclusively as a shop, Then, come Wednesday, they put out the tables and chairs and the inside merriment begins. Wine is available by both the glass and the bottle, with options by the glass changing daily, meaning you're unlikely to see the same stuff twice. Bottles on the other hand come from the surrounding shelves which you can pick from and pop for £15 corkage.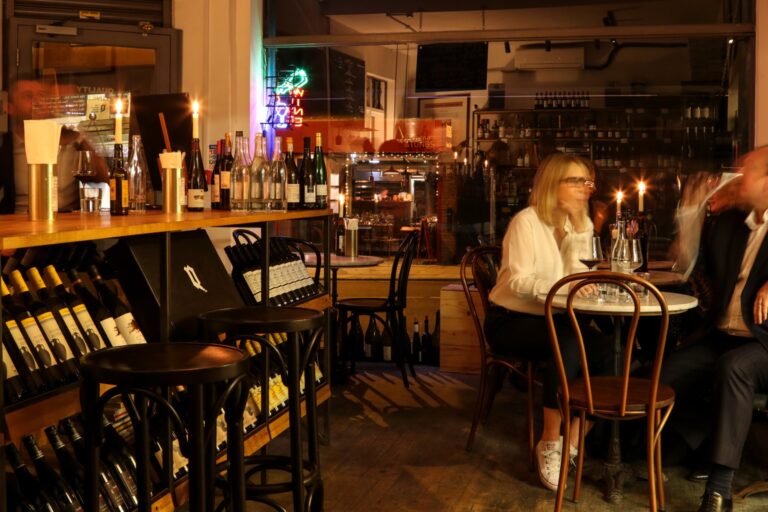 As for the food, it also promises to keep things exciting. Head chef Nick Bramham scribbles up a new short but decently varied menu each week depending on what produce is seasonally available, and you take it from there. There's always a selection of nibbles: house-baked focaccia, ready to be soaked in golden olive oil, cheese and charcuterie. Then there's things like fennel and blood orange salad; tomatoes, borlotti beans and marjoram; spaghetti alle vongole; or braised lamb ribs with soft polenta and salsa verde; which can be eaten individually or shared. There's also usually a special, singular dessert: almond and lemon cake with crème fraîche or apple, marsala & cinnamon tart. 
It's honestly the perfect cool-but-casual place for a first date. Or the 28th, when romance is still important but dressing up is less so. Otherwise, you can come with a group of 6-10 friends and enjoy all of the above packaged up into a four-course tasting menu for just £39….
Quality and quantity.
NOTE: Quality Wines is open for dinner, Wed-Sat, 5-10PM. For more information or to book visit their website here.
Quality Wines | 88 Farringdon Road, London, EC1R 3EA
---
Looking for more ideas in the area? Our Farringdon area guide's full of 'em.