Relais De Venise L'Entrecote | Traditional French Cuisine in Marylebone
In 2004 Barry Schwartz, a Swarthmore College professor, drew on the research of various psychologists, economists and scientists to conclude in his book "The Paradox of Choice (Why More is Less)" that we would be happier and better off if we could just learn to voluntarily constrain our freedom of choice.
The founders of the world-famous L'Entrecôte restaurant in Paris, or "Relais de Venise",  deserved to get a mention in Schwartz's book because constraining choice is what they're all about.
Their Marylebone Lane outpost, just like their flagship restaurant in Paris, offers you two choices: what you'd like to drink, and how you'd like your steak cooked.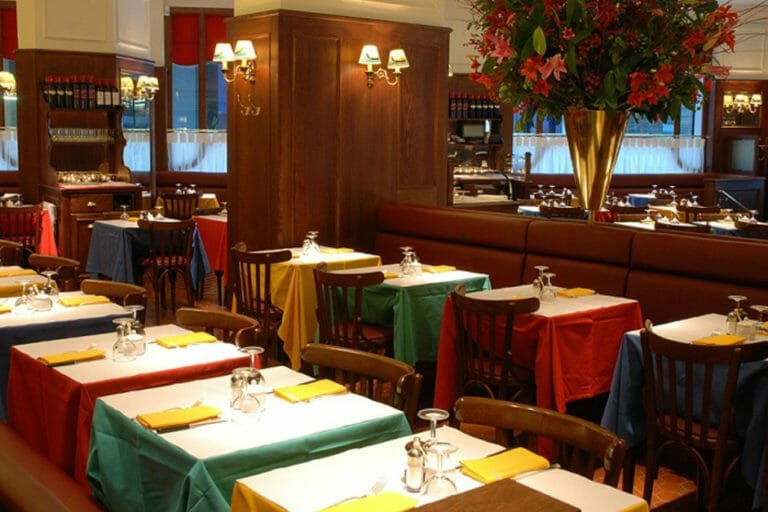 Everyone gets the same starter, whether they'd like it or not: a green salad with mustard vinaigrette, topped with walnuts. And everyone gets the same main course: steak frites (including their "special sauce").
It works well, and certainly a lot better than it would work if the only main course on offer were vegetable lasagne or quiche.
Because the Paris restaurant has never taken reservations, there's always a queue outside the door by 7pm. And the London restaurants (they also have one in Soho and on Throgmorton Street in the City) are proving equally popular.
It must be Barry's idea of the perfect restaurant: succulent, tender Scottish beef with crispy hand-cut French fries – and your only choice is how to have it cooked.
A point, merci.
NOTE: L'Entrecôte is open for lunch and dinner daily. It's a no-bookings restaurant, so just turn up. You can find out more right HERE.
ALSO NOTE: L'Entrecôte "welcomes" vegetarians in a hilarious – and very French – way. Sticking to the theme of limiting diners' choice, the vegetarian option (a set meal which comes in at £21 like the steak frites) is: green salad and walnuts to start (no surprise there), a selection of cheese for main and then a dessert. Heh.
Relais de Venise | 120 Marylebone Lane, W1U 2QG
---
Like steak? Check out our guide to the most underrated steak restaurants in London