To get to Roji, first you need to wander past the high-end boutiques of South Molton Street, then take a sharp turn down the little alleyway about halfway down its length.
Directly in front of you, you'll see a Japanese restaurant. Don't be fooled, this isn't Roji, it's Chisou. Which is also excellent, but being the only other building in the alleyway, it possibly makes this the street with the highest concentration of high quality Japanese restaurants on earth. And as opposed to Chisou's decorative flourishes Roji seems virtually invisible, with just a small, understated sign and a little brass bell next to the door. Give it a sharp ring, and the door will open to reveal the space inside.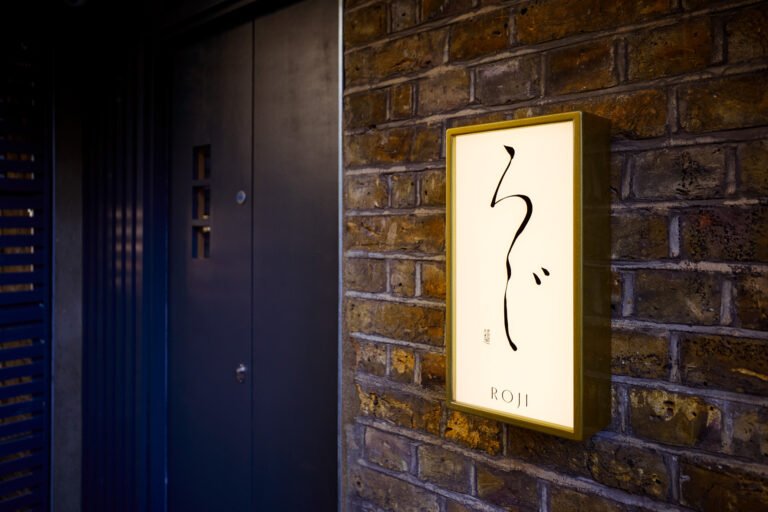 There are just ten seats, lined up along a small sushi counter that wraps around the kitchen. Inside are husband & wife team (Tamas & Tomoko) who are diligently prepping the various dishes – this is their operation, but they're also backed by the folks behind Sushi Atelier.  It's extremely elegant, and feels very intimate. And with its pale wood bar, sliding screen doors, and subtly minimalist lighting, it feels very Japanese too.
After a drink, an ice-cold hand towel, and a short speech from Tamas welcoming you to the restaurant, things get going, with dishes placed on a small stone pedestal in front of your table setting. The menu changes seasonally, but currently shows off summer dishes like delicately sliced Arctic char dressed in a bright gooseberry irizake seasoning. Then, there's a crispy & hot wedge of grilled eel sitting on a bed of sticky, glutinous rice. After that, a wooden bowl of lobster & summer vegetables swimming in chilled broth. Then, an absolute standout: two scallops wrapped in seaweed, and tempura-fried. They're at once crispy, silky, salty, and subtle, all in one mouthful.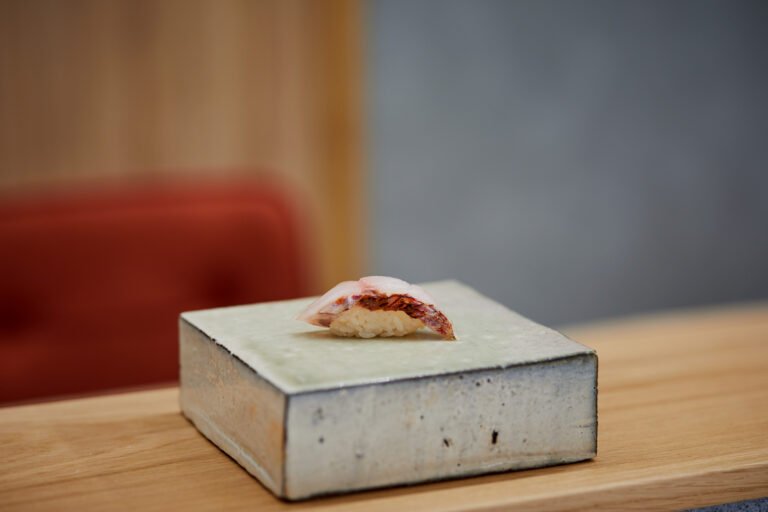 It's at this point, at the halfway mark of the meal, that Tamas & Tomoko tease you with the 'cutting' of the sushi rice, mixing it with their blend of vinegars in a huge wooden bowl, and getting it ready to finish the evening off with. Then comes a hot dish of clear soup with crab cake & an aromatic fig leaf ("don't eat that bit" Tamas advises "it's purely for fragrance"); and a plate of roasted trout marinaded in sake lees, and some summery vegetables.
And then comes the sushi.
Tamas & Tomoko both take an aquarium's worth of fish and – using knives that look terrifyingly sharp – fastidiously slice the fillets into small bullets, ready to drape onto the rice. Each one is prepped and handed directly to you, meaning it's not really possible for it to get any fresher. Depending on what the catch was that day, you'll get anything from seabass to mackerel, to langoustine, to squid, to salmon (given a light blowtorch), to three types of tuna. And goodness, that tuna is good. Tamas will even tell you when the fish was caught, how much it weighed, and exactly how fatty it is.
After that, to top everything off, there's a small plate of cherry blossom ice cream with a fermented cherry compote.
It's almost literally the cherry on top.
NOTE: Roji is open now. There are two sittings per night (6pm & 8.30pm) and the set menu costs £150pp. You can find out more, and make a booking at their website right here.
Roji | 56B South Molton Street, W1K 5SH
---
Like being told what to eat? Here's where to order omakase in London…