Santa Maria | Fulham Pizzeria
Around the start of the 2010s, London's pizza scene got a lot better.
Like, a ludicrous amount.
And although we could try and unweave the rich tapestry of factors which led to this influx of superior dough disks, instead we'll just embrace simplicity and pin the blame on the city of Naples. That's where Neapolitan style pizza comes from, and that's where Messrs Angelo Ambrosio & Pasquale Chionchio grew up. What makes a Neapolitan style pizza so much better than the competition? Well, a lot to be frank – most notably the dough, which is given 24hrs to rise and then scorched in a 500-degree C wood fired oven for 90 seconds, puffing up the crust into a beautiful, crispy crown flecked with black-burned scorch marks.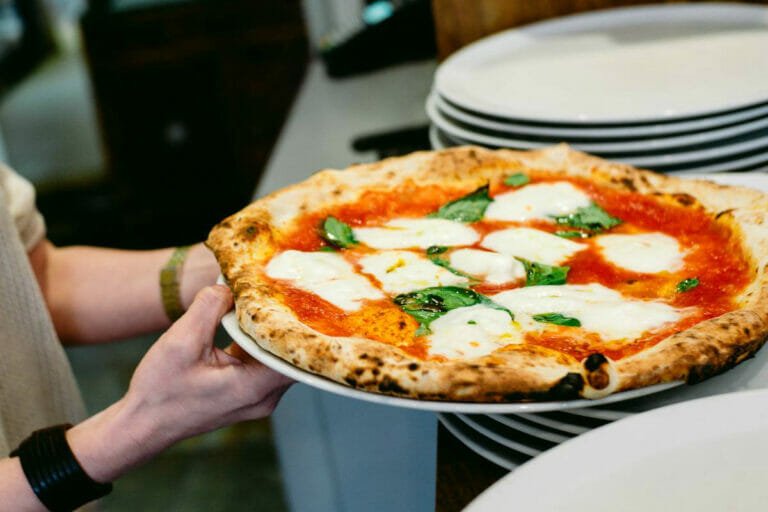 And having been practically raised on them, Angelo & Pasquale decided to start making & selling them in London. They found a place on St Mary's Road in Fulham (hence the name Santa Maria) and cut the ribbon on Valentines Day 2010. Since then, it's been a roaring success. In fact, they've opened three other branches in the meantime. Whether or not it's London's best pizza is a matter of debate, but at the very least it's in the conversation.
Head down to St Mary's road, and you'll find a simple space with concrete floors and bench seating. The rough edges are there for a reason too; this isn't a restaurant designed for you to linger. Ascribing to the 'tipico Napoletano' philosophy of brisk service and high customer turnover, their aim is to get you in and out of the restaurant as quick as possible. The downside is obvious, but the upside is that you get a 'tipico Napoletano' benefit too – cheap pizza.
For around a tenner you'll get one of the finest pizzas you've had in this city, topped with the likes of Parma ham & wild rocket (San Daniele), rare breed North Yorkshire pork sausage,'nduja and smoked burrata (Santa Paola), or peppers, courgettes, and aubergines (San Filippo).
They taste saintly.
NOTE: Santa Maria is open now. There are no bookings, and you can find out more and see the full menu at their website right HERE.
Santa Maria | 94 Waterford Rd, Fulham, SW6 2HA
---
You know where else does really great slices? All of these amazing pizza spots in London