"Just one Cornetto, give it to meee. Delicious ice cream, from Italy…" – Cornetto Advert, 1980s.
This tune is apparently the catchiest ad jingle of all time, with 45% of British adults saying it pops into their head 'against their will'.
Helping to bring some actual opera to London is Sarastro, a flamboyant Drury Lane restaurant dripping in gold and red velvet, with live performances from opera singers every week. Raucous, gloriously over-decorated and filled with dancing waiters, Sarastro is one of those London gems with real soul, and has been a local institution since 1996.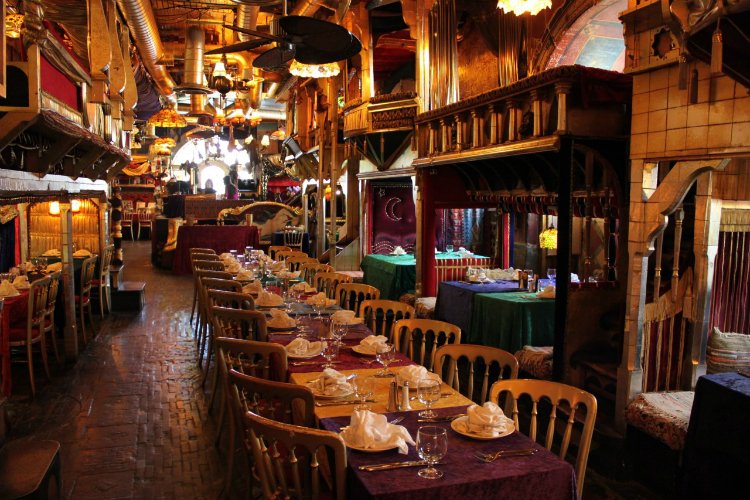 You'll recognise it on the outside as the building covered in cascading foliage just a little way up from Aldwych, once a 19th century pub. Inside, it's an extravagant palace of gold rococo swirls, baroque furnishings, mirrors, sweeping velvet curtains, and intimate dining booths arranged like theatre boxes over two levels. Scattered around are souvenirs, memorabilia and props from nearby theatres (some of the banisters hail from the Royal Opera House itself).
The food is broadly Turkish-Mediterranean, and absolutely secondary to the atmosphere of the restaurant. Order venison skewers, mezze plates, stuffed aubergine and 'Sultan's Delight' (beef and red pepper stew) to your box, follow it up with a Sex On The Beach (ironically available as a virgin cocktail, too) and sit back as the live performers belt out showtunes (Mondays), Motown (Thursdays) disco and soul (Saturdays) and of course, opera (Sundays).
And to finish?
Justa one Cornettooo…
NOTE: Sarastro is open daily from midday till late, and serve a pre-theatre set menu. You can find out more about what acts are playing this week, and book a table, right HERE.
Sarastro | 126 Drury Lane, WC2B 5SU
Last Updated: 2nd July 2019
---
Looking for somewhere to eat in Theatreland? See our pick of the best restaurants in Covent Garden