A great many amazing things have been produced in Ottolenghi's kitchens.
And perhaps the best is insanely talented chef Ramael Scully.
You see, soon after arriving in the UK after cooking down under in Sydney, Scully started work in the kitchens at Ottolenghi, going on to become the creative force behind much of the menu as head chef of NOPI when it opened back in 2011. And with this St James's restaurant, it's now his name above the door.
And after a highly successful few years experimenting with different dishes, ingredients, and a la carte options, he's decided to switch the whole evening offering to an 8-course tasting menu. Though you can still order old school if you fancy during lunch & pre-theatre.
Walk in, and you'll be instantly struck (figuratively, relax) by the illuminated wall of house-jarred preserves, spice mixes, syrups, pickles, and steeped fruit, none of them is purely decorative either: you'll frequently see chefs pop out from behind the open kitchen to grab something. That open kitchen is surrounded by a marble-topped bar, which in turn is surrounded by a dozen or so sleek wooden tables and leather-backed chairs.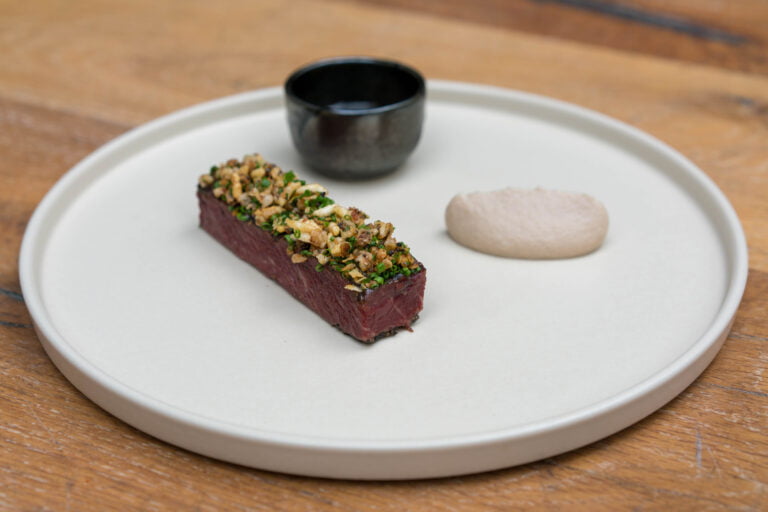 As for that tasting menu? Like the food's always been at Scully, it doesn't subscribe to any particular culinary tradition, but rather draws from Scully's own family heritage, which stretches from Ireland, to Bali, to Malaysia. Here, he's bought on board head chef Dominic Auger (who formerly manned the pans at Hackney Coterie) to assemble the goodness. And there is a lot of goodness here.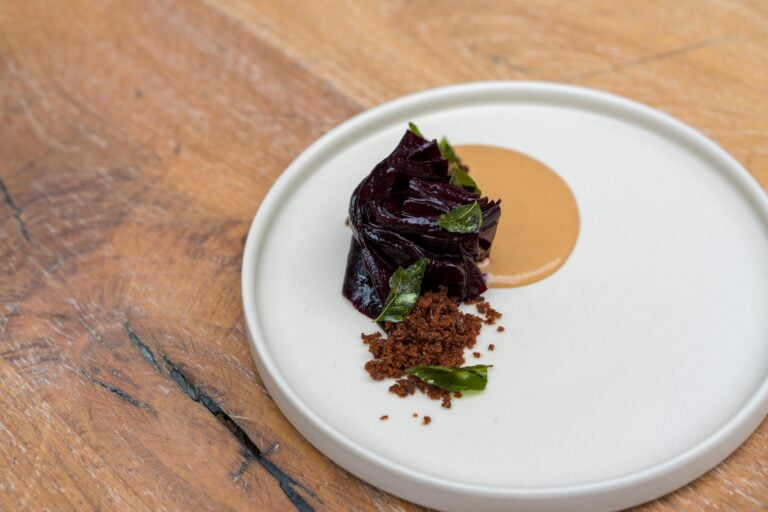 Standouts include a Colombian/Venezuela-style arepa made with 8-day fermented corn bread. The golden-hued bread comes empty, but it's served with a bowl of fiercely flavourful aubergine sambal, which you're invited to load into your arepa as you like. Then there's the purple beetroot, which is shaved to wafer thin slices, then reassembled into a beautiful, tangerine-sized curl, and liberally glazed with fig leaf vinegar and Urap Sayur (which is apparently an Indonesian style caramelised, spiced shredded coconut). But perhaps the star of the show is the wedge of short rib pastrami, which comes brined, smoked, and cooked with Turkish urfa chilli, and which absolutely melts as you eat it. You won't want it to end.
All of this will be matched up by the restaurant's highly skilled (and thoroughly personable) sommelier Carolina Seibel, who'll happily talk you through the various champagnes, wines, and even ciders she's paired everything up with.
And the kicker? There's an entirely vegan tasting menu too.
Which is rather tasteful.
NOTE: Scully is open for dinner Tuesday-Saturday. You can find out more, and make a booking right HERE.
Scully | 4 St. James's Market, SE1Y 4QU
---
If you're in the neighbourhood… here are the best things to do in St. James's…