Seabird has taken flight, and perched on top of the new Hoxton Hotel in Southwark.
And it's been quite a journey, given that the team behind it also run Brooklyn's Maison Première – undoubtedly one of the best bars in New York – known for its cocktails & oysters.
Here, the restaurant has a wonderful sense of occasion right from the outset; to find it, you'll head to the lobby of the mid-century chic Hoxton Hotel, and find a large gold plaque with a single button marked 'Seabird'. This summons an elevator that'll whisk you up to the 14th floor.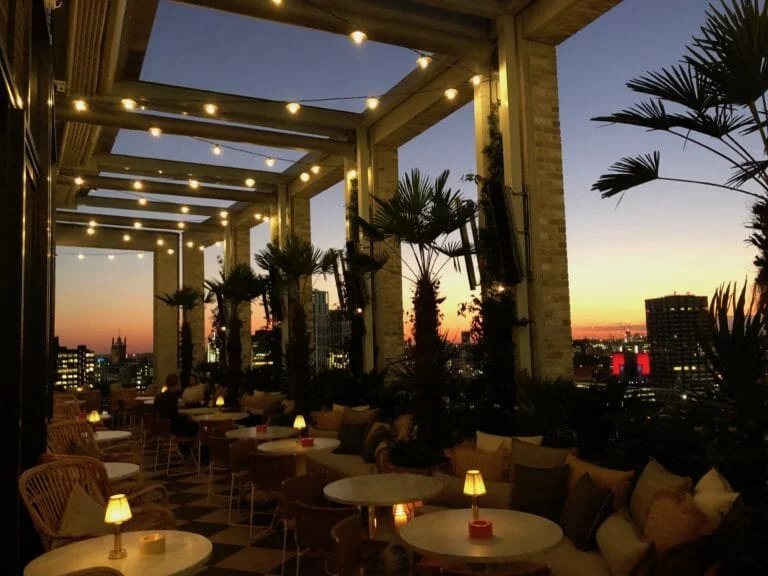 The place is split roughly into two areas: the inside restaurant, and the outside cocktail terrace. Starting where you likely will, the cocktail terrace has one of the best views across any London rooftops; it's not too high up to seem alienated from the landscape below, and it's not too far outside the city to feel like you're missing out on the skyline. Look left, and you'll see the Houses of Parliament. Look right, and you'll see The Shard. And somehow both seem like you could almost reach out and touch them. The drinks are all absolutely first rate, with a mix of house specials (The Trembler brings pisco, pomegranate, sherry and walnut to the mix) and a selection of chilled pre-bottled classics include a Navy-Strength negroni, and their Vesper Martini.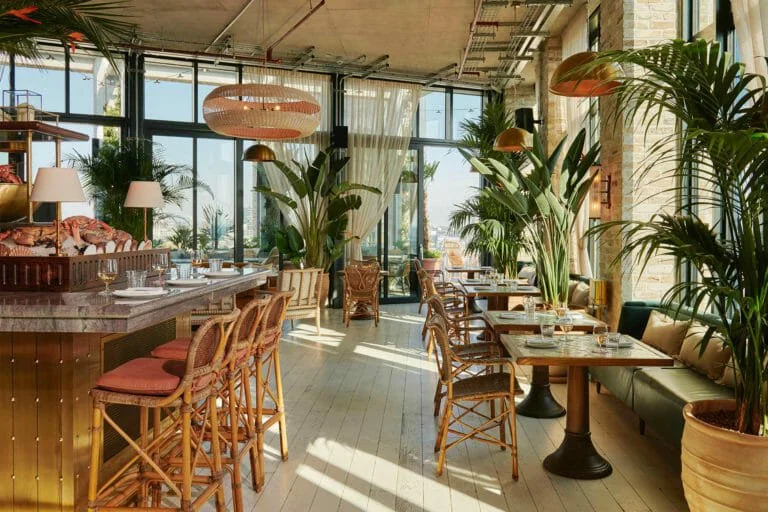 After drinking in that view (and the actual drinks), you'll then head indoors to eat. The floor-to-very-high-ceiling windows make you're you aren't robbed of the horizon, and the glimmering raw bar parked in the centre of the space gives you something else to gaze at, too. And it's here, packed in ice, that you'll see the very real manifestation of what is apparently London's longest oyster list – although that actually only accounts for nine, albeit very good, varieties. Next to them you'll find langoustines, crabs, lobsters, clams, whelks, you name it. And they're all available on huge platters to share.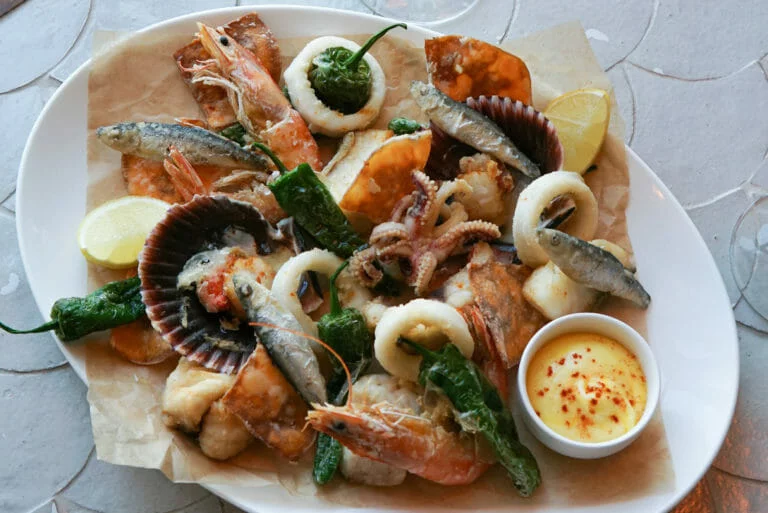 Moving down the menu, there are then small plates: the octopus roll is a brightly flavour-packed treat, and the croquette-like crab buñuelos are pleasingly crispy on the outside, and as fluffy as teeny little clouds on the inside. Then there's the charcoal grill, blistering the likes of rich, ex-dairy ribeyes; and a whoppingly large whole John Dory with mojo verde. Like the restaurant…
…it's difficult to top.
NOTE: Seabird is open Weds 5-11pm; Thurs 11.30am-11pm; Fri & Sat 11.30am-12am; Sun 11.30am-6pm. You can find out more, and book a table right HERE.
Seabird | 40 Blackfriars Road, London, SE1 8PB
---
Like rooftop eateries? Check out the best restaurants with a view