Smiths of Smithfield | Four-Storey Dining in Farringdon
When it comes Modern British meat restaurants, Smiths of Smithfield is a cut above the rest…
You'll find it opposite Farringdon's historic Smithfield meat market, in a handsome Grade II listed building that, inside, breaks down into four floors, every one different from the next.
Starting at the bottom, there's 'Smiths', an all-day cafe-cum bar serving big, meaty, breakfasts and lunches in the day, followed by sharing boards and wine at night.
Up the stairs and you'll arrive at Death + Victory, a surprisingly brighter, more colourful cocktail bar than the name suggests. It was christened Death + Victory after William Wallace, the Scottish Knight who lead the fight for Scottish independence…before being hung, drawn, and quartered nearby. In true Scottish style, it's full of bright blue and yellow crushed velvet sofas and chairs, industrial silver piping, pendant lighting, and a big marble bar…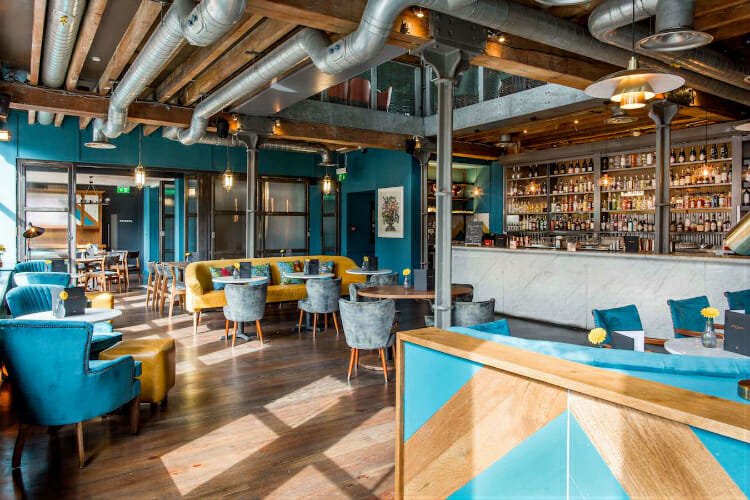 A cocktail or two down and you can make your way to the second floor where you'll find The Grill, an industrial-styled ode to Smithfield's butchery heritage, serving up prime cuts of meat, alongside freshly-caught fish, and an array of seasonal, locally-sourced vegetables. The dessert section is beautifully British: apple and rhubarb crumble smothered in custard; sticky toffee with toffee sauce and vanilla ice cream; and of course Bakewell tart with clotted cream. For drinks they serve both classic and contemporary cocktails, all made with London-distilled spirits. Otherwise there's a mix of lagers, ales, and wines, hand-picked to compliment the meat. You can either eat in the main dining room, or they have a 12-seater chefs table with a view into the kitchen.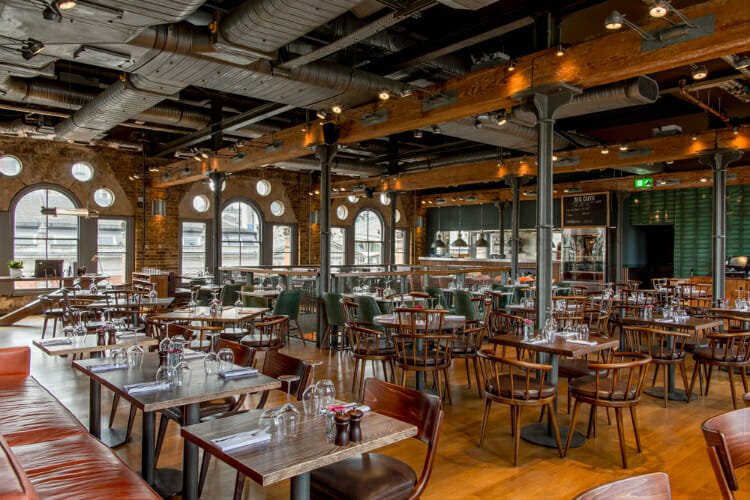 Up on the roof is No.3, a fancier round tables, white table cloths affair, headed up by Liam Walsh. The menu is also British, just a touch higher-end. They're also know for their Sunday roast – Scotch sirloin, chicken, or pork, all served with duck fat roast potatoes, seasonal roasted vegetable, cauliflower cheese, Yorkshire puddings, and gravy. You can also just pop-up there for a drink – a glass of bubbles, al fresco, overlooking St Paul's Cathedral….
Missing out would be a missed steak.
NOTE: Smiths Of Smithfield is open all-day, all-week. For more information, or to reserve yourself a table, visit their website here.
67-77 Charterhouse St, Farringdon, London, EC1M 6HJ
---
While we're on the subject of steak…have you been to these excellent steak restaurants?