When life gives you lemons…
…leave them at home, and go to Smoke & Salt instead.
As the name suggests, this place is all about old-school preservation techniques – smoking, curing, and the like. And it turns out that, like their food, the restaurant's good at sticking around. See, back in 2017, after a string of successful pop-ups and residencies, owners Remi Williams and Aaron Webster (who met at Notting Hill's The Shed) managed to secure themselves a shipping container at Pop Brixton. They gave it a revamp – in a sort of old-meets-new, wooden-slatted spaceship kind of way – and happily served their signature Modern European small plates there to great acclaim.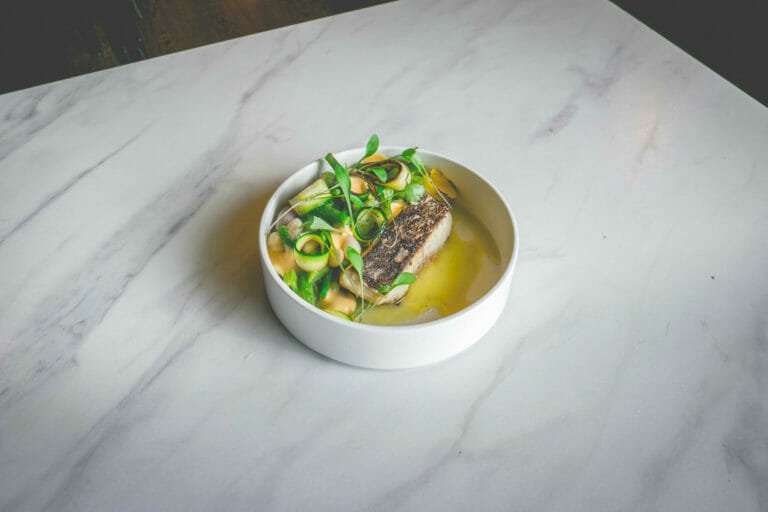 They had one problem though: the size. See, since the beginning Smoke & Salt have earned themselves pretty much a consistent stream of positive reviews, which is great, but it also meant they regularly found themselves having to turn people away. As time went on, Remi and Aaron started thinking more about the brand could develop, not only in and around the same world of preservation, but also in terms sustainability and food waste. They decided to set up a crowd-funding page, hoping their supporters might rally round and help them get their hands on a bigger site…
Which they did. And then some.
In fact, fast forward to today and they've managed to raise over over £13,000 more than they initially asked for, nearly all of which helped them lock down a bricks and mortar place in Tooting. Here they serve dishes including platters of charcuterie (all smoked in-house); roast pheasant breast with woodland mushrooms and porcini rice cracker; and a savoury pastel de nata with aged Cornish gouda and pickled onion.
And if you can't choose, you can go for their low-waste tasting menu with six dishes picked out for you by Remi and Aaron.
So if they give you lemons… just go with it.
NOTE: Smoke & Salt Tooting is open for coffee & baked goods, plus dinner, Tues-Sat. They also serve brunch on Friday & Saturday. You can find out more, and book, HERE.
Smoke & Salt | 115 Tooting High Street, London SW17 0SY
---
Like staying on top of the latest restaurant and bar news? We've got a whole load of the stuff here.