Snackbar doesn't really serve snacks.
Nor is it a bar.
But it is a damn fine spot for brunch.
Founded by Freddie Janssen, author of Pickle, and Anaïs van Manen (ex-development chef at Bao Fitzrovia and sous chef at Nuala), it's a neat Asian- and Mexican-influenced breakfast-brunch-lunch café-cum-urban farm on Dalston Lane.
Unmissable from the outside, Snackbar is painted in an uplifting butter-cup hue. Inside, the restaurant is light, with white-washed walls and colourful formica table tops adding a playful, canteen-like spin to an otherwise minimalist space. This simple, joyful approach seeps into the menu, with a handful of dishes that feel designed specifically to ease your mind of any addles you might be grappling with after one too many Long Island Ice Teas the night before.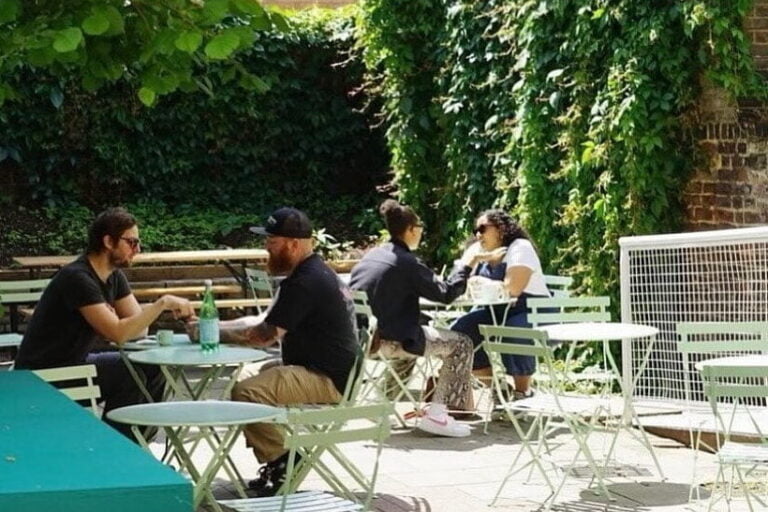 With or without a sore head, you'll soon be salivating at the sight of a kimcheese croissant, all layers of melting Montgomery cheddar with a smack of perfectly-pickled kimchi, or if you prefer something sweet to start the day, you'll be mightily pleased with the Singaporean-styled Kaya toast and onsen egg – the toasted soldiers oozing with green coconut jam are nothing short of sublime when dipped into a creamy yolk sitting in soy.
New to Snackbar's offering is its bottomless brunch, available every Sunday, 11am-2.30pm, in 90-minute slots. Choose your tipple – either Rhubarb Fizz or Bloody Mary – and tuck into biscuits and gravy or chilaquiles with a side of dill pickle hash browns. And because it wouldn't be a bottomless brunch without stretching it over two courses, there's dessert in the form of gooey butter cake.
On a weekday, expect salads and sandwiches that riff on classic flavours with signature Snackbar skews to keep you on your toes. Like the caesar salad that's generously accessorised with crisp chicken skin and moreish nori, or the rice bowl that combines salty, crunchy, chewy, and creamy in a harmonious mix of tempura Delica pumpkin, avocado and pickles.
It's the stuff of snacking dreams.
Words by Immy Smith
NOTE: Snackbar is open for breakfast & lunch Wed-Sun. You can find out more and book a table HERE.
Snackbar | 20 Dalston Lane, London E8 3AZ
---
Like dining in the area? Check out these other great Dalston restaurants…