Sons + Daughters just got a sibling.
The cult sandwich shop has done a roaring trade since opening in Coal Drops Yard in 2019, and now it's doubled up with a second opening deep in the heart of lunch territory: Borough Market.
You'll find it on the corner of Stoney Street where it's surrounded by fiercely tasty lunchtime competition from the likes of BAO, El Pastor, and Padella. It's taken over the former Stoney Street by 26 Grains site, which sadly closed at the end of July, and filled it with with a few simple furnishings & a small bar. Sure, you can eat in, but you're not here for the decor.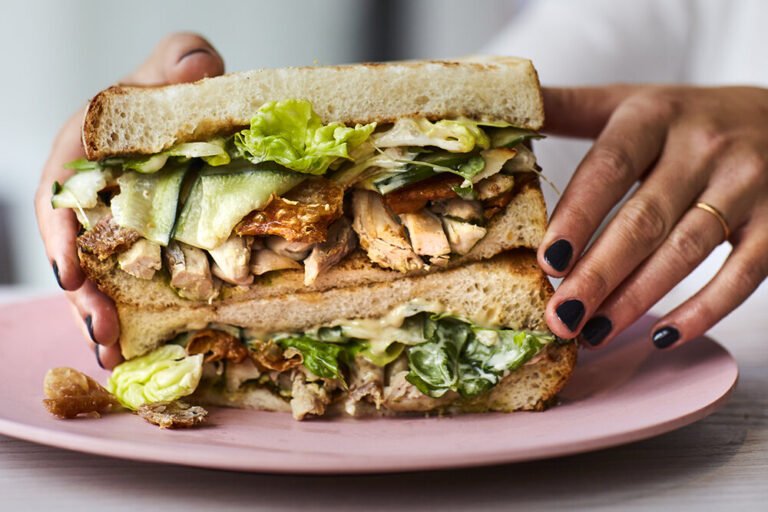 Which brings us to the meat of the matter: the sandwiches. They're biblically thick sandwiches, with fresh filling stuffed between massive wedges of granary, sourdough, focaccia, and more. They're truly some of the finest sandos in the city, which is unsurprising, really, given that founders Sam Herlihy and James Ramsden are also behind Dalston's Pidgin, which carried a Michelin star for many years.
Currently on the menu, you'll find deceptively basic names married to exceptionally creative sarnies – the Prawn Sandwich involves Napa cabbage, pickled ginger and jalapeño vinaigrette; the Egg Salad has miso mayo & truffle crisps; the humble Chicken Sandwich has been zhuzhed up with soy-cured parmesan, wasabi cress, and green sauce.
And you can finish it all with a soft serve ice cream sprinkled with crunchy croissant flakes.
Yes, croissant flakes. 
NOTE: Sons + Daughters Borough is open now. You can find out more at their website HERE.
Sons + Daughters Borough | 2-3 Stoney Street, Borough Market, London SE1 9AA
---
Like keeping up with the latest openings? Discover the exciting London restaurants opening soon