temper City.
It sounds like the most violent place on earth.
But as it turns out, it's actually one of the most delicious. A sophomore follow-up to temper Soho, it's been through several guises in its few years – starting out as a curry and New World wines spot with a dash of pan-Asian BBQ, it's since settled on doing the simple things well, like steak. And tacos. And gin and mezcal.
They've preserved all the elements that made the first spot so successful; namely, a dramatic open kitchen (this time boasting a 6m grill and poultry smoker); hefty cuts of meat smoked 'low and slow' over wood and charcoal firepits, and their own on-site butchery, from which those steaks are sliced daily.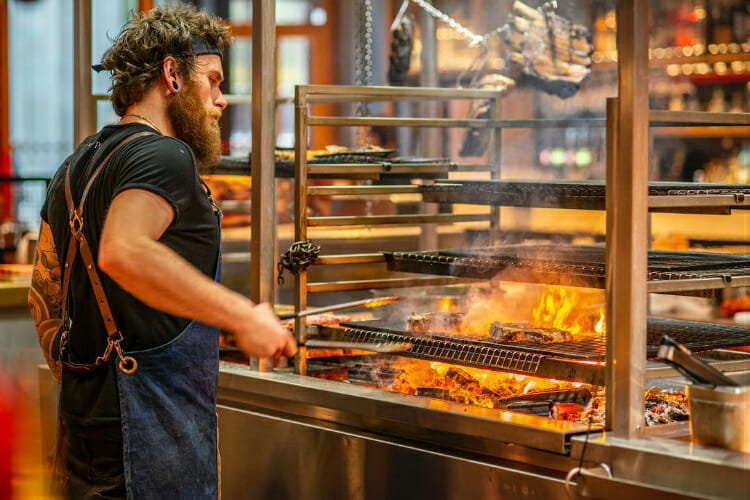 It's all packed into a moody burgundy and polished wood dining room, with a slick marble dining counter sweeping around the kitchen, and a mezzanine dining level. There's also an outdoor drinking courtyard, where you can sample the top-shelf wine list or the unique serves for each of the 20 international gins they're stocking.
Moving on to the menu, it all kicks off with the fusion tacos that worked so well in Soho – fillings include cheeseburger, soft shell crab, goat's cheese and dorito-fried fish. Of course, if that's nacho thing you can find more traditional flavours in the form of the wild mushroom mole or tacos al pastor with lamb. And scaling up, there's steaks served by the half kilo, from T-bone to Porterhouse on the bone; market fish slung in the tandoor; and sides from beef-fat potatoes to kimchi and aged beef skewers.
Feels like the kind of place we could settle down in…
NOTE: temper City is open Monday – Saturday from noon-1am (11pm Sat). You can make a booking, and find out more, at their website right HERE.
temper City | 2 Angel Court, 30 Throgmorton Street, EC2R 7HJ
---
Like the sound of this place? Peruse our pick of the best bars in Liverpool Street