Big Easy Covent Garden | Three Storey BBQ Restaurant in Covent Garden 
As far as lively, southern-style BBQs / crabshacks in Chelsea go (and we're mainly talking here about places that combine buckets of beer with bottomless margaritas, bibs for adults, live music and all-you-can-eat racks of ribs), Big Easy is, if we're being honest with each other, the only one.
Not only is it the only one, but it's also very popular and – despite its name – not actually that big. Which previously threatened to be a problem for those who'd like to dine there, but no longer does thanks to the fact that a much bigger Big Easy has swung open its doors in Covent Garden (and also, since then, Canary Wharf).
Set out over three floors of an old electrical power station, this is the sort of expansive crowd-pleaser of a place that you'll want to head along to whenever gripped by that familiar desire to enjoy authentic, pit-cooked BBQ and fresh seafood washed down with picklebacks and 'Boozy Juices', to the sound of live blues. Enveloped by 10,000 sq ft of copper conduits, exposed brickwork, steel girders, exposed timber beams, industrial lighting and neon lobsters, you'll most likely decide to start with a Sailor Strawberry Shortcake X-Rated Shake at the never-ending bar.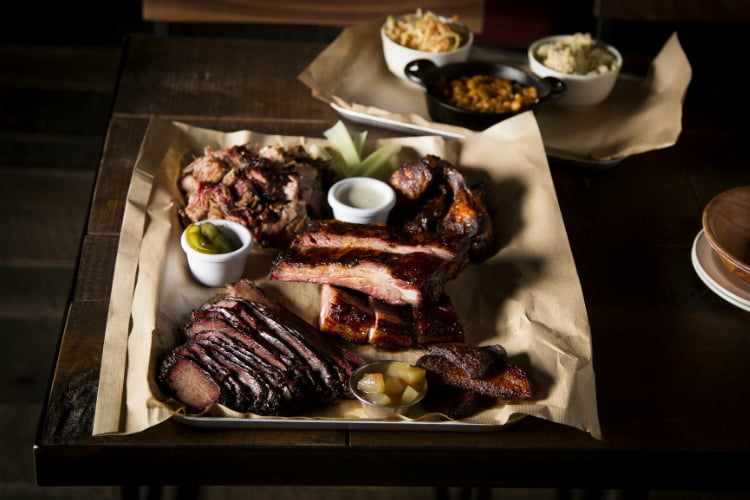 And then follow that up with a Miami Vice Slushie (a daiquiri, on top of a piña colada).
Or six.
And then it'll be time to take your table, do some light stretching and loosen your belt before choosing from a menu that includes four cuts of steak, to which you can add a fresh Canadian half lobster; blue cheese-topped burgers and fresh BBQ straight out of the smoker, from St Louis pork ribs and Texas sliced brisket to wood-roasted chicken and North Carolina pulled pork, all served alongside live music (every night of the week) and sides like fresh 'slaw, corn muffins, fries, pit-smoked beans and mac n' cheese. Or, depending on the time and day you visit, you might care to take advantage of their £10 lunch deal (inc. a main, a side and a drink – which can absolutely be a slushie cocktail), their limitless fajita night on Wednesdays, or their blow-out brunch, with all-you-can-eat BBQ and a jug of frozen mojito.
Per person.
Maybe take your own bib.
NOTE: Big Easy Covent Garden is open daily from noon-late. You can reserve a table on their website right HERE. There's also a twice nightly happy hour with 2-4-1 drinks from Sun-Fri, 4-7pm and 9.30pm.
Big Easy Covent Garden | 12 Maiden Lane, WC2E 7NA
---
Making a night of it? Take a look at the best bars in Covent Garden