The Black Penny | Covent Garden Coffee Shop With A Kick-Ass Brunch
We don't usually write about coffee shops.
And this is because most of them don't have a full breakfast and lunch menu starring dishes like bubble 'n' squeak with grilled pork & sage sausages; salt beef hash with poached egg; and hung yoghurt with whipped feta and slow roasted red peppers… all of which can be washed down with a selection of inventive yet well-balanced coffee.
But The Black Penny does.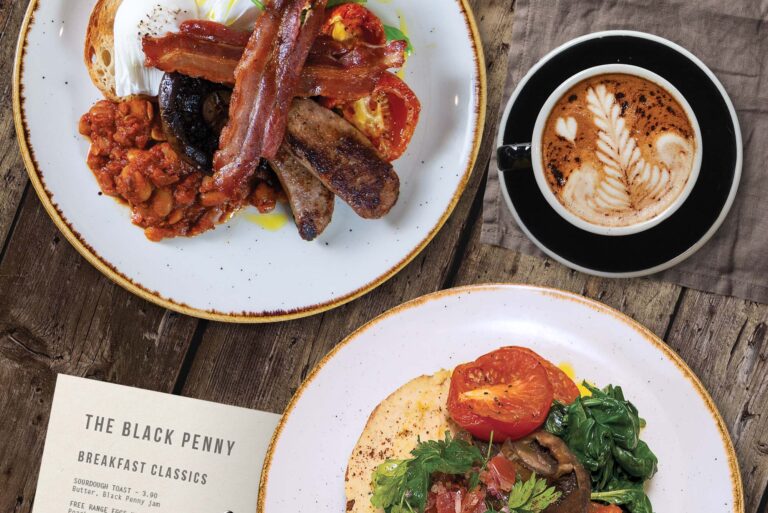 The place itself is inspired by the very first English coffee houses, which were introduced to these shores not by Starbucks in 1998 – as some may, or may not, believe – but in the mid-17th Century, by travellers who considered the potent beverage to be far more than simply "medicine" (which the British, at the time, believed it to be). Highly sociable places, they were also known as Penny Universities: visitors would pay a penny in exchange for admission, a cup of coffee and stimulating gossip debate on matters of academic, political and local significance.
Interestingly, the absence of alcohol inside these "Penny Universities" was believed, at the time, to create an atmosphere far more conducive to serious debate than would ever be achievable within an alehouse.
Giving you your first point to discuss over a crispy duck bun and barista-perfected filter coffee…
NOTE: The Black Penny is open daily, and does not take reservations. You can find out more HERE.
The Black Penny | 34 Great Queen Street, Covent Garden, WC2B 5AA
---
Ok, sometimes we do write about them… here are the best coffee shops in London