The Camberwell Arms | South London Gastropub
When it comes to South London boozers, few are as welcoming as The Camberwell Arms…
It's a handsome gastropub just off Camberwell Church Street, headed up by Frank Boxer and current Chef Director Michael Davies. Before The Camberwell Arms they worked together setting up the wildly successful rooftop bar Frank's in Peckham, and whilst the CA is something quite different, it seems success is set to follow them wherever they go.
Space-wise it's split up into two floors. Downstairs you'll find an open-plan bar and dining room where real wooden floorboards and deep Burgundy walls are offset by gilded mirrors and chandeliers. Towards the front is more of a traditional pub set up – small, round cafe tables and leather stools make it the ideal place for a passing pint and a couple of nibbly bits. At the back, past the open kitchen on your left, is where you'll find the restaurant. Upstairs is a second bar; a place to drink classic cocktails and listen to records until the early hours thanks to a late night license – or it can be hired out as private dining room for chic city weddings and the like.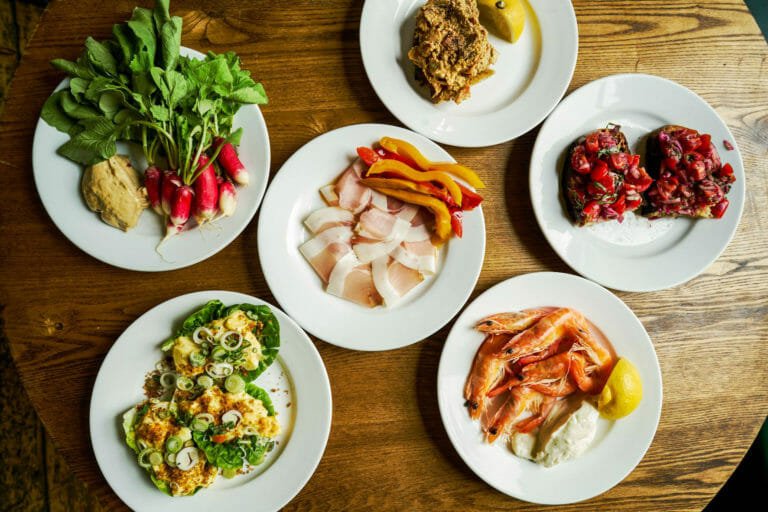 Wherever you find yourself, however, you want to make sure you get your hands on some of the food. Davies and his team have worked hard to craft a menu of hearty, seasonal dishes, and they're yet to disappoint. If you're after just a light bite you might opt for the brown crab with butter toasted bread and pickled fennel; or the venison carpaccio with horseradish and a drizzle of new season's olive oil. Larger dishes, on the other hand, include the likes of glazed smoked ham hock, with lentils, Jerusalem artichokes, watercress, apples and mustard; or grilled brill, with bone marrow butter and pickled Jerusalem artichokes. The dessert menu is just as dizzying: baked caramel apple, almonds and oat creme fraiche; chocolate 'cheese cake' with poached clementines; and date ice cream. Plus they do a mean Sunday Roast. In fact it was voted #1 in the UK by The Guardian in 2015, and has continued to be listed every year since.
Of course all this food, and you'll likely find yourself reaching for a drink to wash it all down, which is where their drinks menu of local beers, classic cocktails, and mostly European wines comes in. They've also got a short but enticing list of top shelf bottles, should the occasion call for it.
NOTE: The Camberwell Arms is open for lunch and dinner, Monday-Sunday (no lunch on Mondays). You can find out more, and book, via their website HERE.
The Camberwell Arms | 65 Camberwell Church Street, London, SE5 8TR
---
Like pubs with good grub? Head to The Marksman