Cheese puns.
Sure, they can be gouda. Maybe even fetastic. But as you've just seen, they're mostly unbrielievably bad.
So we'll stop.
Instead we'll just cut straight to the good stuff and tell you about The Cheese Bar in Camden Market: a permanent bricks-and-mortar upgrade from The Cheese Truck that's been roaming the UK's more curd-addicted parts for the past few years selling point-perfect toasties, and other oozy goodness. Yes, this is a restaurant dedicated to cheese.
The venue itself is surprisingly sleek and modern-looking, a stark contrast from the comfort-eating, huddle-under-a-blanket-on-the-sofa vibe that cheese dishes tend to carry with them. Instead, you'll find design-chic bar seating surrounding a lustrous U-shaped marble countertop resting its prongs on the glorious, well-lit cheese fridge that takes up a large chunk of the back wall.
In that fridge, founder Matthew Carver has stuffed over 30 of his favourite cheeses (a great deal of which are sourced from within the M25), waiting to be duly sliced, melted, and grated into dishes like the classic cheese toastie, which uses Quicke's cheddar, some rich Ogleshield, and a little red onion, plus new numbers like their chicken poutine with sage and crispy onions; mini baked Bix; five cheese macaroni; Young Buck raclette; and more.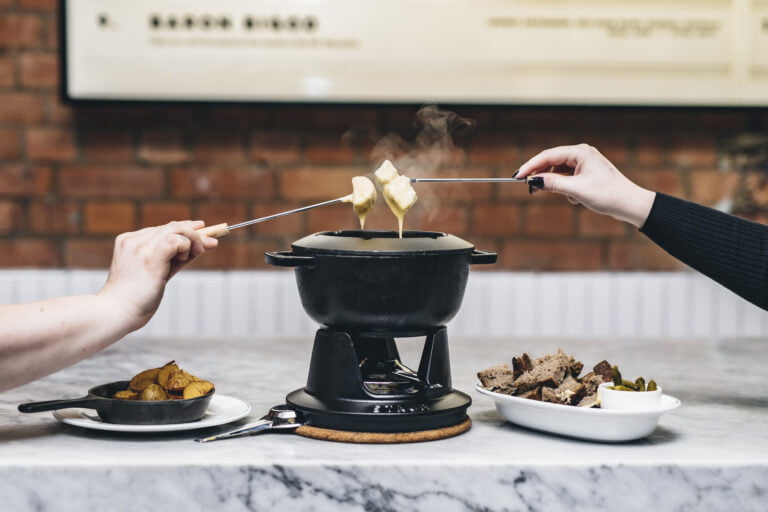 In the winter, The Cheese Bar collaborates with a different restaurant every month to put their own spin on a special fondue, available every Thursday. For 2023, those guests include Freddie Janssen of Dalston's Snackbar (November), Carl Clarke and David Wolanksi from Chick'N'Sours (December), Decatur's Tom Browne (January 2024), Tom Mathews and Sian Evans from Chatsworth Bakehouse (they of excellent sandwich fame) in February, and Koya's Shuko Odo in March, who'll find a way to merge the dish with udon noodles and dashi broth. Of course, if you like your fondue unadulterated and pure, you can still get an unadulterated and pure fondue. The Cheese Bar's house recipe is a classic, smooth number based on a Swiss Gruyère recipe.
And if somehow your lacto-hypertolerance still isn't sated, The Cheese Bar even has a cheese-based dessert menu. Obviously there's cheesecake, but try the affogato – it's made with Stilton & caramelised walnut gelato topped with a shot of ruby port. And to wash it all down, there's an impressively extensive menu of small producer wines, craft beers and London-made spirits.
You'll want to try Chèvrey one. (We know, we said we'd stop, but we don't give Edam.)
NOTE: The Cheese Bar is open now. You can find out more, and make a booking, HERE.
The Cheese Bar | Camden Stable Market, NW1 8AH
---
Fondue fiend? Check out the best places to eat cheese in London