The Clove Club | Double Michelin Starred British Restaurant In Shoreditch 
According to the critics, there are only 31 places on planet earth where you can enjoy a better meal than at The Clove Club.  According to everyone who has eyes, the restaurant itself – set in the 150 year old Shoreditch Town Hall – is pretty damn beautiful. And according to us, this is just one of those restaurants that everyone ought to cross off their London Restaurant Bucket List.
Assuming that you have one.
Ascend the stone staircase at the front of the building, and you'll step inside a world of dark wood panelling and high-ceilinged style which it's easy to imagine once housed a plethora of shuffling civil servants; while in the blue-tiled open kitchen you may spot head chef Isaac McHale, who spent a long time sowing his pop-up oats alongside Mr. James Lowe (of Lyle's fame) before going permanent.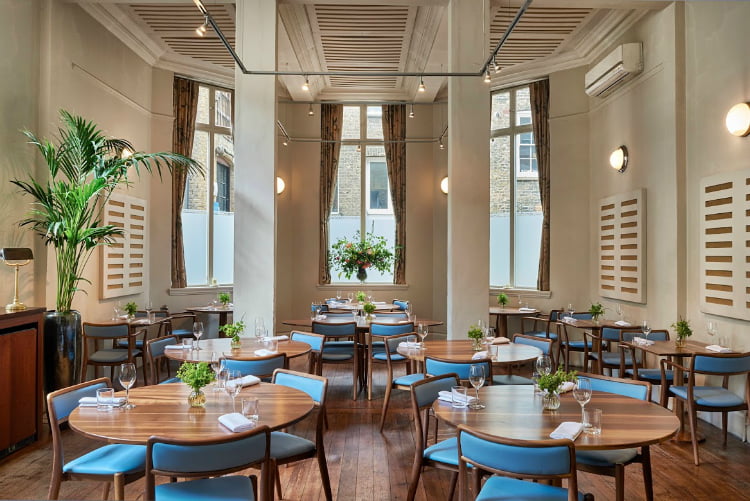 With The Clove Club's set lunch and dinner tasting menus changing seasonally, one can never quite predict which Two Michelin-starred delights might be wafted under one's nose… but previous dishes have included McHale's parsley root croustillant with chestnuts & cavolo nero; his Yorkshire suckling pig with south Indian spices; and desserts like ewe's milk mousse with blood orange and fennel granita, all washed down with either The House's best wine pairings or with cocktails like the rum & honey filled "Air Mail"….
It really is something to write home about.
NOTE: The Clove Club is tasting menu only at £155 for six courses and £195 for nine.  To find out more or to book, visit their website HERE.
The Clove Club | Shoreditch Town Hall, 380 Old Street, EC1V 9LT
---
Looking for a nightcap spot? Take a look at the best Shoreditch bars… according to us.