The Victorians did two things really well: sexual repression, and huge phallic architecture.
So it would have disappointed them to see the towering chimney on their otherwise gorgeous power station building on Shoreditch High Street get knocked down. And it would have infuriated them to see the venue turned into a buzzing nightclub where men and women mingled liberally, drank a lot, and helped to turn Shoreditch into the nightlife hotspot that it is.
That turn-of-the-millennium nightclub eventually closed, and in its place is now The Light Bar. And despite all the ups and downs, and the storied history the place has been through, the building has stayed amazingly intact. And a good thing too, because it's absolutely beautiful. The lens of time has turned all of those hard-edged Victorian necessities into elegant interior touches – the bare brickwork, the iron fittings, the huge arched windows, it's all there. This place fell off the 'magnificent industrial interiors' tree and hit every branch on the way down.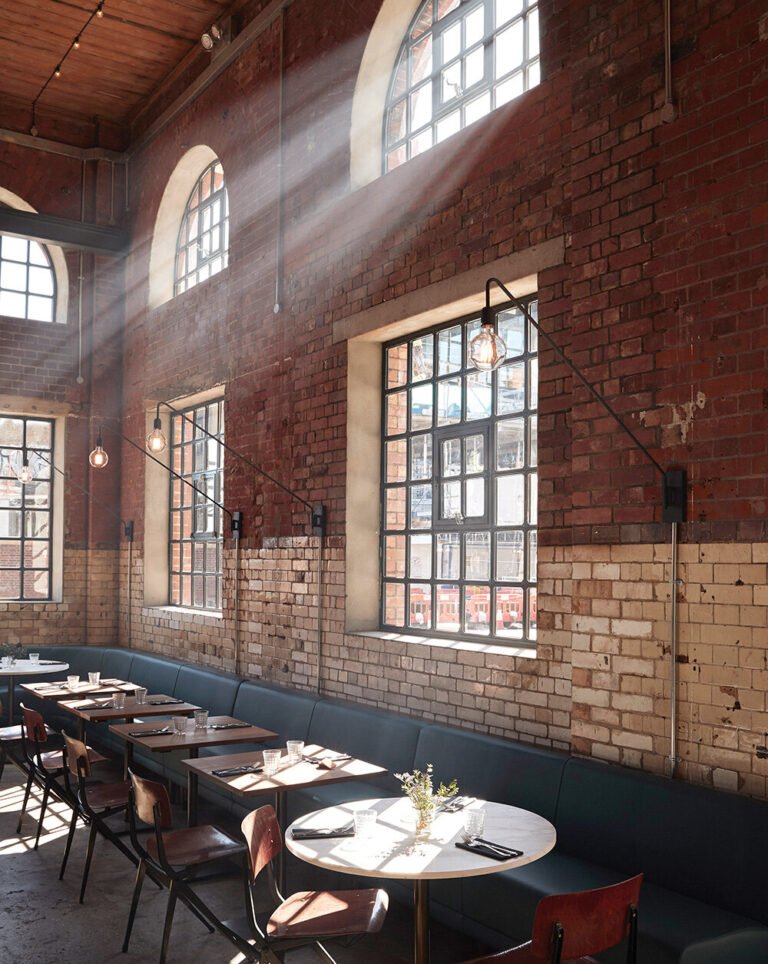 The double-height ground floor restaurant is truly cavernous, with light gushing in from the gigantic windows. And it's here that chef Johnnie Collins plies his trade. He comes to the venue from Soho House's latest venture, 180 The Strand, and he's bringing his A-game. Not only is he growing fruits and vegetables for the restaurant in his own allotment in Warwickshire, but he's making his own bread, butter, fresh pasta, pickles, ferments, and cultures too.
The menu he's put together is pretty much global, with dishes ranging from burrata with rhubarb & Stepney City Farm broad bean tops; to hearty robata-cooked monkfish with black sesame; to crab cappelleti with chilli butter; to a highly inventive fried braised beef bun with fermented chocolate bbq sauce. Yes, fermented chocolate BBQ sauce. Or you can get half a chicken with curry sauce, if you don't want anything quite that experimental.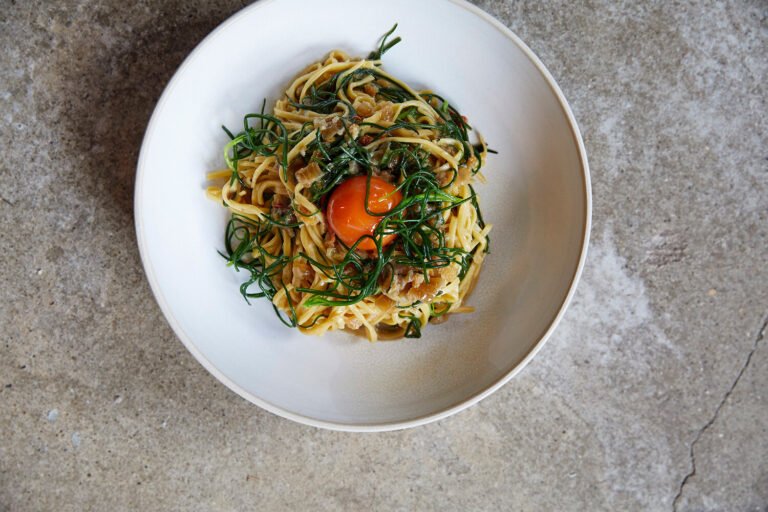 Upstairs in the dangling, loft-like mezzanine area, you'll find the Copper Bar, whose marble countertops and midcentury furnishing all conspire to drag the vibe of the interiors a few decades forward. Here, the cocktails are all named after iconic parties from the venue's nightclub heyday – the Sonic Mook Experiment (whiskey & homemade banana falernum) commemorates the famed pioneers of multi-room clubbing, while the Lovely Jonjo (rum, cassis, and lime tonic) pays tribute to one of the area's most beloved DJs.
And further upstairs? They've got a third floor restaurant called The Timber Loft (so-called because of the original beams holding the place together) run by chef Tristan Downes, whose CV includes Stevie Parle's Joy. He's serving up the likes of celeriac & winter tomato terrine; brioche crostini with squash Ravioli, fried sage and chestnut; and confit duck leg with roscoff onion & red cabbage.
Perfect for a little light meal.
NOTE: The Light Bar is open now. You can book a table and find out more at their website right HERE.
The Light Bar | 233 Shoreditch High Street, E1 6PJ
---
Looking for outdoor dining ideas? Behold our list of (really good) places to eat outside in London