There are now enough Soho Houses to make a small, phenomenally wealthy village.
And by the looks of things, their latest venture – The Ned – might just be bigger than the entire thing. Taking over the Grade I listed former Midland Bank building in The City (designed by architect Edward 'Ned' Lutyens), it's a whopping 320,000 sq ft, including seven (yes, seven) restaurants, two bars, two swimming pools (on the roof and indoors), a gym, a Cowshed spa, and over 250 plush bedrooms.
And the insanity doesn't end there – there's also a members club set on both the rooftop and in the basement in the original bank vault, which featured in Goldfinger as the setting for Fort Knox. Of course, Fort Knox is probably easier to get into, seeing as they're running a totally separate membership scheme to the other Houses.
Luckily, there's plenty to see as a punter too, so behold –  your ultimate guide to The Ned.
---
JUMP TO: RESTAURANTS & BARS | HOTEL | MEMBERS' CLUB
---
RESTAURANTS AT THE NED
On entering The Ned off Poultry, you'll be ushered through the revolving doors by a pair of smartly turned out doormen into the grand, ground floor. Clad floor to ceiling in marble and African verdite (a forest green stone), it's an awesome sight, with lofty, cathedral-like ceilings, a domed skylight, and huge, double-height windows. There's a host of original features restored from its previous life as the main banking hall – one of Lutyens' descendants was even drafted in to recreate the original lighting, and to the right as you enter, you can spot the chairman's old private elevator.
Besides a central bandstand (which, depending on time of day, might be playing host to an acoustic set or a jazz quartet), this floor is given over to The Ned's many restaurants and bars. Here's the lowdown…
–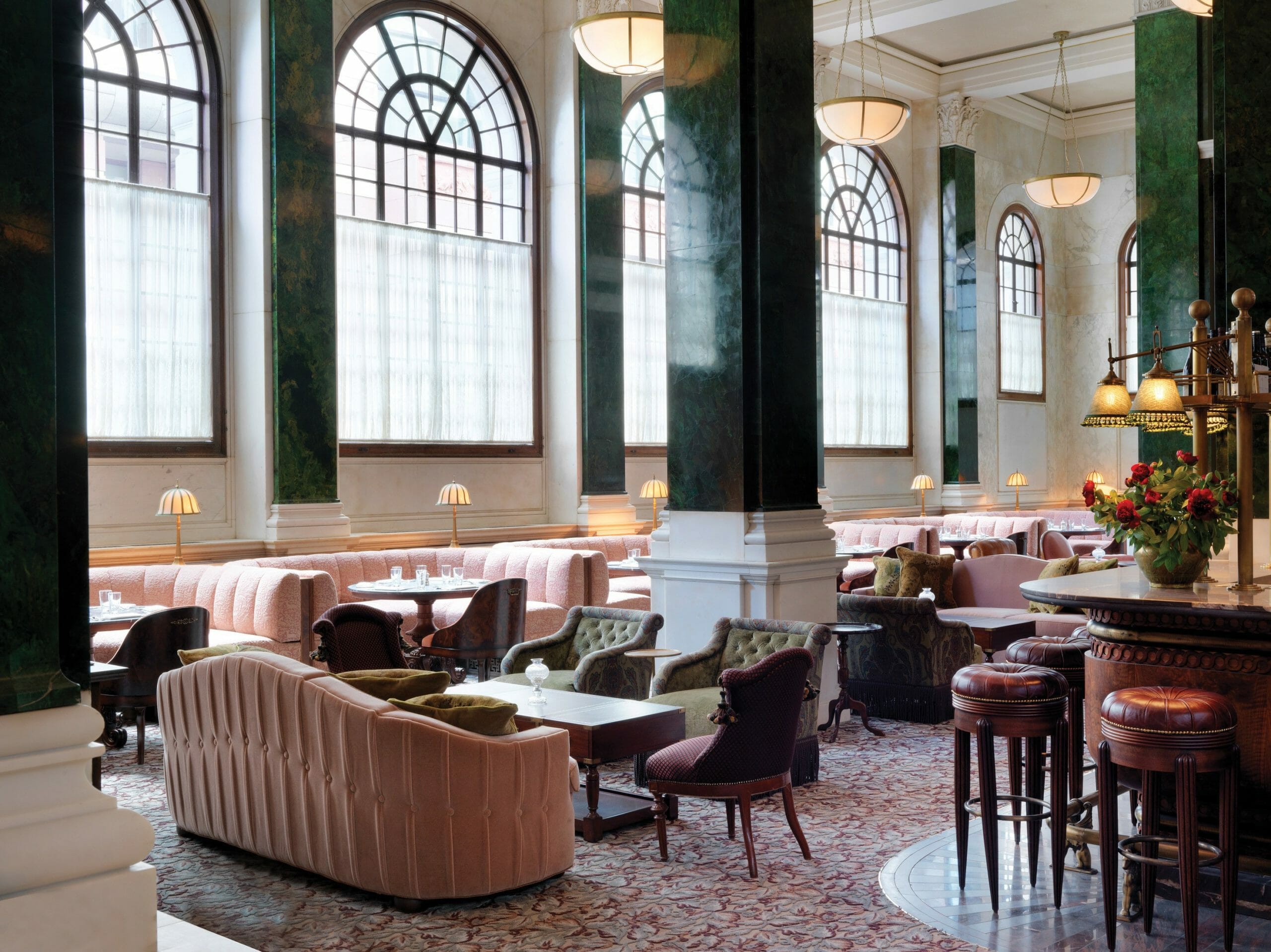 Directly to your left as you enter, Millie's Lounge is an almost 24-hour space, serving Anglo-American classics like fish & chips, lobster, and BBQ short ribs alongside English sparkling wines and craft ales. Offsetting those emerald columns with pink scalloped banquettes, it makes the perfect setting for their quintessential Afternoon Tea – and their not-so-quintessential Sunday Feast, which involves a sprawling, all-you-can-eat, blow-out buffet of breakfast treats, roast meats, lobster, oysters, salads, dessert and more, for £45pp. VIEW DETAILS
–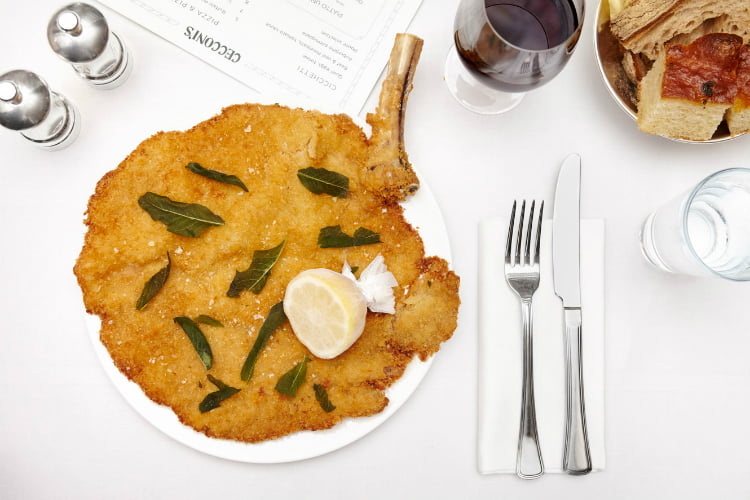 And to your right, you'll find the deeper-hued Cecconi's, a City outpost of the Soho House Italian resto. Set around a striking central bar, you'll find polished wood tables and chintzy seating, perfect for sinking into to feast on tonnarelli cacio e pepe; sea bream carpaccio with baby mint; and this ludicrously sized veal Milanese. READ MORE
–
Serving – unsurprisingly – Californian nosh, Malibu Kitchen caters to the health-conscious with superfood brunches, raw and vegan dishes, cured fish and meat, and tacos for emergency carb-loading. VIEW DETAILS
–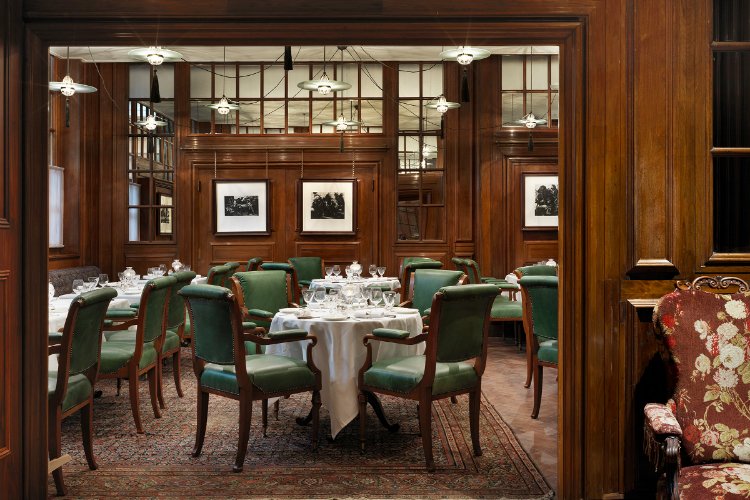 Housed in the former manager's office, this sumptuous wood-panelled dining room is dedicated to the grill. You'll be able to see the menu working its way round the space, as almost everything is served from an old fashioned trolley, with fish filleted table-side and cocktails poured before your eyes… READ MORE
–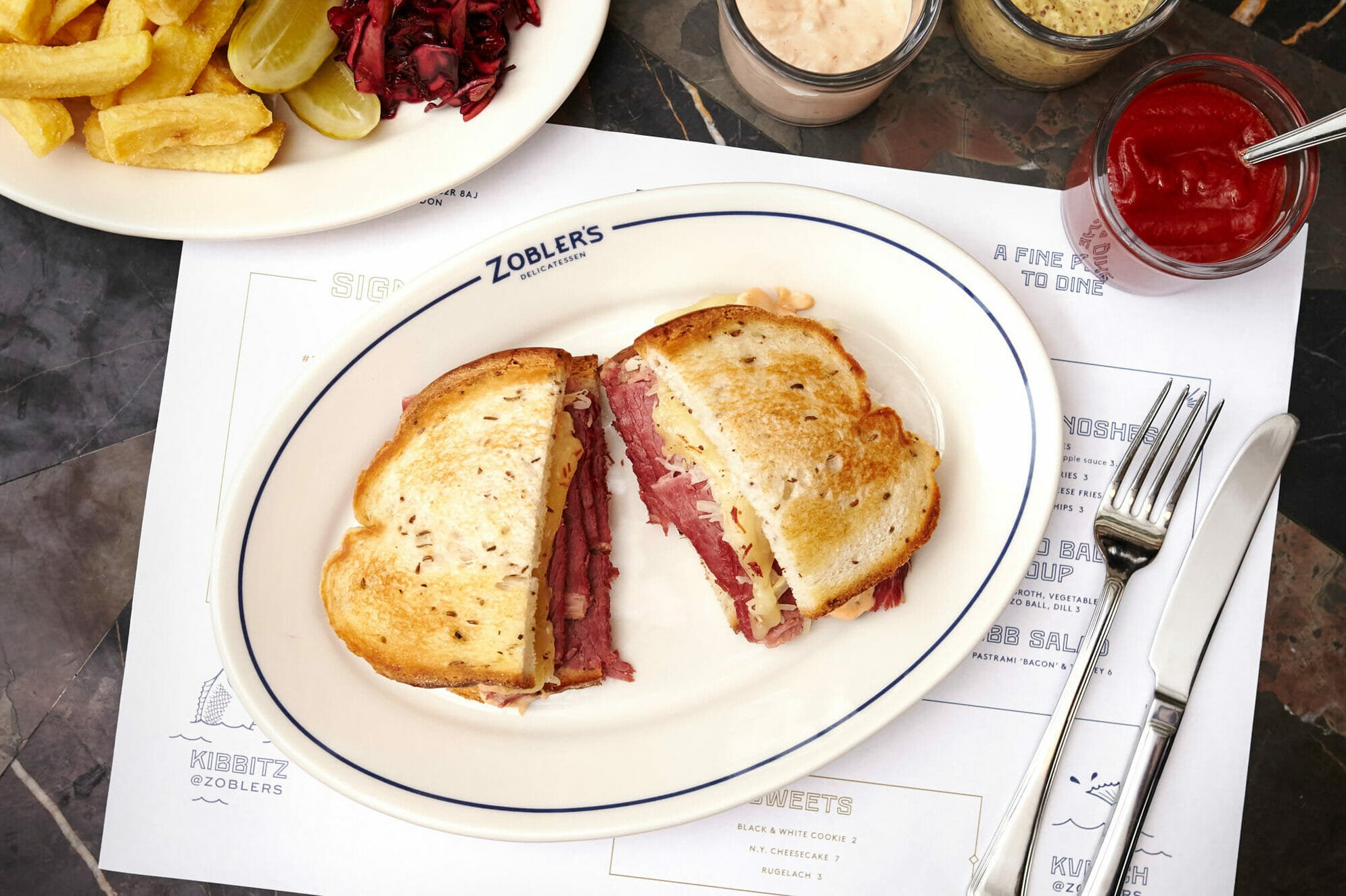 A bustling open kitchen set behind retro illuminated counters churns out the dishes at this thoroughly NY-esque deli. Set in the galleried East wing of the banking hall, it serves deli standards like smoked fish, herrings, Reubens, and cheesecake. Head there on a weekend for their bottomless mimosa-fuelled brunches, with eggs Benedict served on potato latke. VIEW DETAILS
–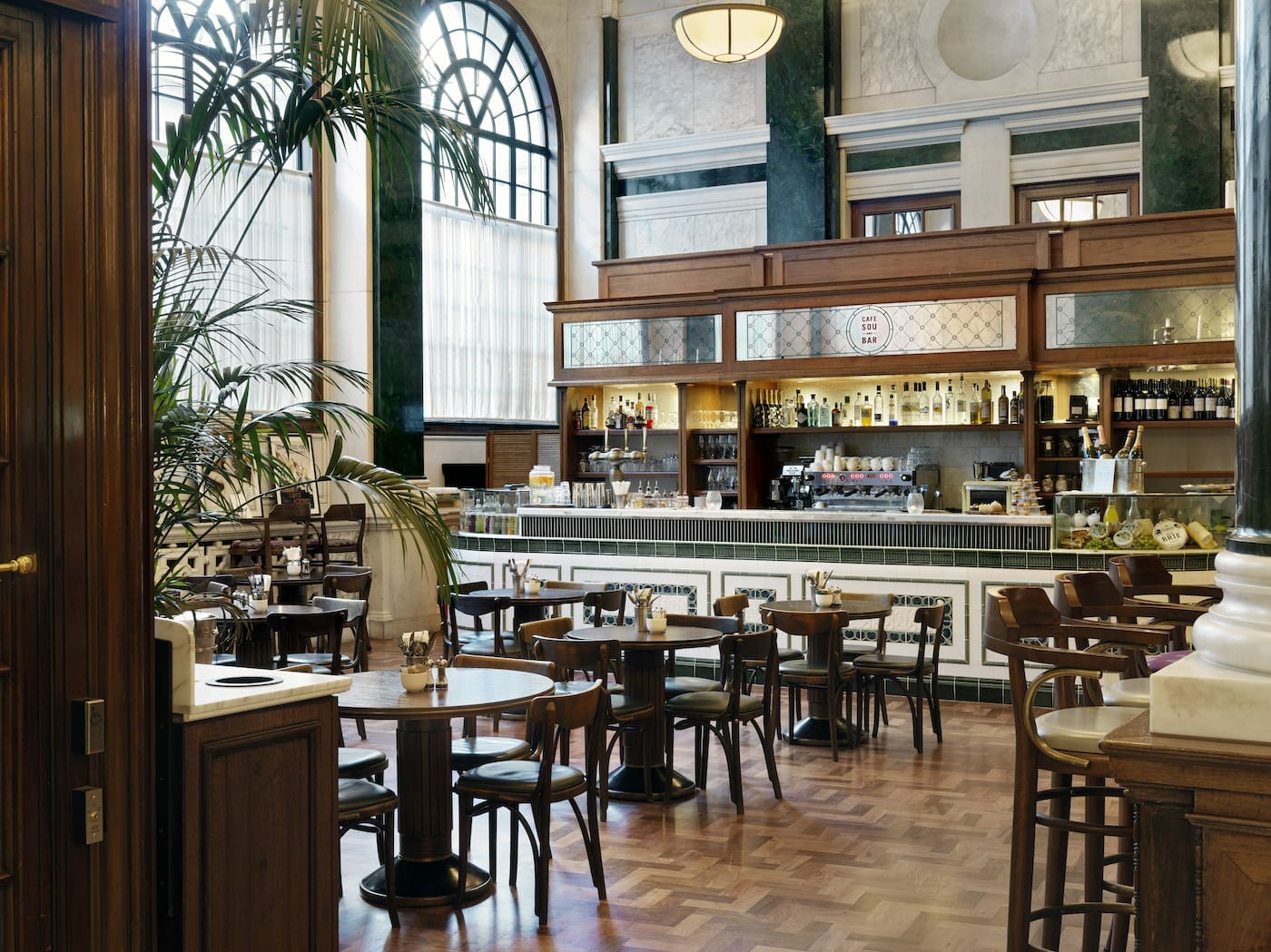 A relaxed, weekday pit-stop, Cafe Sou is essentially a traditional Parisian café tucked into a quiet corner of the bank, complete with terrines, cheese, red wine, and little lacy half-curtains on the windows. It's focussed on grab-and-go (only the omelettes are made fresh to order), but it's a pretty fancy one at that. VIEW DETAILS
–
Commanding a long stretch of marble dining counter opposite Zobler's is Kaia, an Asian-Pacific inspired eatery serving up poke bowls, sushi, and robata-grilled mains alongside sake and cocktails. Saturday afternoons are given over to an excellent afternoon tea, while Sundays are for bottomless brunch, with unlimited sushi, sashimi, poke bowls, noodles, and more… VIEW DETAILS
–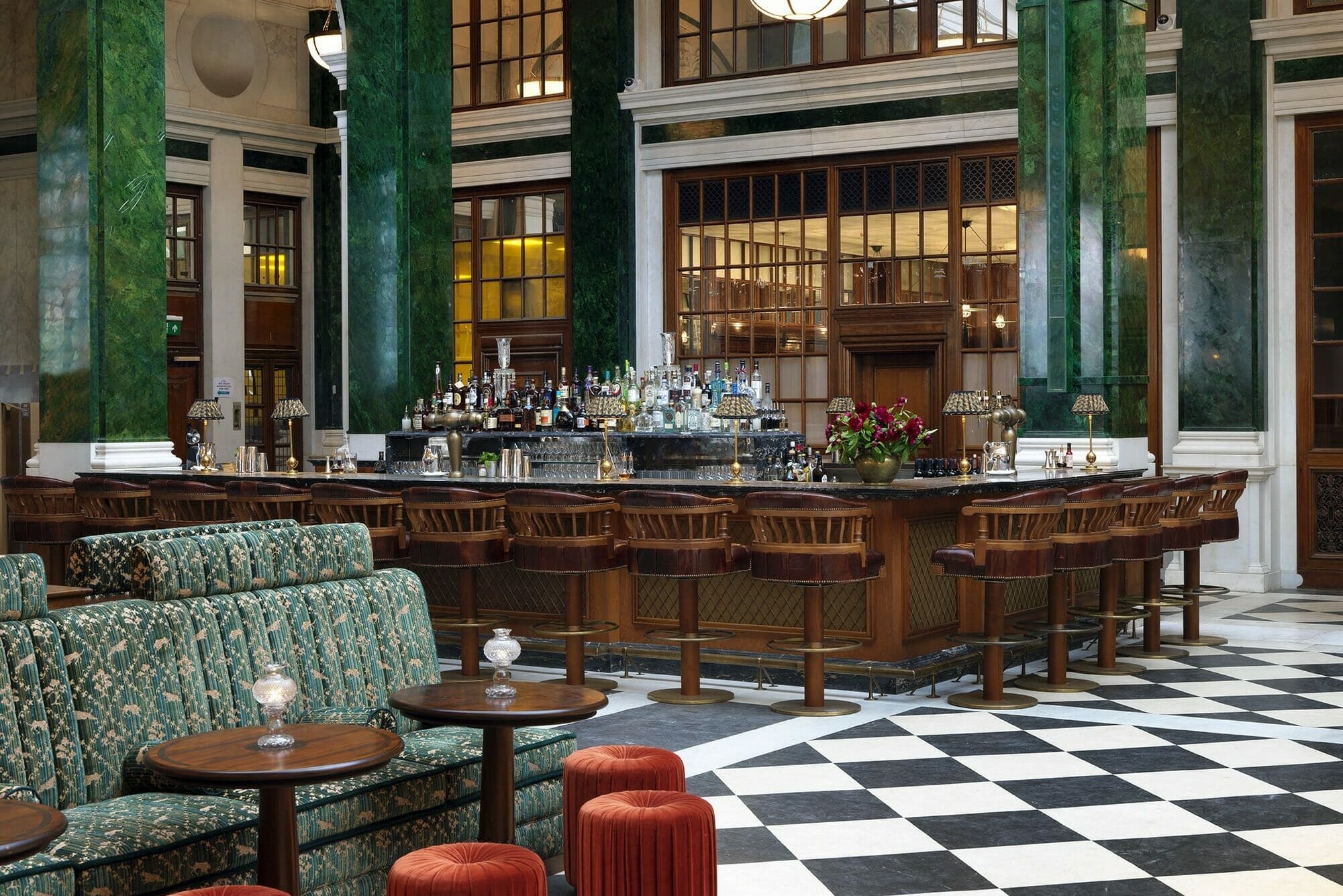 Last but not least is The Ned's ground-floor bar. Just next to the bandstand, The Nickel Bar is a suave, walnut island bar manned by suited barkeeps shaking up classic cocktails from morning till, well, early morning again. You'll find American snacks (like pastrami cheese fries; salt beef sliders; and devilled eggs) and breakfast bar dishes to soak up numbers like the Double Nut Old Fashioned; made with Wild Turkey whisky, peanut butter, pecan, Mozart dark chocolate liqueur and aromatic bitters. VIEW DETAILS
–
THE NED HOTEL
And so, to the main event: the 250 stylish bedrooms they've packed into The Ned's six residential storeys. They vary in size, from petits boudoirs to grandiose suites, and all score you access to the private bar in the basement vaults. Here's what a stay at The Ned entails…
–
THE ROOMS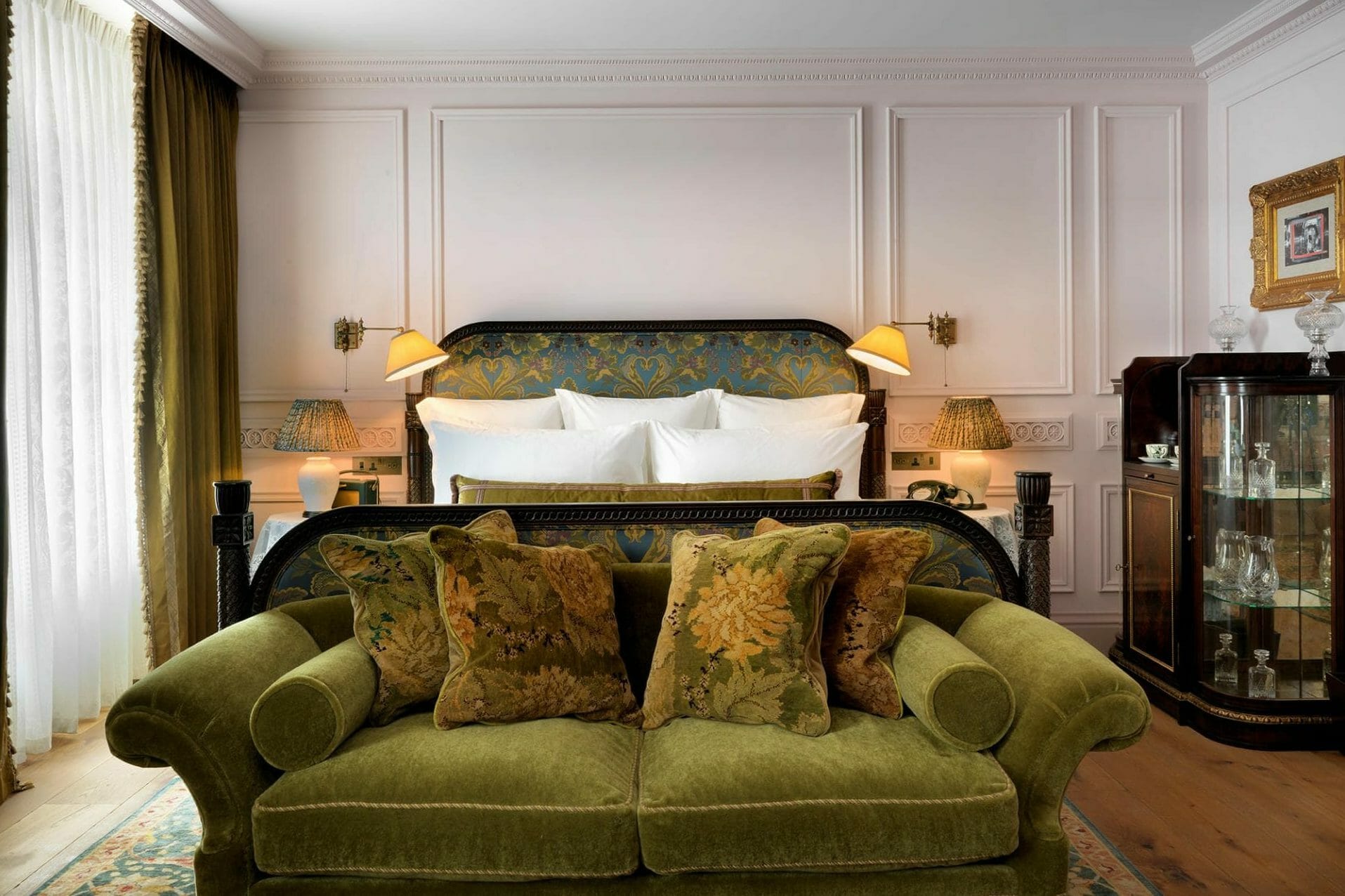 Drawing inspiration from the 1920s architecture, the bedrooms are styled with a heavy dose of smoothly curving jazz age furnishings. Smaller rooms are kitted out with elegant wrought-iron or walnut, art deco beds; velvet armchairs and glorious rainforest showers (with Cowshed products, of course).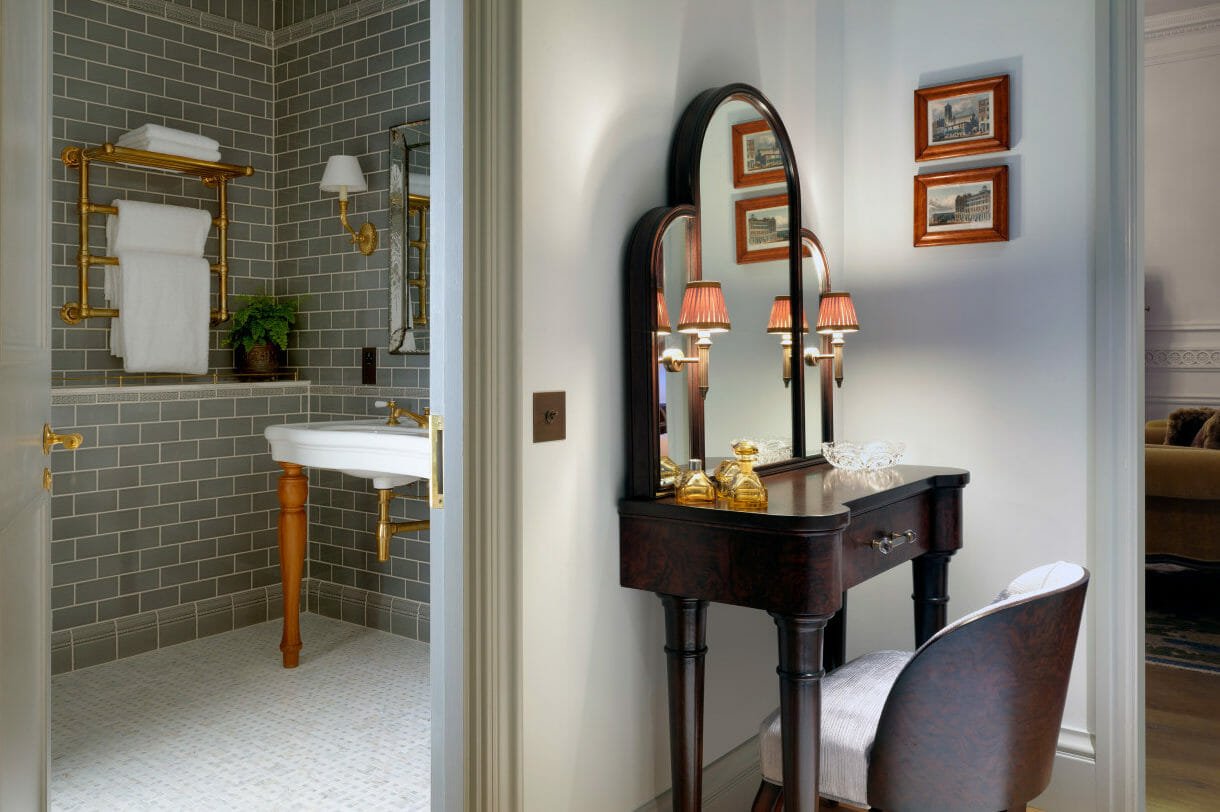 Scaling up, the larger rooms promise grand four-poster or canopy super king-sized beds; panelled walls; minibars in vintage drinks consoles; and giant bathtubs that belong in stately homes. The suites, of course, are on another level entirely – quite literally in the case of the duplex, which has an original wooden spiral staircase in its midst. But both the larger rooms and the suites will also net you entry to the most exclusive part of the hotel…
–
THE MEMBERS' CLUB AREAS
THE ROOFTOP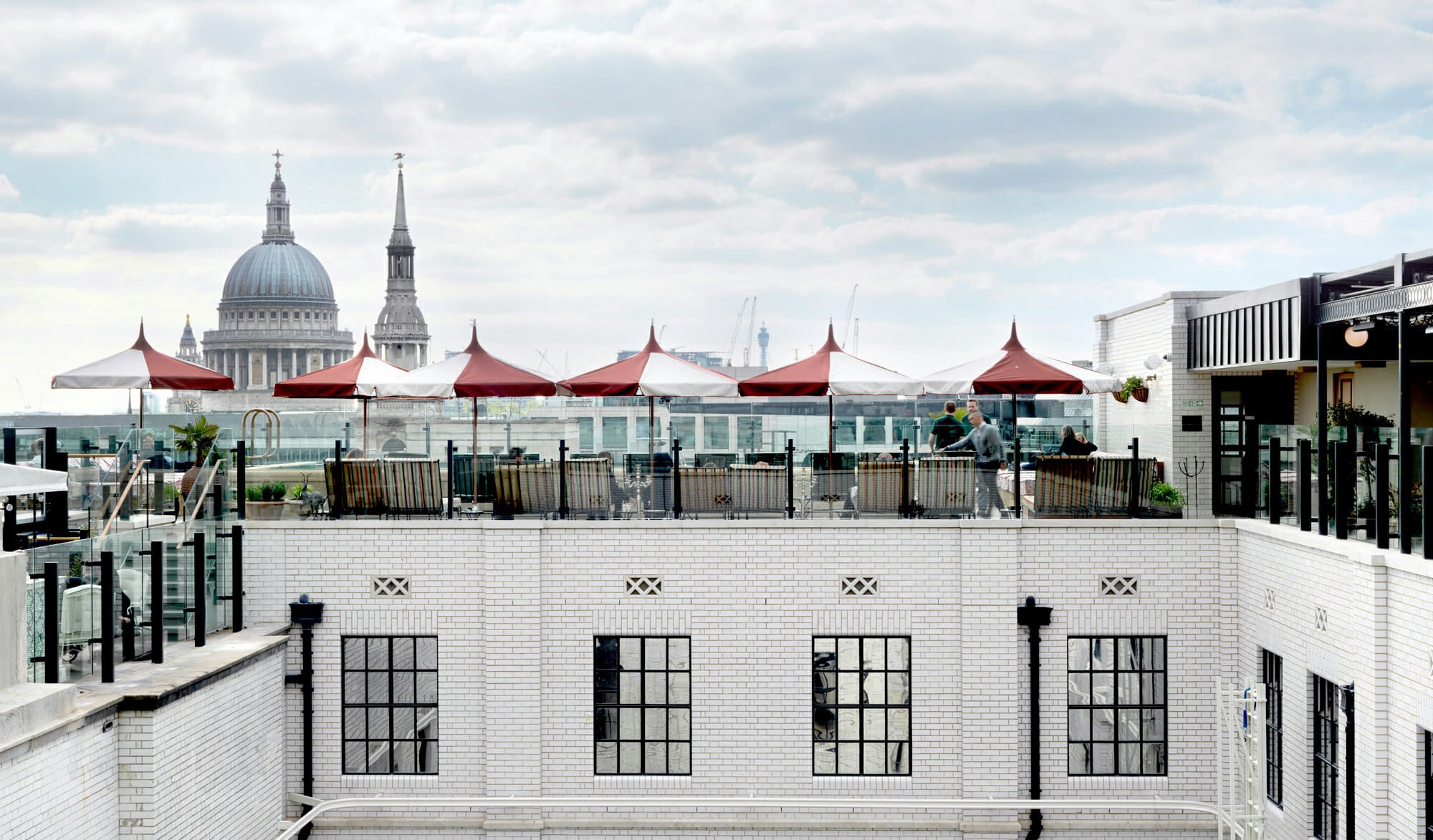 An unusual space winding around the sides of the building, The Ned's rooftop is open only to members and hotel guests in the larger rooms. Here, you'll find cocktail bars, two more restaurants with al fresco terraces (that can be covered and heated in cooler months), and a heated rooftop pool overlooking St. Paul's Cathedral. Not too shabby.
The counterpart to Ned's Club Upstairs is Ned's Club Downstairs, which you'll find in…
–
THE BASEMENT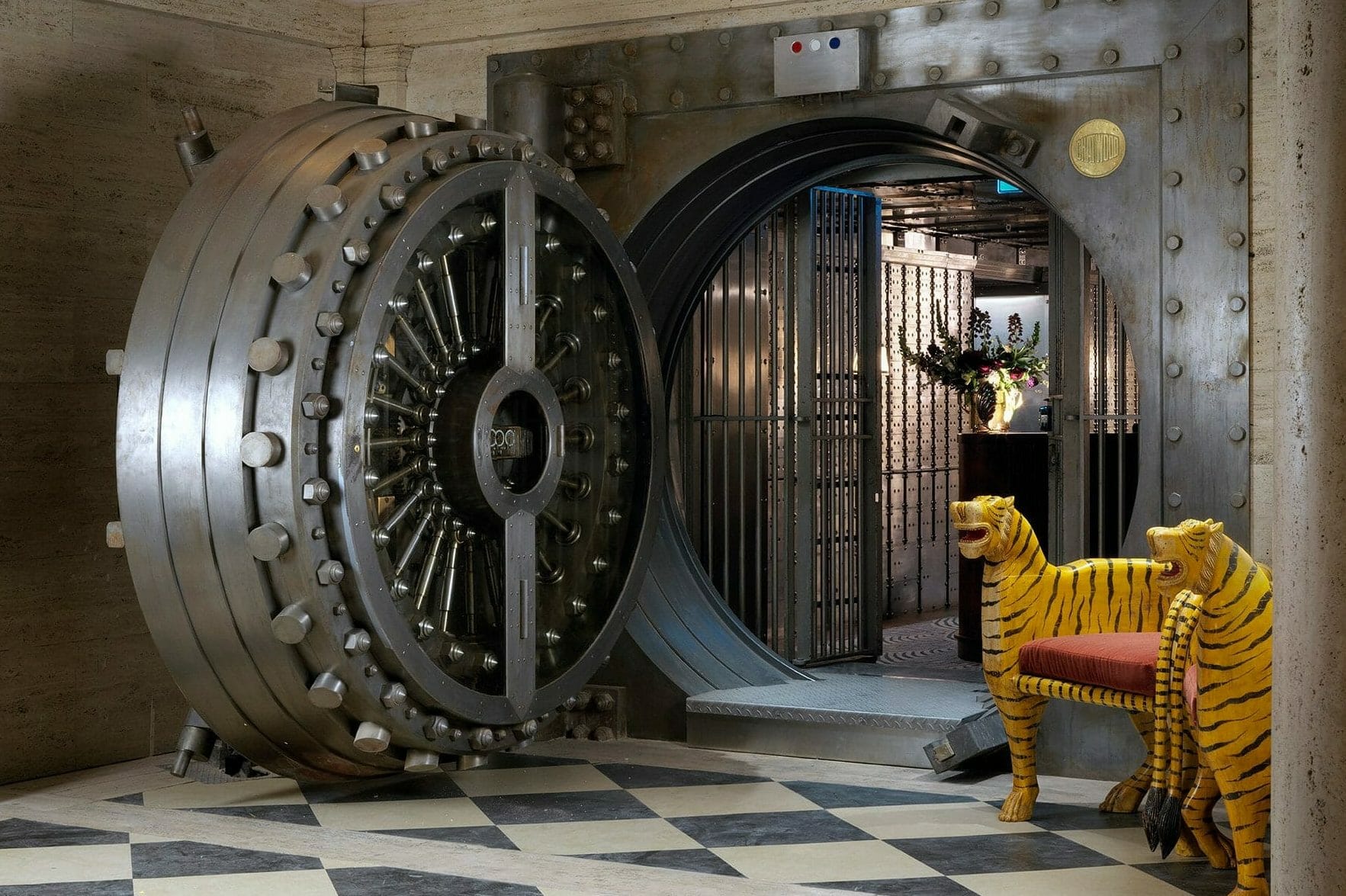 The astute among you will have noticed the slightly unusual door in the picture above. This is the entrance to The Ned's Vault Bar & Lounge, set in the original bank strongroom behind a twenty-tonne, two metre-wide door. Inside, walls are lined with 3,000 original safety deposit boxes, while the space gets some home comforts in the form of more velvety sofas, cocktails, DJs, live music and a late-night Italian menu. Just be aware that a lock-in in this bar could turn out to be quite a serious affair.
–
THE LIBRARY BAR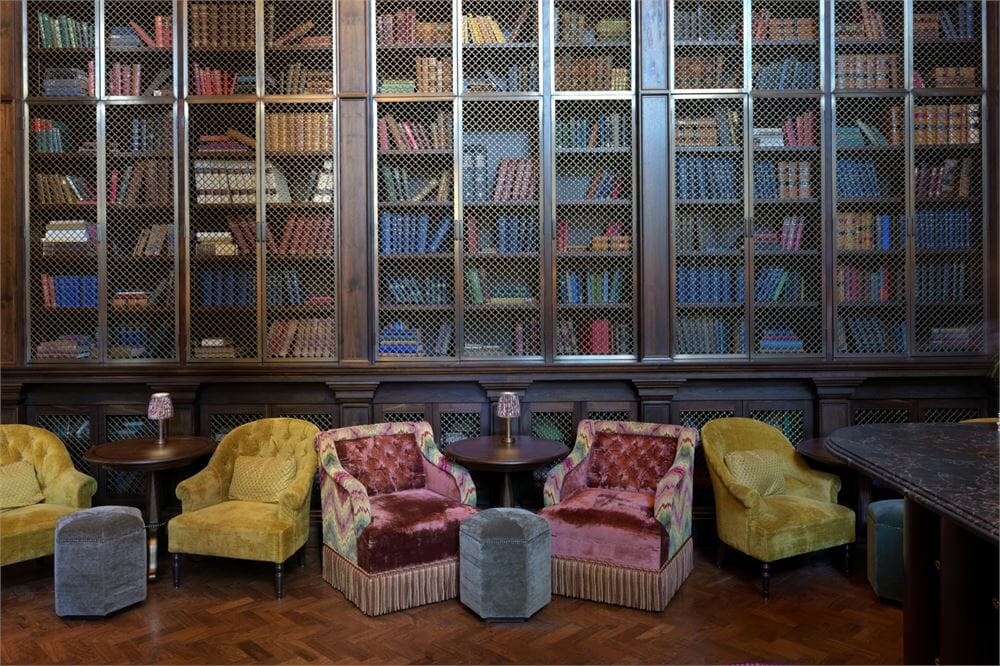 An intimate snug hidden away from the hubbub of the main hall, the close-quartered Library Bar boasts walls covered with antique books; decadent velvet armchairs; and a martini trolley that's wheeled from table to table. And if martinis aren't for you, there's a library of classic cocktails made with aged spirits, rare cognacs and vintage Champagnes to pick from, too. READ MORE
–
THE SPA, GYM & POOL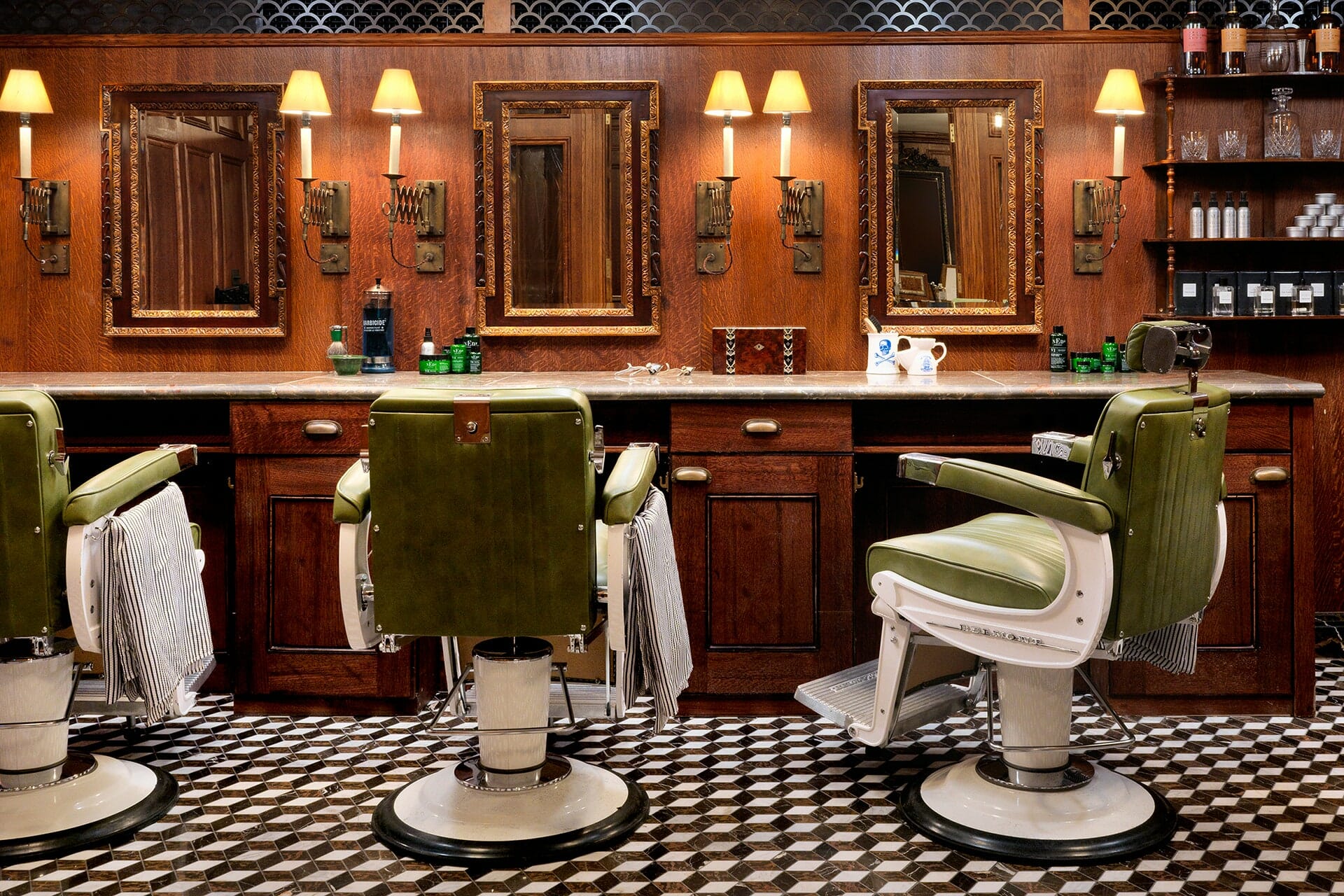 Also in the underbelly of The Ned are the plush amenities for hotel guests and members; namely a gentlemen's barbershop, lined with wood-panelled walls and Victorian fittings; a hair parlour; a Cheeky manicure room; a swimming pool enclosed by verdite pillars echoing the ground floor lobby; a steam room; a sauna; a marble-clad, traditional Moroccan hammam; and a Cowshed spa offering facials, massages and even an intravenous drip service for people who find having tubes stuck in their veins relaxing.
Which, finally, brings us to the ned. Sorry, end.
---
NOTE: The Ned is open daily. You can find out more, make restaurant or room reservations, and apply for membership at their website right HERE.
The Ned | 27 Poultry, EC2R 8AJ