A brief timeline of Breakfast at Tiffany's:
1958 – Truman Capote publishes his novella to great fanfare & acclaim.
1961 – Audrey Hepburn knocks everyone's socks off in the movie adaptation. It becomes instantly iconic. Over the intervening decades it turns into a cultural touchstone.
2017 – Some bright spark at Tiffany's comes to the insane realisation that maybe, just maybe, they should actually, you know, serve breakfast.
And thus was born the Blue Box Cafe in Tiffany's New York flagship store. And yes, every publication within biting distance of The Big Apple published the same headline as this article, and there were two-hour long queues running around the block every morning. It was a roaring success. Who could have guessed.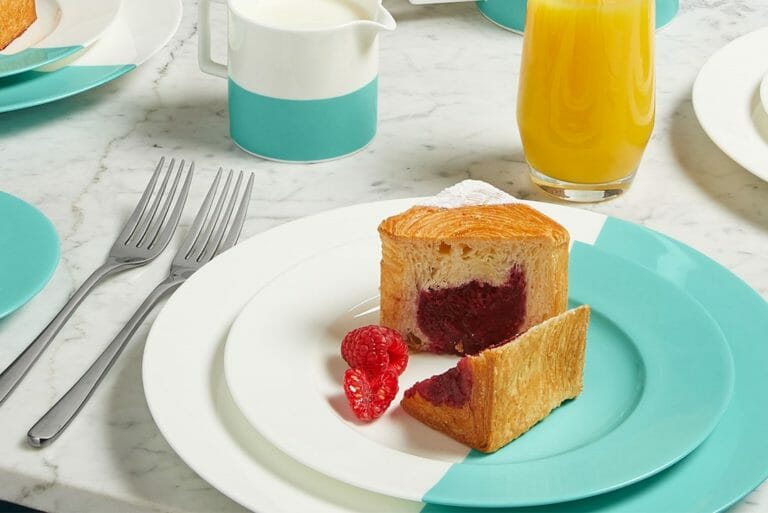 Well, now that success has come to London, because Tiffany's second Blue Box Cafe can be found… in Harrods. It's been decked out in the same robin egg blue colour scheme as their famed turquoise boxes, so as to create "the illusion of dining inside one of Tiffany's famed Blue Boxes". And there is breakfast.
The dishes range from simple croissants (à la Holly Golightly), to truffle Eggs Florentine, caviar & pancakes, and Faroe-Islands smoked salmon. If you fancy getting other meals at Tiffany's, then there's lunch, afternoon tea, and even dinner too, with the likes of Central Park Salads, truffle roasted chicken, and cocktails to boot.
After which… you probably won't go lightly.
NOTE: The Tiffany's Blue Box Cafe is open daily. You can make a booking at their website right HERE.
Harrods | 87-135 Brompton Rd, SW1X 7XL
---
Like dining while you shop? Take a peek at The Brasserie of Light…