After residencies in London Bridge and Clerkenwell, Tigre Tacos have well and truly earned their stripes.
And now, at long last, they've found their first permanent home. It's above the excellent, pink hued mezcal bar Doña over in Stoke Newington, where it's replaced the former kebab shop that used to be there. That's right…
…those Doña kebabs just became Tigre Tacos.
For those who haven't been, they take their inspiration from the laid back beach vibes of '70s Southern California, then pack it all into hyper-fresh and creative tacos that use only fish or veggies. You might have caught them plying their wonderful trade from a food truck moored up outside Nine Lives cocktail bar in Borough, or in The Gunmakers in Clerkenwell.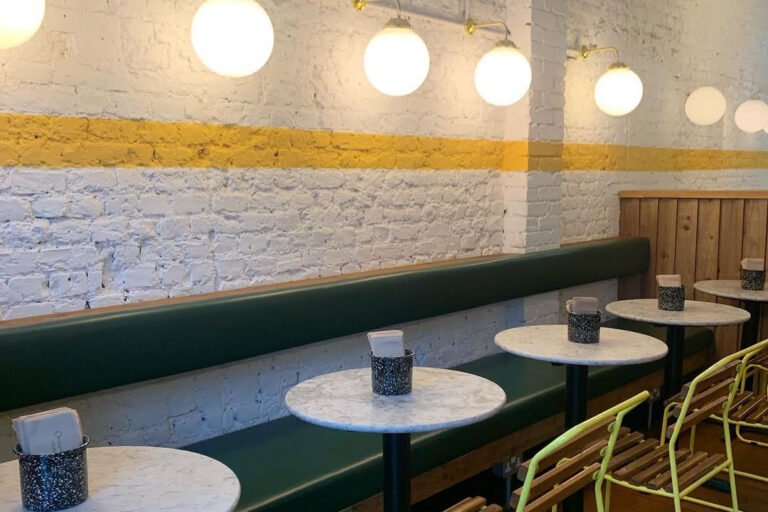 Here, they've created an appropriately sunny, casual spot, with small marble tables and globe lights lining the white walls. The thick yellow stripe cutting through the brick wall makes for a kind of permanent sunrise peeping over the horizon. It's simple, and it's lovely.
On the menu, you'll find an ever-changing selection of tacos, that will nevertheless always play the hits, including their beer-battered Baja fish tacos, and their immensely popular no-fish banana blossom tacos. Add some tostadas, quesadillas, and ceviches, and that about covers it. The list is short, simple, and great.
And as for the drinks? Well, you're above a mezcal bar. So you can probably figure that one out..
NOTE: Tigre Tacos Stoke Newington is open now. You can find out more, and make a booking at their website right HERE. 
Tigre Tacos | 92 Stoke Newington High St, Clapton, N16 7NY
---
Taco fan? Track down the best tacos in London.