Trattoria Brutto | Glorious Tuscan Restaurant in Clerkenwell
"Ugly Restaurant".
That's the literal translation of the late, great Russell Norman's Clerkenwell Italian restaurant, Trattoria Brutto. And we know what you're thinking. Russell Norman? The English teacher-turned-restaurateur who opened Polpo just over a decade ago, and in doing so helped to basically invent the insanely popular modern aesthetic of low slung lights, bare brick, and while tile walls? HE opened an ugly restaurant?
Well, no, he didn't. The name actually refers to the oft-heard Italian expression brutto ma buono ("ugly but good") which essentially sums up the entire ethos of the cooking: it may not be pretty, but it will be bloody delicious. The venue, on the other hand looks perfectly lovely, with walnut-brown wooden chairs, classic red-checked tablecloths, pale mint-green walls, and dozens of paperback-sized paintings dotted along the walls. There's also a huge, fascinatingly bizarre graphic mural at the back of the space by artist Neal Fox, who's stuffed enough detail in it to keep you gazing at it for a quite unreasonable amount of time.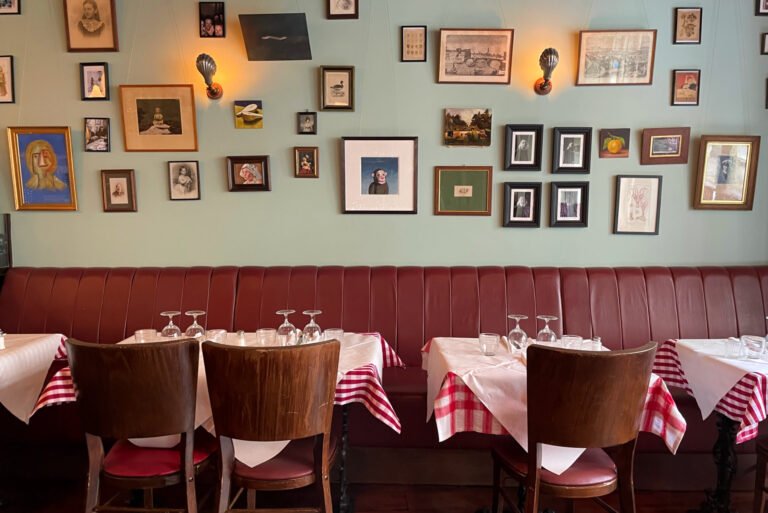 Trattoria Brutto reminds you of everything Russell did to reinvigorate the London dining scene: fantastic service, original interiors, and old-school Italian food. There's no small plates here: instead, it's the usual suspects of antipasti, primi, secondi, dolci, etc. The dishes lean towards Tuscany, without being stubborn about it, meaning you can start off with the likes of a delicate pork tonnato with caperberries, or some glistening anchovies with cold butter & sourdough. Then a little penne with a silky tomato & vodka sauce, or maybe some pappardelle with a hearty rabbit ragu. The main event might be a plate of roasted vegetables decorated with borlotti beans & salsa verde, or just a good ol' Florentine T-bone steak. And to finish it all off? A plate of brown, craggly hazelnut meringue cookies. Brutto, ma buono. Even the Michelin man agrees, promptly giving the place a Bib Gourmand (the star's more relaxed sibling) just months after opening.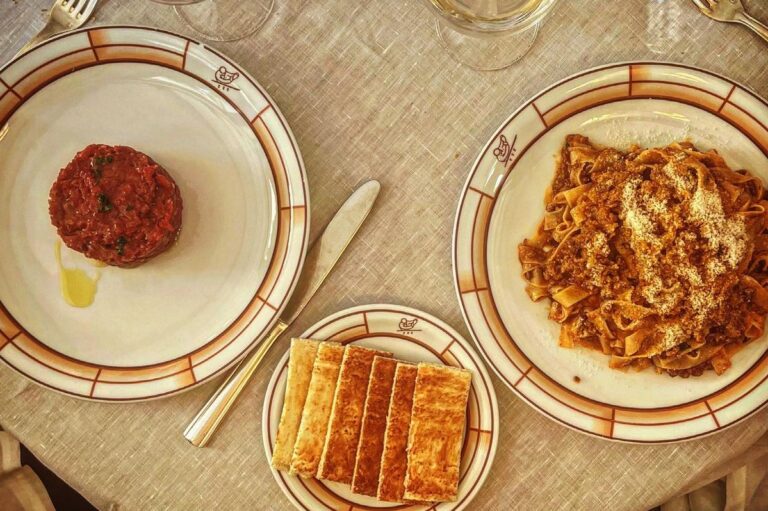 To drink, there's a similarly old-school list of wine & cocktails – we're talking £5 negronis, spritzes, sazeracs, old fashioneds, and more. If it's classic, Brutto probably has it. And alongside them, you'll find dozens of bottles of wine available by the glass, as well as a big ol' half litre jug of house red or white for just £15. In fact, the whole menu is pretty decent value, with no single dish costing more than £15.
Now that's beautiful.
NOTE: Trattoria Brutto is open for lunch and dinner Tues-Sat, and is a dog-friendly restaurant. You can book a table right HERE.
Trattoria Brutto | 36-37 Greenhill Rents, Cowcross St, EC1M 6BN
---
On the hunt for more knockout eateries in the area ? Behold our list of the best restaurants in Clerkenwell