Michelin-starred Trishna is a world away from its not-quite-so-elegant sister restaurant in the heart of Mumbai.
Which is about 5455 miles away.
So half a world, really.
But the Sethi brothers – whose award winning restaurant portfolio includes heavyweights Gymkhana, Lyle's and Bao – worked closely with the Mumbai kitchen to reproduce the very best authentic coastal Indian cuisine in Marylebone Village.
The London spot's sleek. Its pared back aesthetic dotted with antique mirrors, pendant lighting and marble table tops is the result of contemporary refurb that offers a sociable neighbourhood atmosphere and even a semi-alfresco ambience with doors that open onto the street.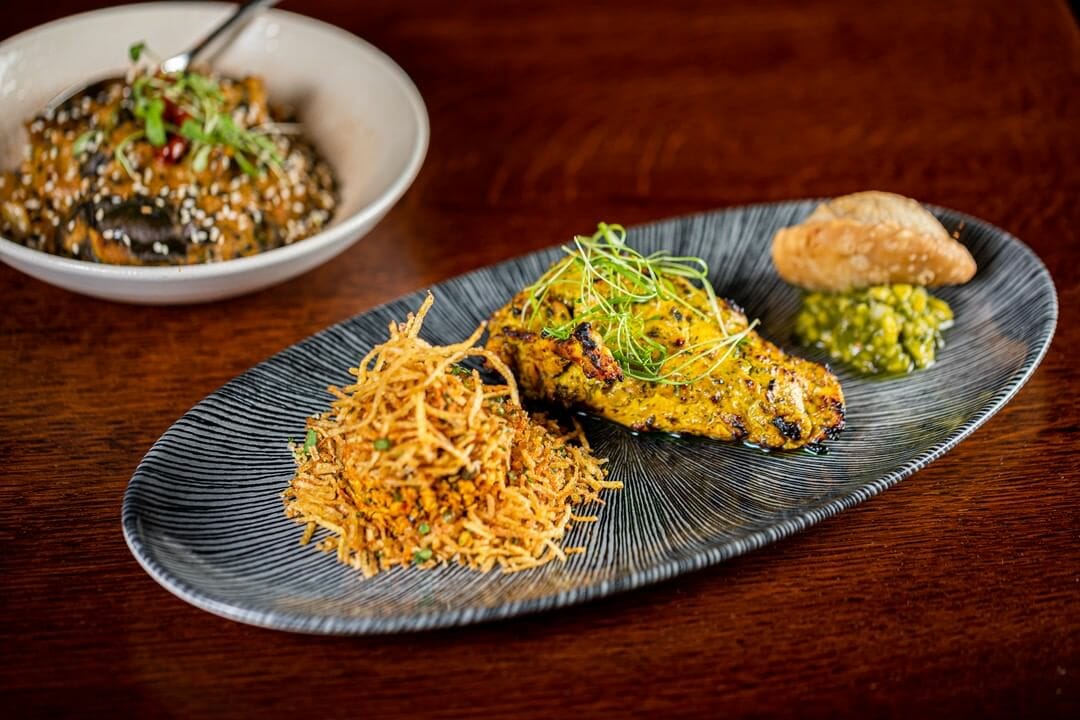 Food wise the focus is on Indian coastal cuisine which means plenty of seafood, as well as coconut, tamarind and plenty of spices. To start for instance you'll find the likes of soft shell crab with smoked tomato chutney, or squid and shrimp with coconut and raw mango. From the tandoor comes more seafood – 'Shahi' salmon tikka and Tandoori mustard prawns – as well as a duck kebab, and an array of upmarket curries.
Listen closely and you might be able to hear the Indian Ocean lapping gently at the jetty…
Ok maybe not, but the sloshing of good wine is definitely audible, as Trishna delivers a list focused on emerging regions and fine wines expertly paired with each dish.
Those Sethis done good.
And saved you a 1734 hour walk.
NOTE: Trishna is open for lunch and dinner, seven days a week. You can book a table by either calling them on 020 7935 5624, or heading right HERE.
Trishna | 15 -17 Blandford Street, Marylebone Village, W1U 3DG
---
Like top shelf dining? Peruse our guide to the current list of Michelin Starred restaurants in London