After working at The Fat Duck, chef Jonny Lake has now opened his own solo restaurant.
Big whoop, we hear you say, anyone can flip burgers at The Fat Duck for the summer, that doesn't make them Heston-bloody-Blumenthal.
Well, no. But Jonny Lake worked there for 13 years, becoming head chef back in '09, helping the place keep its three Michelin Stars year after year, and working his way up to become executive chef of the entire Heston restaurant group. So, in short, his first solo restaurant is kind of a big deal. And to boot? He's also brought the head sommelier of The Fat Duck with him.
You'll find the space in Southwark, next to London Bridge station. It's got a well-lit, light brown interior, whose warmth is brought out through wooden wall panels, mustard banquette seating, and an unusual parquet-style floor made from perfectly tessellating hexagonal tiles. It's all split between a dining area & a wine bar, both of which are flooded with light thanks to the floor-to-ceiling windows. All in all, it feel understated, elegant, and simple – yet also warm.
Starting with the food, the a la carte menu is short-but-sweet, and includes starters like Dante's Pici; a pici-style pasta (it's like a fat spaghetti) with red mullet that's underscored by a comforting richness married with peaks of zesty acidity. Then there's the inventive artichoke with sourdough broth and autumn truffle that's an umami-laden treat for the tongue.
The larger dishes are just as good; the roast pigeon has that satisfying, iron-laced depth of flavour without a hint of toughness; and he Iberico pluma has its own tender bass notes offset with some beetroot and shiitake mushrooms.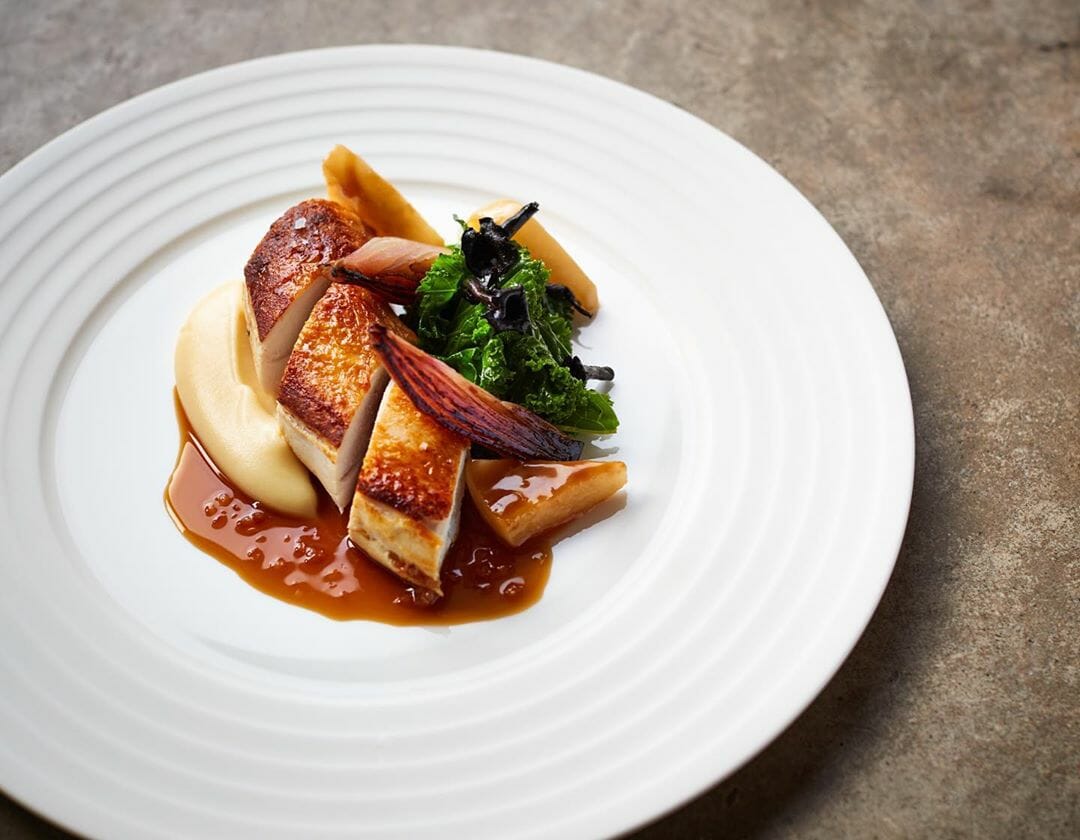 For dessert, you can get a very inventive Hokkaido Potato; it involves baked potato mille-feuille (!) with sake & white chocolate cream, butter, and sake gelato. The potato allows for a little bit of salt to find its way into the dish, while still remaining creamy & sweet. Or, if you're not feeling quite that adventurous, you can always go for the classic – and rich – chocolate & hazelnut fondant.
And then there's the wine list – it spans the world, bottles start at £30, and every single one has been hand-picked to go with the food. After all, Johny Lake and sommelier Isa Bal have been working together for 12 years at The Fat Duck, so they know how to match to each other's work extremely well.
All things considered – what with the talent in the kitchen and all – the prices are neither particularly cheap, nor too eye-watering either (starters from £14, mains £26, desserts £10)… and as for what an actual trivet is? They're the large metal coaster-style things for pots & pans to rest on tables, or above fires.
Oh, and just when you thought it was all over?
You'll get a little canele (it's a shot-glass sized rum & vanilla-flavoured French cake). It's blackened on the outside, and light and fluffy on the inside. And it's the perfect way to end a stunning meal.
NOTE: Trivet is open Tuesday-Saturday for lunch & dinner.  You can find out more, and book a table at their website HERE.
Trivet | 36 Snowsfields, SE1 3SU
---
Like fancy food? Check out the city's Michelin Starred restaurants…