Wilton's | Old-School Seafood in St. James's
As a general rule, spotting a jovial-looking lobster with a top hat and cane outside a restaurant is usually a sign that you should immediately turn around, and have a lie down.
If, however, said lobster is on a small sign down a quiet St. James's street, it can only mean that you've stumbled across Wilton's, a shellfish stand-turned-restaurant that's been trading in the area for 275 years. And in fact, you should immediately request a table.
Planted sedately in the centre of the private gentlemen's club district, the stories and characters surrounding this place are pretty eccentric – not least the tale of how it came into the hands of its current owner back in 1942, who reportedly had the restaurant added to his bill when a bomb dropped nearby and caused the former proprietor Mrs Leal to quite literally throw down her tea-towel and announce she'd had enough.
Luckily, you don't have to be quite as deep of pocket to enjoy its charms today, thanks to some reasonably priced set menus. Nevertheless, it retains the dignified interiors of a place steeped in history and wealth – high-backed, green velvet banquettes line the private booths at the back; original artworks line the walls and silver trolleys are wheeled through the restaurant bearing caviar, carvings and cognacs.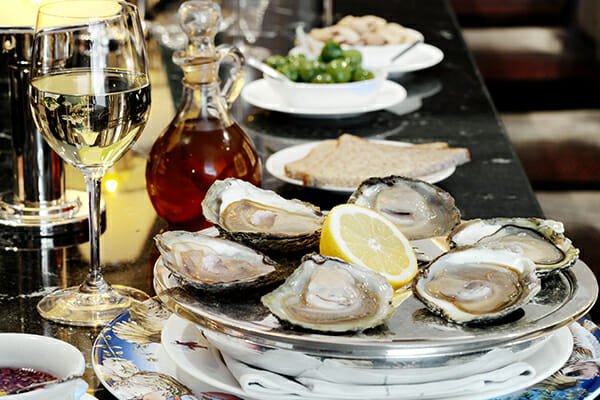 In keeping with surroundings, the menu here is flush with old-school British charms, led by the seafood that's so intrinsic to their heritage. Expect to start your evening with fresh oysters, caviar, dressed crab or a retro prawn cocktail before moving onto the sizeable mains, like lobster thermidor, meaty lamb cutlets served with mint jelly, or portobello mushroom and ale pie. It's a restaurant from a different age, with hearty dishes made well and without affectation – there are no open kitchens, the chefs and their credentials are not paraded around, and the only small plates are the ones to the side of your one giant one, ready to host fresh bread and a curl of butter. Instead, the focus is all on making excellent, filling food.
And hey, they clearly know how to bring a lobster out of its shell.
NOTE: Wilton's is open for lunch Mon-Fri, and dinner Mon – Sat, with a break in between. You can find out more and reserve a table on their website HERE.
Wilton's | 55 Jermyn Street, SW1Y 6LX
---
Like dining locally? Peruse our pick of the best restaurants in St James's