There can be a lot of hype around new pizza places.
And they don't always deliver.
But luckily the third branch of Yard Sale Pizza (so called because it all started off with a stone baking oven in one of the founders' back yard) is firmly living up to expectations. Settling down in Walthamstow, it's the first of their restaurants to actually offer back yard dining again, with an al fresco terrace adjoining the intimate booth-filled interior of the former stained glass workshop.
They're still topping their bubbly sourdough bases in 12" and 18" portions with combinations like pepperoni and 'Nduja sausage, courgette and pastrami, and tenderstem broccoli and manchego, but they're also introducing the Walthamstow-exclusive brunch pizza, with crumbled chorizo, avocado and fresh spinach – complete with runny egg in which to dip your pizza crust soldiers. And to top it all off, there'll be regular 'love-ins' that see resident pizza specials cooked up by visiting collaborators – starting with Rola Wala who have created – possibly the world's very first – curry pizza.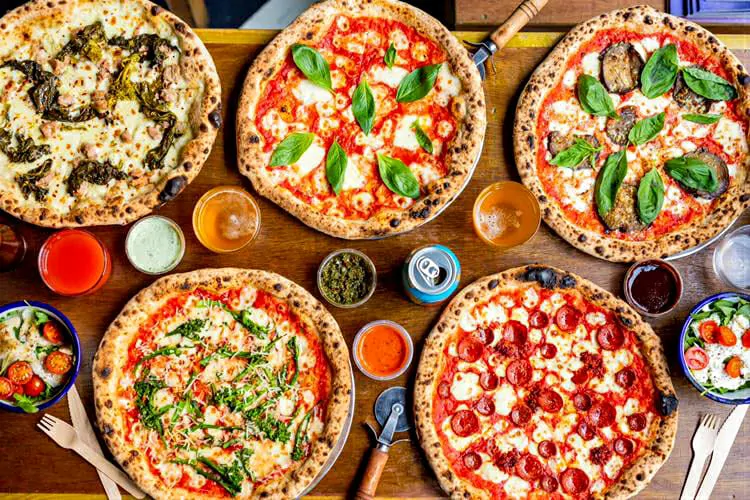 …Whether it's the first for good reason remains to be seen, but it'll be available for the first two weeks of April. And if the entire charred scorpion chilli on top proves a little too much, then there's homemade dips and gelato as well as wine and beers courtesy of Borough Wines and local craft brewers on hand to cool you down.
In case you need delivering, too.
NOTE: Yard Sale Pizza Walthamstow is now open daily, 5-11pm Mon-Thur, and from noon till late on Fri-Sun.
Yard Sale Pizza | 15 Hoe Street, E17 4SD
---
Want the whole dolce vita experience? You can find it at the Mercato Metropolitano