Zahter | Mouthwatering Turkish Food on Carnaby Street
Almost everything in Zahter comes from Turkey.
The plates, the cutlery, the wall tiles, the linens, the lighting, the marble bar, the hand soap in the bathroom, and yes – the chef.
That chef is one Esra Muslu, whose storied career has seen her work under the tutelage of Yotam Ottolenghi, run the show at Soho House Istanbul, and open half a dozen of her own highly admired restaurants in Turkey's largest city, too.
Now, she's come to Soho to bring us a slice of the country she loves. Zahter is a three storey paean to the Aegean set inside a former clothing warehouse just off Carnaby, and it's about as close as you can get to a high-end Istanbul restaurant experience within the next thousand miles or so.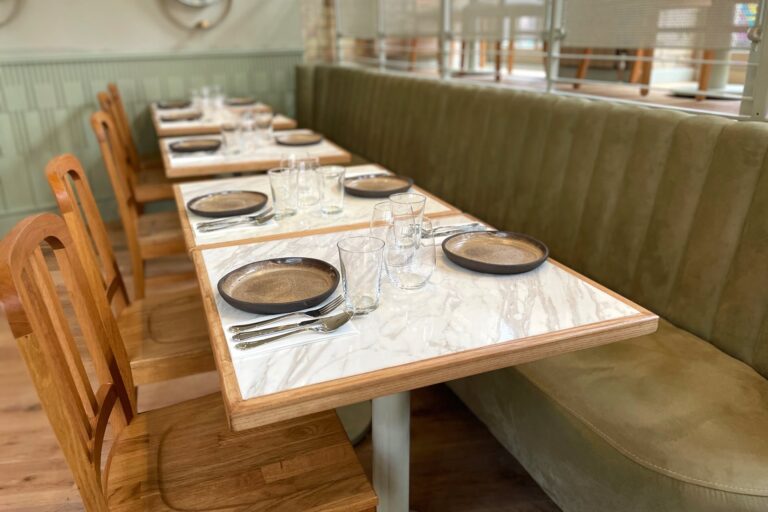 You'll find it on a corner of Newburgh Street. Step inside, and the first thing you'll see is the wonderful blue tiled chef's counter, hemming in the blazing wood-fired oven. All the seating down here is counter seating, either at that marble-topped counter, or against one of the huge warehouse windows that stretch right up to the second floor and drench the place with light. In fact, crane your head up, and you'll be able to see the iron girders suspending that floor above you, almost like a mezzanine. Head on up there, and you'll find a more relaxed seating area with soft, sofa-like banquette seating illuminated by elegant brass lamps.
The food starts with a parade of mezze dishes all accompanied/mopped-up by freshly baked pide & lavash straight out of that wood-fired oven. Expect bowls of labneh with green chilli & candied sunflowers; delicate slices of citrus-marinaded seabass with kumquat; and a whole artichoke flower stuffed with spiced rice & roasted almonds. After that, the hot dishes include roasted tiger prawns with garlic Aleppo pepper butter; oil-braised fennel with orange & feta cream; and smoked aubergines with chilli jam & fried garlic.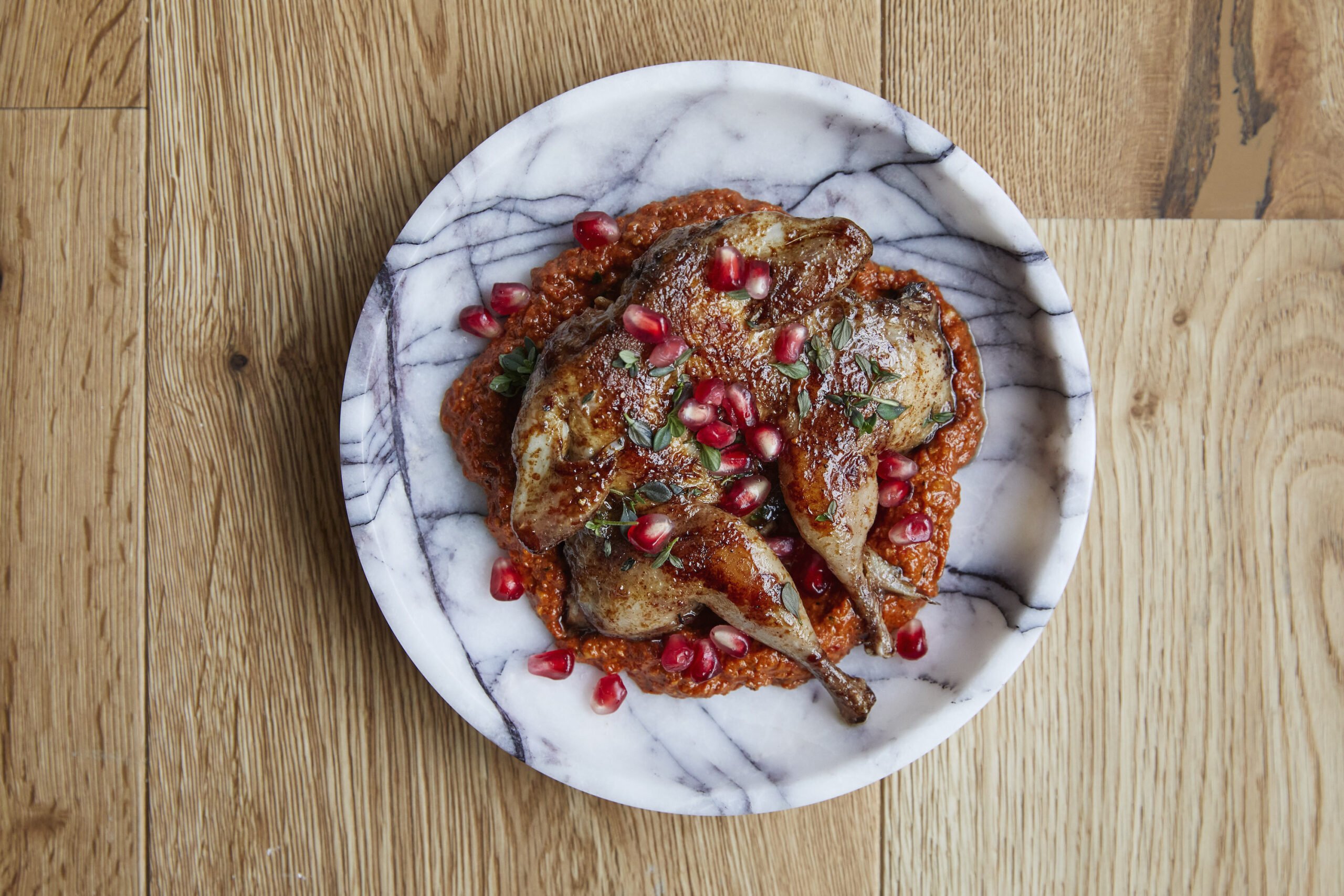 After that there are larger plates, including a whole sea bream dressed in chimichurri that's been expertly deboned before serving up so as to let you dive in without hesitation, and some juicy chicken thighs spiced with toum & spring onion. And of course no Turkish restaurant would be complete without some pistachio baklava to finish, but if you're feeling curious you can also spring for something just as traditional, but less well known over here – a warming, spiced, poached quince dish called ayva tatlisi.
The booze component of the operation comprises a short list of cocktails, including one that involves gin infused with actual zahter (which it should be mentioned at this point, is a thyme-like herb that grows in Southern Turkey) then topped up with bubbly. And of course there's plenty of wines to go with it all from Greece, Italy, Spain, Morocco, and yes, Turkey.
The venue has a third storey too, but that's currently being turned into 'The Loft', which will soon be an events space and cookery school. As for how all that will work?
We'll soon learn.
NOTE: Zahter is open for dinner Mon-Sat, plus Saturday lunch. You can book a table right HERE.
Zahter | 30-32 Foubert's Place, Carnaby, W1F 7PS
---
Like Turkish food? Check out the best Turkish restaurants in London