Zuma | Uber-Polished Sushi Spot
Zuma.
It's the rolls-rice of sushi places.
With a dozen perfectly manicured venues in almost as many countries (NY, Rome, Hong Kong, Istanbul, etc.), their London branch is the original, now in its sixteenth year of wowing diners. It comes to you from the inimitable Rainer Becker, who's since also launched Roka in three spots across London, and Oblix at the Shard.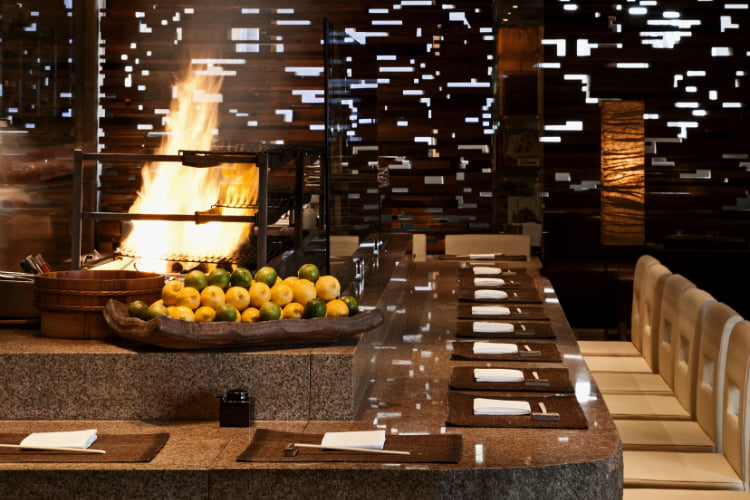 His intention with Zuma, apparently, was to create something "like Nobu, but different". So when you pass the zen garden-like al fresco area on your way into the restaurant, and take in the beyond-elegant natural stone and wood decor, you'll notice that like Nobu, it has minimalist, sophisticated interiors; an open kitchen manned by dozens of chefs; and platters of delicately sliced sashimi floating past the tables…
…But you'll also note that unlike Nobu, those interiors gravitate around a huge island bar, where barkeeps put together the finest cocktails in Knightsbridge; the open kitchen's surrounded by a roughly-hewn granite dining counter, so diners can actually see the chefs in action; and that sashimi is counterbalanced by nods to Japanese izakaya dining – crispy, fried, carby deliciousness designed to soak up a couple of drinks.
Pull up a stool at the island bar counter (saved exclusively for walk-ins), or settle down in front of the open kitchen, where you can watch the chefs prep, season, and scorch the seafood (and, occasionally, non-seafood) into menu fillers like,
SUSHI & SASHIMI
You'll find paper-thin slices of sashimi, like the seabass with yuzu, truffle oil and salmon roe, alongside delicately prepared sushi like unagi bo zushi maki, which puts grilled freshwater eel with avocado, sweet omelette and gobo (burdock root); and dynamite spider maki, with soft shell crab, chilli mayonnaise, cucumber, and punchy wasabi tobiko sauce.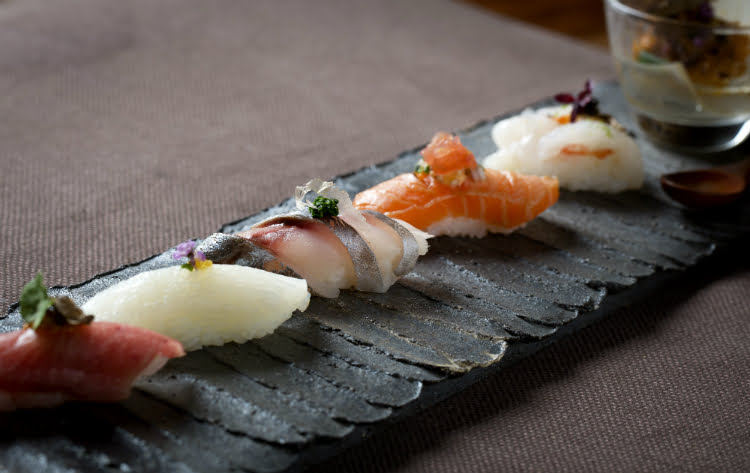 ROBATA GRILL DISHES
The centrepiece of that open kitchen, the robata grill, is responsible for the flame-licked, gorgeously charred dishes like sweet potato with teriyaki and sesame; chicken wings with sea salt, sake and lime; and jumbo tiger prawn with yuzu pepper.
IZAKAYA DISHES
One for the tempura fiends, these bar snack-style dishes range from crackling, battered soft shell crab to bronzed and sticky yakitori (chicken skewers), to crispy tofu cubes served with avocado and Japanese herbs.
ZUMA DISHES
So called because they're the house specialities, you'll find bigger dishes here from roasted lobster with green chilli and garlic hojiso butter, to barley miso marinated baby chicken, and rib eye steak.
THE DRINKS
Back to those cocktails – the highly knowledgeable barkeeps are armed with over 40 different sakes, which you'll see stacked above that island bar. They're tipping them into numbers like the Hokkaido Blossom, whose gin is tied with lillet blanc, plum sake, lemon, orange blossom, and champagne – but the true stars are those on the newly unveiled autumn menu, with a drink to match each flavour profile (sweet, sour, bitter etc.). Try the Kushiro Martini, with vodka, samphire cordial, bitters and nori (seaweed) infused vermouth, finished with a pickled nashi pear…
It's worth getting your gnashers round.
NOTE: Zuma London is open daily for lunch and dinner (12-3pm and 6-11pm weekdays, and 12-3.30pm and 6-10.30pm weekends). You can book a table, and find out more, at their website HERE.
Zuma | 5 Raphael Street, SW7 1DL
---
Like dining in the area? Take a look at the best restaurants in Knightsbridge