A Strange Loop | A Play Within A Play Within A Play Within A Play
You know when you see posters for theatre shows and they're absolutely plastered in a seemingly impossible number of five star reviews?
Well, A Strange Loop makes them look like trash.
It's won Tony Awards. It won a Pulitzer Prize. It won literally every 'Best New Musical' award that it was possible to win when it opened in New York. The kind of things critics are saying about it test the limits of hyperbole. So it's probably good news that it's arrived at the Barbican. Only there's a catch: this is a one-time only engagement, strictly limited to a three-month stint before it disappears from our shores indefinitely.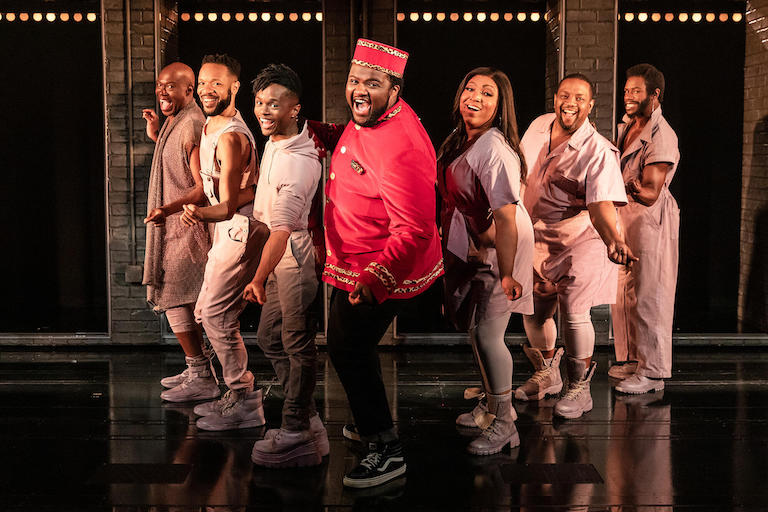 So what's the story? Creator Michael R Jackson has written a musical about a young, black, gay writer, who is writing a a musical about a young, black, gay writer, who is writing a musical about a young, black, gay writer – you get the idea. The play is so meta, it's like a Russian nesting doll of theatrical genius, except when you reach the centre, there's just another doll giving you a knowing wink. As the narrative delves into the protagonist's psyche, it artfully interweaves reflections on his insecurities and the conflicting voices that reside within. And this nuanced, layered approach creates a theatrical experience that is as thought-provoking as it is entertaining.
And as for those critics? Well, on this side of the pond, the word has been just as enthusiastic as it was back on Broadway. The Evening Standard have said "Stuffed with catchy tunes, it's messy, exhausting and spectacular", while the Guardian called it "strikingly original and highly entertaining". It's been five stars across the board.
Thanks to the limited nature of its theatre run you can expect the tickets to go swiftly. And given that it's a sprightly 1 hour 40 minutes, you can also likely expect a few repeat customers too, who may well end up going again, and again, in some kind of…
…strange loop?
NOTE: A Strange Loop is showing at The Barbican from 17th June — 9th September 2023. Tickets start at £20 and you can get them right here.
Barbican Centre | Silk Street, EC2Y 8DS
---
While we're on the subject of musicals… here are London's best theatre shows.