More well-know for his work onscreen, in his one-man show Invisible, actor Nikhil Parmar takes centre stage.
Perhaps you've seen Parmar in Aisling Bea's superb This Way Up, or in Trollied. What you haven't seen him do is play James Bond, which is the jumping off point of the show. Sort of.
Because Parmar's tricksy, multi-layered piece is a feat of continuing misdirection. It's about him – or is it? He tells the story of a character called Jayan all the way through – or does he? And it's a light-hearted, frothy romp – until it isn't. It's a solo show, but not as we know it.
Tracing the life, loves and frustrations of a struggling actor (best known for the 'chicken dance' he performed in an advert), single parent and failed weed dealer – oh, in a world in which Islamic fundamentalism doesn't exist – it's a show that's difficult to pin down.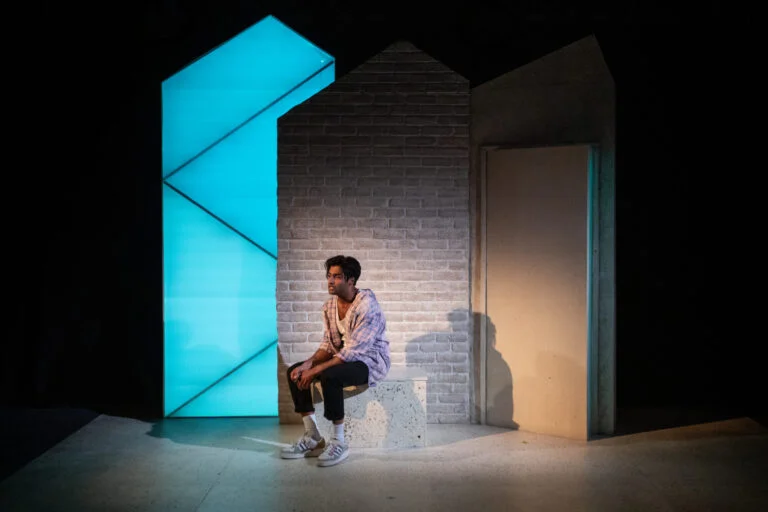 It's expertly performed, throughout. As the Stage says: "As a vehicle for Nikhil Parmar's acting talent, this show nails it. Parmar the actor does pathos, humour and different accents – he plays women, he plays men; he goes from Bond to Bond villain, and he even punches himself in the face and falls over. He can do it all."
Invisible is playing the Bush's studio space – one of three new plays premiering as part of the Bush50 Studio Season, celebrating the venue's 50th birthday. It's a snug, intimate venue, meaning wherever you sit you'll get a great view of Georgia Wilmot's elegant set, and Parmar's adept, dextrous performance, which is extremely funny – until it isn't.
Because, just when you think you've got the show sussed, it evolves again – the ending breaking down into something far stranger and more impassioned than the deconstructed, stop-start meta-play you've been watching. It's a heartfelt meditation on race, and racism, and deep-seated frustrations, not performed by 'Jayan' but by Parmar. Nikhil Parmar. 
Don't beat around the bush. Go see it.
NOTE: Invisible is playing at the Bush Theatre until July 16th. You can find out more, and get a ticket at the website right here. 
The Bush Theatre | 7 Uxbridge Rd, W12 8LJ
---
What's this? A Guide to the best London theatre shows playing right now?? Why yes, yes it is.