Hands up who's an enormous fan of Irish satirist Richard Brinsley Sheridan and wants to watch an adaptation of his 1775 play The Rivals? 
Okay scratch that. Who loved One Man, Two Guvnors, and wants to see playwright Richard Bean bring another updated classic farce to the National Theatre, and stage it with a bunch of hugely talented comic actors having the time of their lives?
Yep, that's better.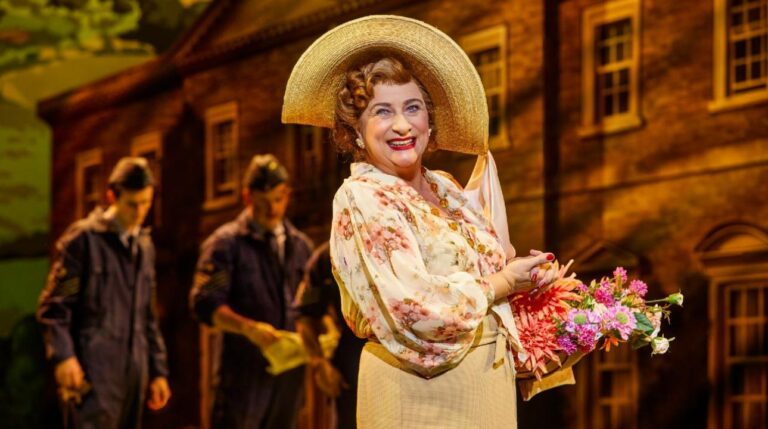 Loaded with fourth wall-breaking silliness, Bean's take on the restoration comedy is extremely bloody restorative. The stakes are low – a couple of love triangles between some yomping poshos (and their help, obviously) out in the Wodehousian English countryside – and yet they're also inconceivably high. Because the action is all taking place in World War II, meaning that – in between each fizzy set piece, full of bawdy wordplay, maids hiding secret notes, and implausibly flimsy disguises – a siren sounds, and Our Boys have to run to their warplanes and take to the skies.
It  means that there's a real poignancy underneath all the schoolboy humour (of which there's plenty – the language, unexpectedly blue at times, means it's less PG Woodhouse and more BBFC-15 Woodhouse). The production is easy on the eye, too thanks to Mark Thompson mobile set and lush costumes, Tim Lutkin's dextrous lighting, and Jeff Sugg's video design which makes full use of the Olivier's enormous stage space.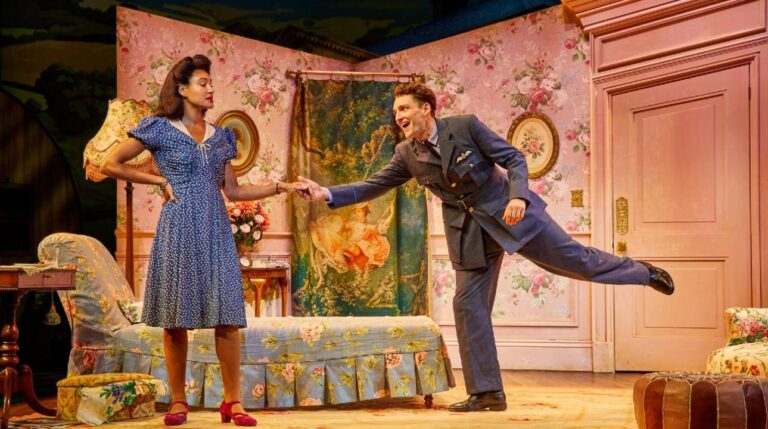 Caroline Quentin has an absolute ball as Mrs Malaprop (she of the famous -isms); she variously plays the ukulele, performs a full splits(!), hits a high C, cops off with a handsome older soldier, and joyously mangles her vocabulary.  
Directed with precision and Emily Burns, not a comic beat is wasted, even amongst the smaller roles – here, a crisp salute must be directed at Tim Steed, playing quiet, stiff upper-lipped (but gently, tragically lovelorn) authority figure Coventry.
You'll definitely laugh. You may well cry. And you might even give it – as Mrs Malprop would have it – a standing dilation.
NOTE: Jack Absolute Flies Again plays at the National Theatre until 3rd September. You can find out more, and get tickets right here. 
National Theatre | Upper Ground, South Bank, London SE1 9PX
---
Like theatre? Check out the best theatre shows on in London now