We don't want to be dramatic…
…so we'll leave it to the professionals taking to the stage at London's most iconic al fresco arts space, the Regent's Park Open Air Theatre, which is back open for business this summer.
Surprisingly for its size – it seats a cool 1,253 – it's a place you wouldn't really stumble across unless you knew it was there. Hidden away in a grassy corner of Regent's Park, surrounded completely by trees, it's more amphitheatre than theatre. A horseshoe of stadium-style seating envelops the stage, which – given that there aren't curtains, drop-in scenery or wings like in a traditional theatre – is always constructed into creative and unusual sets. And yes, the whole theatre is left entirely open to the elements, making it a magical setting by night or day.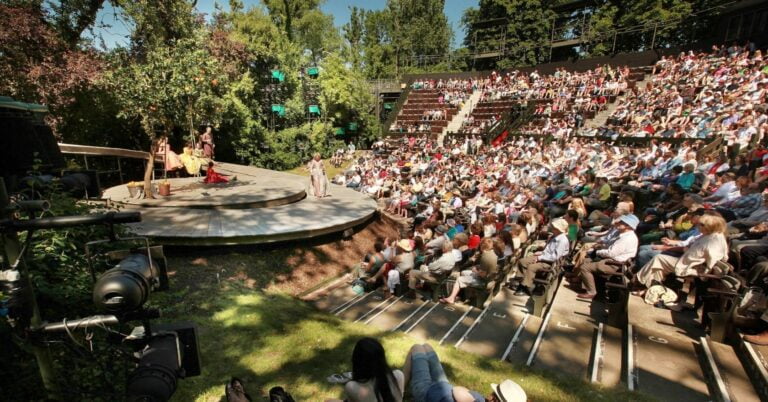 Things kick off in May with an all-new rendition of Lynn Ahrens and Stephen Flaherty's classic 1985 musical, Once on This Island, led by Gabrielle Brooks (whose brilliant performance in Get Up, Stand Up! The Bob Marley Musical got her an Olivier nom last year); followed by a fresh take on the legend of Robin Hood, written by Cal Grose and directed by Melly Still; and then, another revival and the centrepiece of 2023's programme, La Cage aux Folles, directed by Timothy Sheader, who is in fact the Artistic Director of the Open Air Theatre itself.
As always, though, these big productions will be bolstered by a line-up of lighter events that you can take the kids to as well throughout the summer. Highlights include Every Leaf A Hallelujah, a magical family-friendly show from Ben Okri (May 22-10 June); The Tempest, 're-imagined for everyone aged six', which is essentially Shakespeare dialled down for the little ones (June 30-22 July); and finally, Dinosaur Life, which while intended for those of a younger age, sounds pretty damn good for adults too, if you're into meet and greets with T-Rexes… (11th August – 3rd September).
Thennnn – oh yes, there's more – expect the usual supplementary shows in comedy and cabaret (with Bridget Christie & Friends, Sara Pascoe, and Tim Key's Mulberry among the lineup), plus film screenings of iconic musicals like Elvis and Grease.
There's also bar on site, as well as a café, some covered dining, a grill, and a pre-theatre drinks service. They even have a dedicated lawn just outside the theatre for picnicking, and you can bring your own food from home.
Which is good. Most theatres usually have a blanket ban.
NOTE: Regent's Park Open Air Theatre's summer 2023 season runs from 10th May – 3rd September. Tickets start at £25 for the main productions. You can find out more, and book, at their website right HERE.
Regent's Park Open Air Theatre | Inner Circle, Regent's Park, NW1 4NU
---
Looking for more culture? Here are the best theatre shows to book now…