In its storied 190-year history, the building that's currently The Almeida has been a warehouse for carnival novelties, a hub for the Salvation Army, a gentlemen-only members' club, and a lecture hall for a scientific & literary institute (with its own small natural history museum).
Let's hope it's finally settled on 'theatre'.
Although technically speaking The Almeida is actually a 'producing house', meaning that it strictly creates its own shows, from classic plays to new work by top playwrights. The quality's consistently impressive (shows regularly feature in our guide to the best plays currently on in London), and many of them transfer to big-name theatres in the West End after their run here. At The Almeida, you're guaranteed to see something totally original, infused with the creative & boundary pushing sensibility that the place thrives on.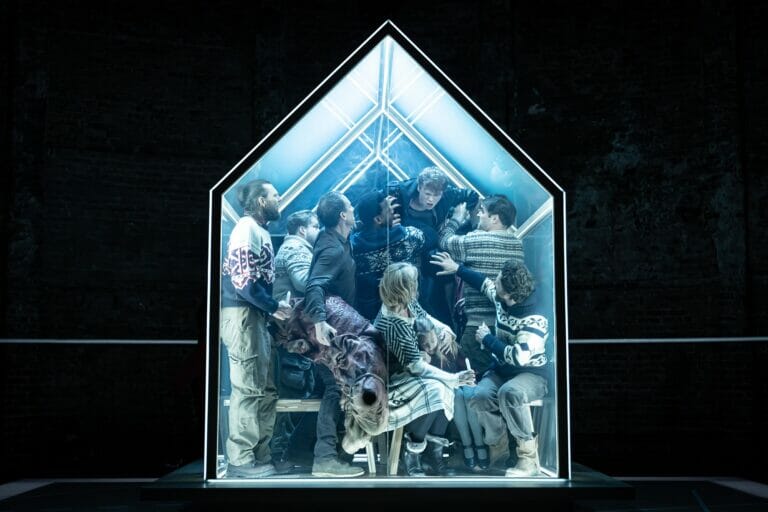 The building itself is appropriately beautiful, given its age. It's been Grade-II listed, and looks every bit the part, with stately white columns propping up a double-height facade. That's all in slight contrast to the very novel ideas being bounced around inside, where cutting-edge shows are the order of the day. You'll see those shows in the 325-seat main auditorium, which seems like a lot, but it somehow comes off as being quite intimate. No matter where you sit, the stage feels close, and the energy from the performers is palpable.
The shows they put on have included some absolute masterpieces, with everything from the classics (like Summer & Smoke by Tennessee Williams); to the Shakespearean (Andrew Scott's take on Hamlet was legendary); to the contemporary (Chimerica swept the Olivier awards); to the experimental (they've adapted the Twilight Zone and American Psycho to the stage). They even adapted a show called Mr Burns: A Post-Electric Play, that depicted a post-apocalyptic future in which a theatre troupe attempted to perform classic Simpsons episodes from memory, ads and all.
The Almeida's also dedicated to ensuring that theatre's accessible to everyone – they offer £5 tickets for every show to under 25s, and 26-30s can get £15 tickets on Mondays (if that's you, you might want to take a look at these other discount ticket schemes at London theatres).
And if you're in the market for a little pre/post show nourishment, The Almeida is surrounded by some fantastic Islington restaurants…
…so finding somewhere to eat won't be a whole drama.
NOTE: The Almeida Theatre is open now. You can find out more and book tickets at their website right HERE.
The Almeida Theatre | Almeida Street, The Angel, N1 1TA
---
Making a night of it? Check out the best bars in Islington…