A wealthy, somewhat smug, American couple and their art dealer friend (all of them white) prepare to receive a guest for dinner – a highly successful black artist, whose work the couple wishes to collect. 
So begins The White Card by Claudia Rankine – the American writer, essayist, Frederick Iseman Professor of Poetry at Yale University, and MacArthur Fellow – which is playing in the Soho Theatre's main space following a May-June tour. What follows is an at-times excruciating dinner party, through which Rankine explores and dissects white privilege, white fragility, the white saviour complex, microaggressions, and the hollowing out and commodification of the black experience. 
It's also, by the way, very funny – albeit grimly – and Rankine's script, directed by Natalie Ibu of the Northern Stage, crackles with teeth-grindingly recognisable faux pas and social misfires, all whilst remorselessly interrogating our collective understanding of race and racism.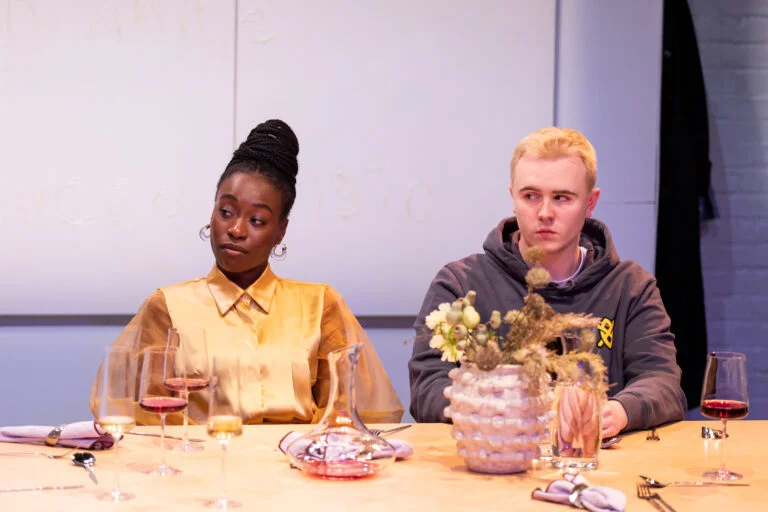 Christine Gomes sparkles as talented photographic artist Charlotte, whilst Matthew Pidgeon – compelling as wealthy patriarch Charles – oscillates between benevolence, malice and almost horrified introspection. 
Debbie Duru's all-white set is arresting; the family's 'artworks' are depicted didactically, with scrawled black text on blank canvases explaining what each piece 'is'. In an audacious moment of bravura theatricality, whilst holding a mirror up to the audience (literally), the set reveals secrets that lead us into our second act.
Rankine's timely, self-aware piece asks nothing but difficult questions – about complicity, about liberalism, about guilt – and refuses to give easy answers. The play doesn't just skewer older white liberals – with Charles' son Alex, assured of his own worthiness (played by a winningly arrogant-and-righteous CJ Coleman) Rankine expertly pricks the pomposity of militantly crusading millennials and Gen Zers.
The White Card is not a straightforward polemic, and is all the more powerful for it. It is a complex, thoughtful, razor-sharp, at times devastating piece, which proves that not everything is black and white.
NOTE: The White Card plays at the Soho Theatre until 16th July. You can find out more, and get tickets at their website right here.
Soho Theatre | 21 Dean Street, W1D 3NE
---
Bar full? Head to one of Soho's best bars for a nightcap