Khadambi Asalache could do everything.
Born in Western Kenya in 1935, he worked farms; got a degree in architecture; took a Grand Tour of Europe studying fine art; moved to London and taught Swahili; wrote poetry, novels and TV scripts; gained a masters in philosophy of mathematics; and became a civil servant at the Treasury.
Suffice to say, he was a pretty interesting guy.
Around 20 years after coming to London, he bought an old squatters' den on Wandsworth Road for below the asking price of £31,000. And over the remaining 25 years of his life, he hand-chiselled the place into one of London's most breathtakingly beautiful and unusual houses.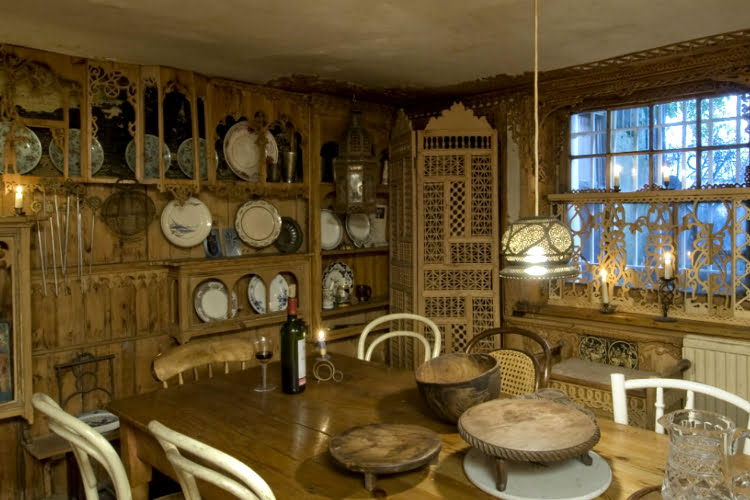 Head to number 575 armed with a pair of slippers, and you'll be able to pad around the poet's former home – which has been preserved just as he left it. Originally using pine wall panels to disguise the damp in his basement, Asalache gradually covered almost every inch of wall space in the house with delicate, hand-carved 'fretwork', or ornamental wood cutting. Made out of old reclaimed doors and planks of wood found in skips, the carvings are influenced by everything from Moorish patterns to Chinese screens. Any remaining patches of wall are dedicated to Asalache's murals, or displays of curios he collected on his travels, from beautiful pottery to his typewriter.
It's a pretty fragile space, so only groups of six are allowed in at any one time, and you can't take pictures while you're in there.
But a sketch woodwork just as well.
NOTE: 575 Wandsworth Road is open for tours on Fridays and Saturdays, and entry is £15pp. You must book in advance, and they sell out pretty quickly – tickets are released in three-monthly batches in February, May and August. You can find out more, and book, HERE.
575 Wandsworth Road | 575 Wandsworth Road, SW8 3JD
---
Like seeing something unusual? Check out these Quirky Things To Do In London