Itinerary Location: Chelsea | Duration: 6 Hours
---
Yes, technically Joni Mitchell wrote her morning ode to Chelsea, NYC.
But for our money, Chelsea London is just as deserving of an ode.
For if she'd spent a few hours in SW3, she could have written a song about ancient secret gardens, charming independent bookshops, a delightfully cosy pub, and the world's greatest eggs. As it is, she masterfully encapsulated the fleeting moments of youthful romance within a few enduring verses. Potato, potato.
So consider this our own love song to Chelsea – the perfect way to spend a morning (and an afternoon) in West London's cinnamon-bricked neighbourhood.
➊ GRANGER & CO CHELSEA | 10.30am
Your day begins, you'll be glad to know, with the finest eggs available to humanity. Aussie chef Bill Granger has built up a reputation almost for his folded scrambled eggs alone… though his ricotta hot cakes pull up a close second. He now heads up five eponymous cafés across London, and as luck would have it, this itinerary begins at Granger & Co Chelsea, a five minute walk from Sloane Square tube.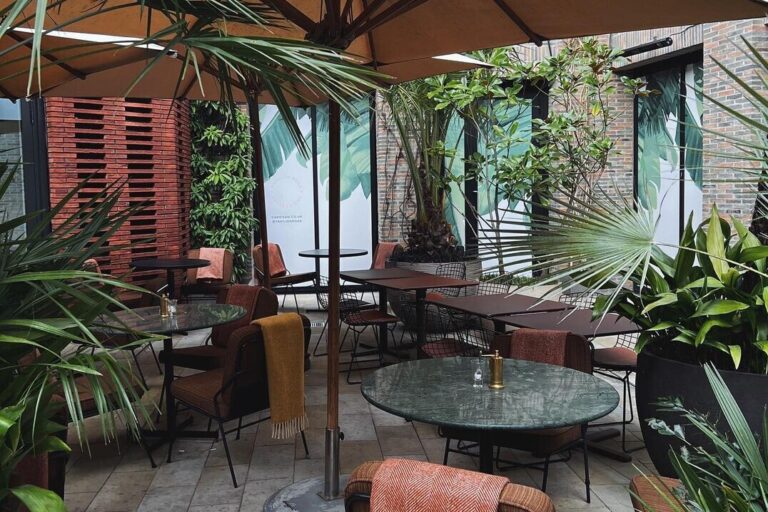 Cross the square itself to head up the picturesque Pavilion Road, and into Granger & Co. Take a pew on the forest green velvet benches downstairs, or out on the terrace, and wash down your brunch with Bill's bloody mary (spiked with Korean chilli) or a marmalade-laden breakfast martini, and do a little window-shopping at a distance as you prepare to mooch around:
–
➋ PAVILION ROAD | 12pm
Transformed from top to toe back in 2016, Pavilion Road is Chelsea's pocket-sized gourmet quarter. It's a pedestrianised mews street lined with bunting and independent, artisanal shops. You could put together the world's most exquisitely sourced dinner party here if you had a couple of hundred to drop on ingredients. For now, amuse yourself by checking out fancy curds at the London Cheesemongers; perusing luscious crates of veg at Natoora; watching aproned workers expertly slice up fillets at Provenance Butchers and The Sea, The Sea, and poring over esoteric stationery products at Papersmiths.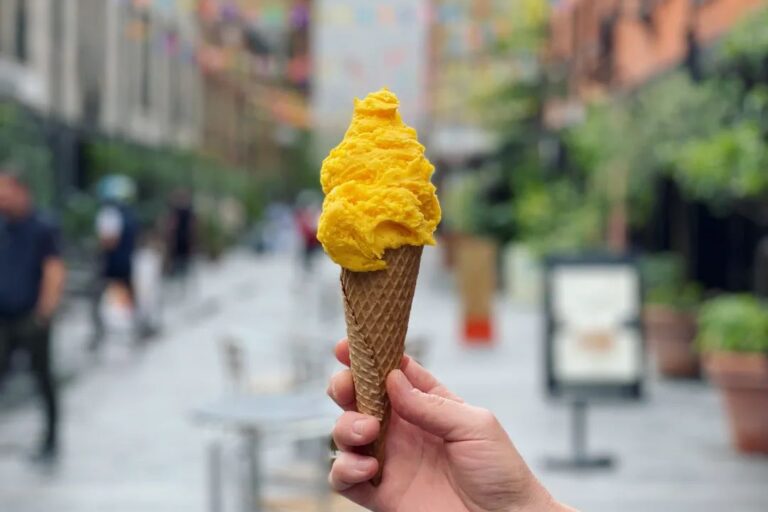 Before moving on, pop into Ice Cream Union and treat yourself to a scoop of banana split ice cream or Pimm's sorbet – they always have a vegan option too, and it's always delicious.
Take your cone for a walk back towards Sloane Square, and head right down the King's Road until you reach Duke of York Square. From here, duck along the small side street opposite, Blacklands Terrace, to visit a Mr. John Sandoe…
➌ JOHN SANDOE | 12.45pm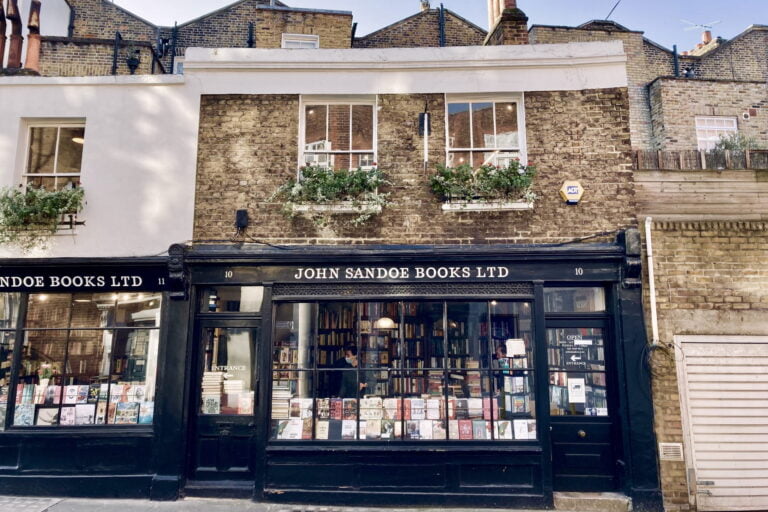 This quaint, independent bookshop could have been plucked from the pages of a Dickensian novel with its glossy black windowframes, ebullient window boxes and teetering stacks of literature. Inside is a blissfully cosy warren of books with Persian carpets and plenty to distract a reader's roving eye. Pick out something that speaks to you from the shelves and make your way back towards Duke of York Square for…
–
➍ FINE FOOD MARKET | 1pm
On the off-chance that your craving for luxury foodstuffs has not yet been sated, pop into Partridge's in Duke of York's Square, a 50 year-old family-run grocery with a royal warrant and a fine food market that spills onto the square every Saturday. You can grab some street food to enjoy on the lawn in front of the Saatchi Gallery, or a pick-me-up from Vardo (a sibling to Caravan coffee, housed in a striking circular pavilion).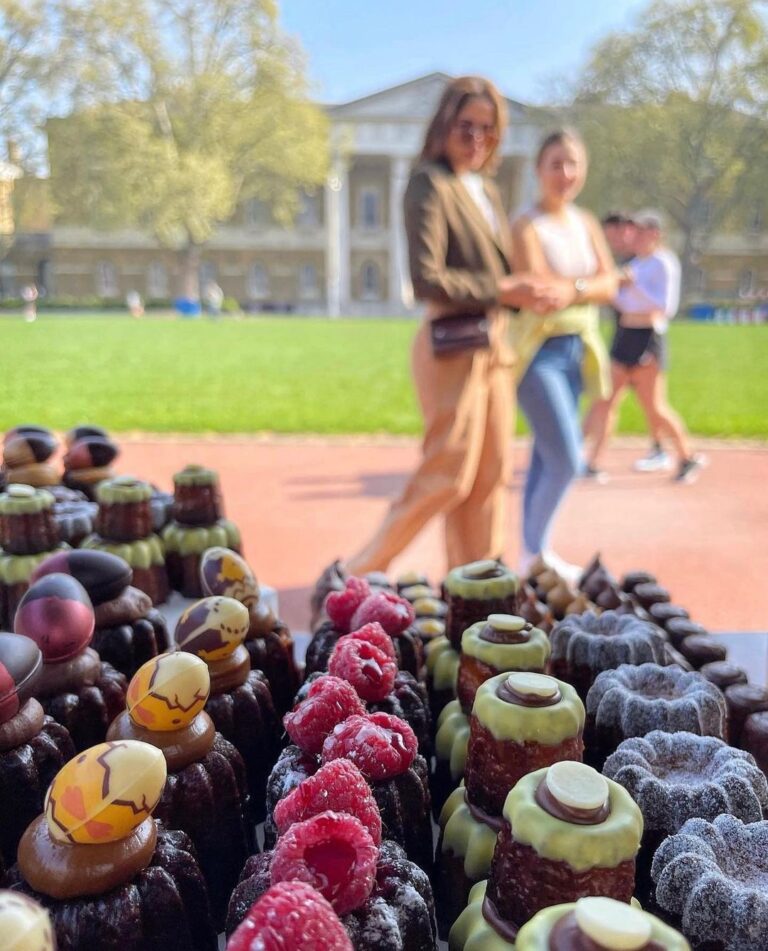 Grab a sweet treat to keep you company as you stroll down King's Road, peeling off after about ten minutes onto Flood Street on your right. Carry on towards the river, swinging a left onto Royal Hospital Road, and then a right again onto Swan Walk, where you'll spy a small gate set within the brick wall…
–
➎ CHELSEA PHYSIC GARDEN | 2pm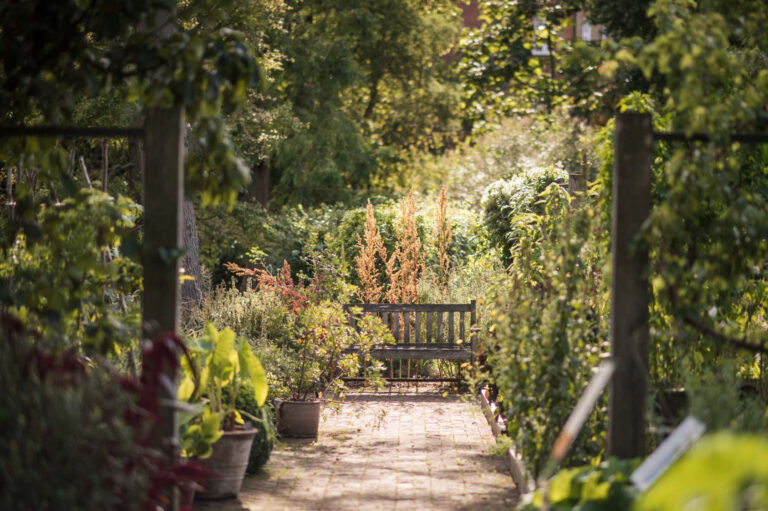 Once an ancient apothecaries' garden, where healers and herbalists grew plants guaranteed to cure any 17th century ailment; now a bona fide secret garden tucked into the backstreets of Chelsea. Chelsea Physic Garden is a secluded oasis of wandering paths, trailing creepers, majestic flowerbeds and venerable old trees, with sprawling lawns and leaf-shaded nooks that mark the perfect spot for you to get acquainted with your new book.
Afterwards, you can stroll through the age-old medicinal gardens (home to species used in ancient and modern cures); explore the greenhouses, packed with unruly ferns and cacti; and maybe stop off for a glass of something cold on the café's terrace.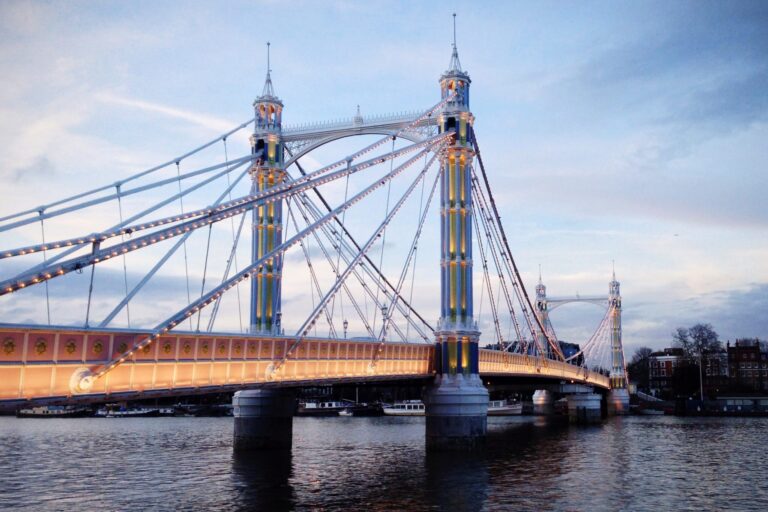 Turn right out of the gardens to join the Embankment; from here you can get a clear view of the Buddhist Peace Pagoda in Battersea Park (a gift from Japan in 1985, and still tended to daily by the park's resident monk) and the ridiculously romantic Albert Bridge, cloaked in fairytale pastels and strung up with fairy-lights.
Take a right up Oakley Street and rejoin the King's Road, swinging a left. After about fifteen minutes you should arrive at our final stop:
–
➏ CADOGAN ARMS | 3.30pm
The Cadogan Arms has been pulling pints in Chelsea for almost 200 years, and esteemed restaurant-runners JKS (BAO, Hoppers, Gymkhana, etc) have been at the helm for just 1% of that time. And yet in their short tenure, they've raised the bar considerably. Not literally, of course – they've kept the Edwardian walnut bar exactly where it is, and buffed it up to its former glory – but the historic pub is now home to some first-class food and drink.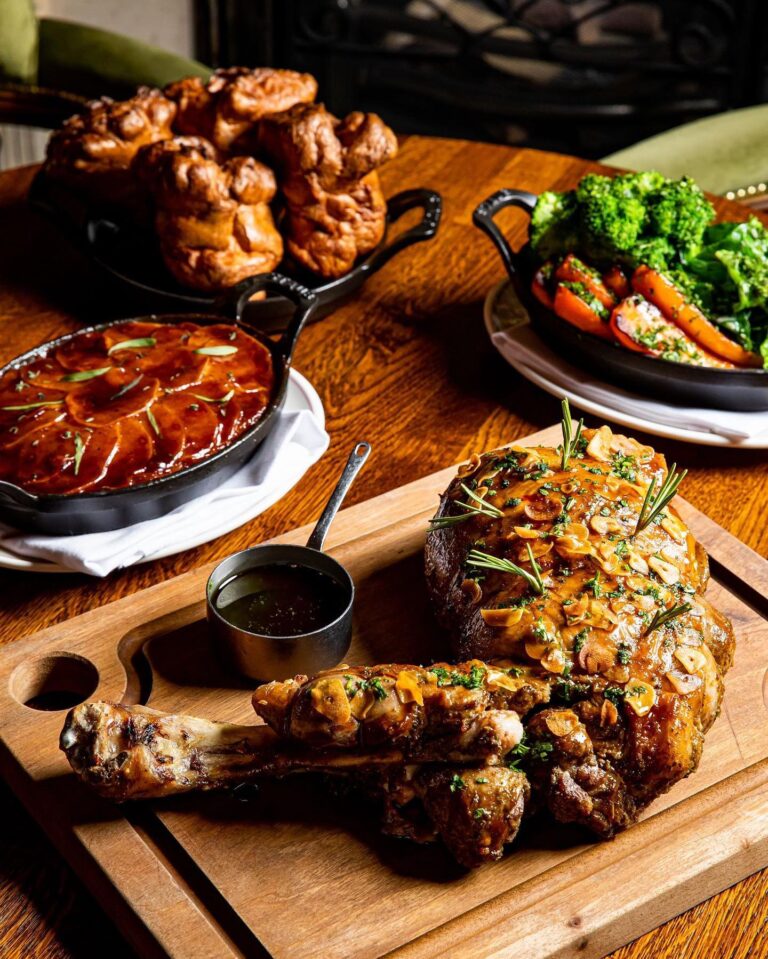 Inside, it's a gorgeous combination of plush velvet seating and striking period features including tiled flooring, stained glass light panels and an stunningly ornate carved wooden bar. But today, you might want to bypass all of that and make for the dining area, because its here that James Knappett's menu comes into play. A side hustle to his double Michelin-starred, twenty-course tasting menus at Kitchen Table, The Cadogan Arms dining room promises to lavish you with the likes of beef & Guinness pie with clotted cream mash; cider Cornish mussels served with crusty bread; and, on the right day, a Sunday roast fit for the gods (with the option to avoid any decision-making, and get all three roast meats on a platter to share). There's very few weekends that a meal here – bookended by a Bloody Mary and a generous mound of sticky toffee pudding – won't improve.
How d'you like them apples, Manhattan?
---
The Itinerary:
➊ Granger & C0 Chelsea | 237 Pavilion Road, Chelsea, SW1X 0BP
➋ Pavilion Road | Pavilion Road, London, SW1X OBP
➌ John Sandoe | 10 Blacklands Terrace, London SW3 2SR
➍ Fine Food Market | Duke of York Square, SW3 4LY | Open Saturdays 10am-4pm
➎ Chelsea Physic Garden | 66 Royal Hospital Road, Chelsea, SW3 4HS
➏ The Cadogan Arms | 298 Kings Road, London SW3 5UG
---
Enjoyed exploring Chelsea? Discover the best of London's neighbourhoods with more Nudge Itineraries