Battersea Power Station | A Sleeping Giant Has Awoken
Empty, decommissioned power stations don't generate much buzz.
Formerly empty, decommissioned power stations that are now newly full of shops, restaurants and bars however…
They're a different story, and although it never actually went anywhere, the Battersea Power Station is back after a lengthy 30-odd year slumber. This beast of grade-II listed brick building, built in 1929 and completed in 1955, was previously famous for supplying a fifth of London's electricity before concerns with air quality and pollution saw it shutdown in 1983. In the years since, ideas for the power station's new identity have tossed from Chelsea's potential new football stadium to an indoor theme park, before a group of Malaysian investors took ownership in 2012 and set the redevelopment in motion.
On your travels, you've probably noticed it sitting there on the Thames twiddling its thumbs waiting for what next, and considered two things: 1) How many bricks were needed to build it? (six million, apparently) and 2) What is really hiding inside?
Well, after only $10 billion worth of investment, you can finally find out the answer to question two. Since opening its halls to the public in 2022, Battersea Power Station has welcomed in over 5 million visitors; to eat, shop, perhaps watch a film, and then (perhaps again) sip cocktails in the old control room. Just coming to appreciate the old Art Deco design and sheer scale of the space, much of it preserved, is also highly recommended…
You can even stay here if you wanted – at the boutique art'otel which oozes chic and has a rooftop bar & Iberian restaurant from a two Michelin star winning chef. Or, to go one better, live here come Autumn, provided the funds are in order when some 254 apartments or so become available. As London's current hottest commodity, everyone wants a piece of it and the new openings keep coming thick and fast. We'll update this as they do, but for now: here's the best things to eat, drink and do at Battersea Power Station… 
---
Jump to: THINGS TO DO

---
WHERE TO EAT AND DRINK IN BATTERSEA POWER STATION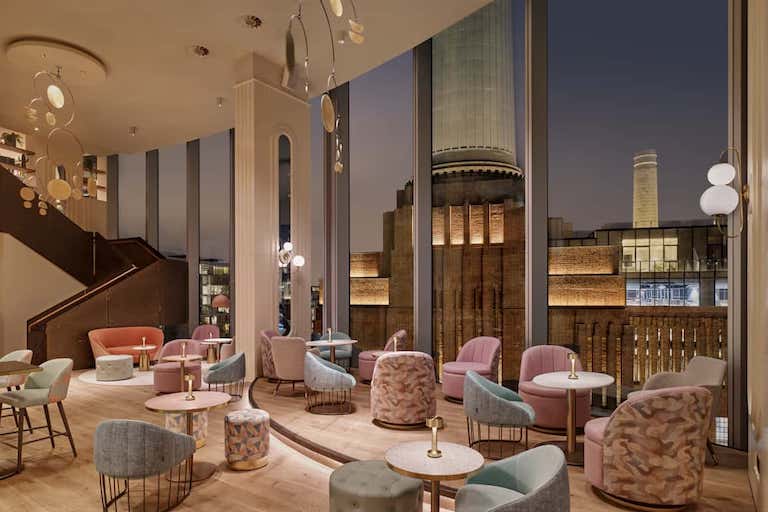 Joia comes with a high profile, not just because it's on the 15th floor of the art'otel… but heralded Portuguese chef, Henrique Sá Pessoa, left his two Michelin-star restaurant in Lisbon, Alma, to run the show here, his first rodeo in London. And it's some debut; sweeping views from floor-to-ceiling windows, blush banquettes and a menu that plays up the Iberian Peninsula through the use of British ingredients (think beef & alheira sausage bombas and a mammoth Salamancan Black Angus forerib by way of a josper oven). It's made for a Battersea date night. Just bear in mind that expectations for the next one might be high…
Details: art'otel Battersea, 1 Electric Boulevard, Nine Elms, London SW11 8BJ | Book here
–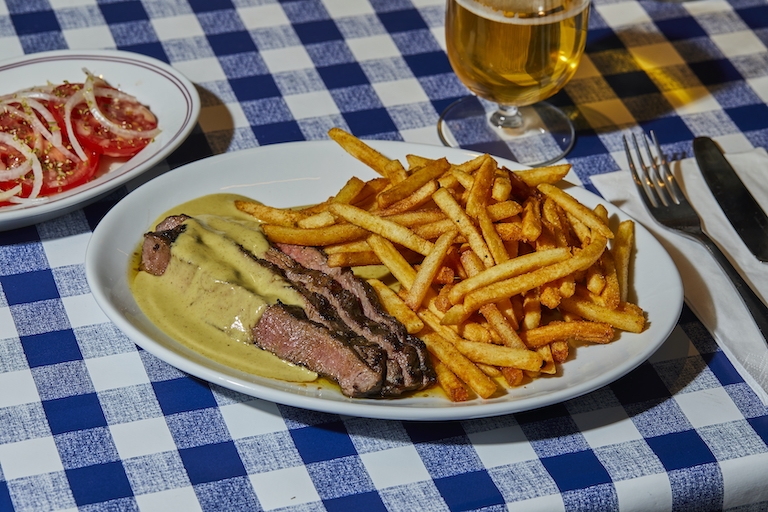 A new joint from the talented folks behind TĀTĀ Eatery, Solis is a kind of culinary cross-pollination between Spain, Portugal, Uruguay, and Argentina, plucking influences from all of them in various ways, shapes, and forms, and creating a fantastic end product. The venue itself is parked on the side of Arcade, and comprises a long grill manned by chefs busily scorching steak & chicken. Pull up a chair in front of one of their blue-checkered tables, and you can dig into flavour-packed gildas, rich beef croquetas, flat iron steaks (lavishly covered in a delusion steak sauce), and grilled chickens with all manner of smokey, citrusy, and fiery dips. Oh, and save room for the burnt cheesecake, it's sensational.
Details: 1st Floor, Battersea Power Station, Circus Rd S, SW11 8DD | Book here
–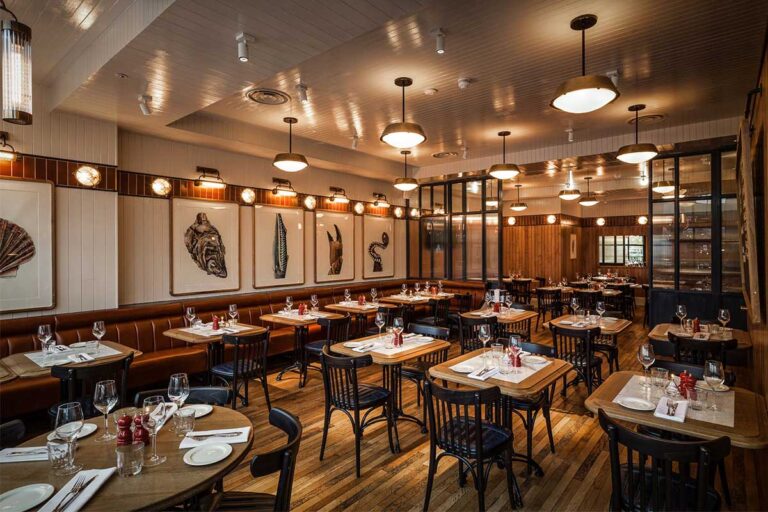 You can't go wrong with the Wright Brothers when it comes to British seafood. For their Battersea branch, the team have banked a prime spot on the waterfront where you can dismantle their signature supply of British marine life – shellfish platters, a whole Devon crab, shrimp burgers and the famed dressed oysters – on an alfresco dining terrace. Roll up on a weekday from 3-6pm and you'll find their oysters at £1 a pop, which you really ought to pair with a beer, a glass of wine, or (if it's one of those days) a bottle of Dom Pérignon. It's the right thing to do…
Details: 26 Circus West Village, Battersea Power Station, SW8 4NN | Book here | Also see Wright Brothers Borough Market and Wright Brothers South Kensington
–
Where The Pancakes Are Battersea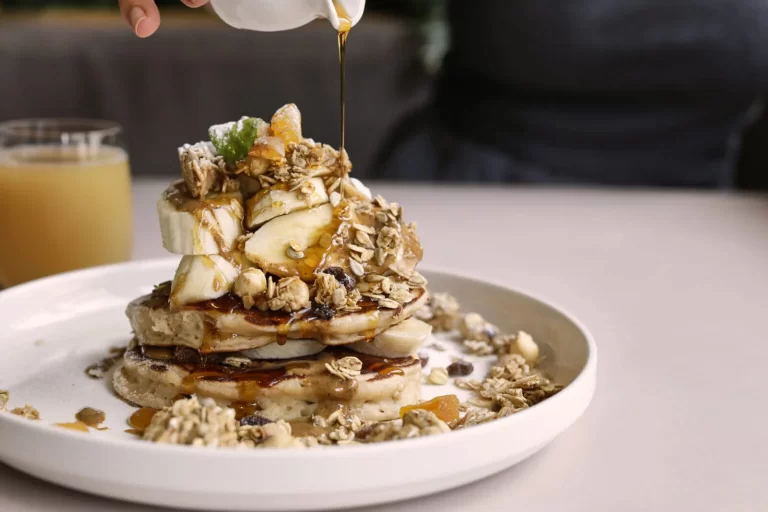 Sure, it may read like the result of a dodgy translation after you've searched from Dutch to English 'Waar vind je pannenkoeken in Battersea?', but if you have a hankering for pancakes – for breakfast, lunch and yes, even dinner – then Where The Pancakes Are Battersea is as it reads: where the pancakes are… The motto here is that basically anything can look and taste good on a pancake; from sweet fillings like pear caramel to savoury main course stuff like the contents of a reuben sandwich (slow-cooked brisket, cheddar & sauerkraut). Dutch babies can be eaten here too, i.e the slow-cooked pancakes that come in a cast-iron pan…
Details: Ground Floor, Battersea Power Station, UG-018 Unit 227, Upper, London SW11 8BZ | Book here | Also try the original by Flat Iron Square
–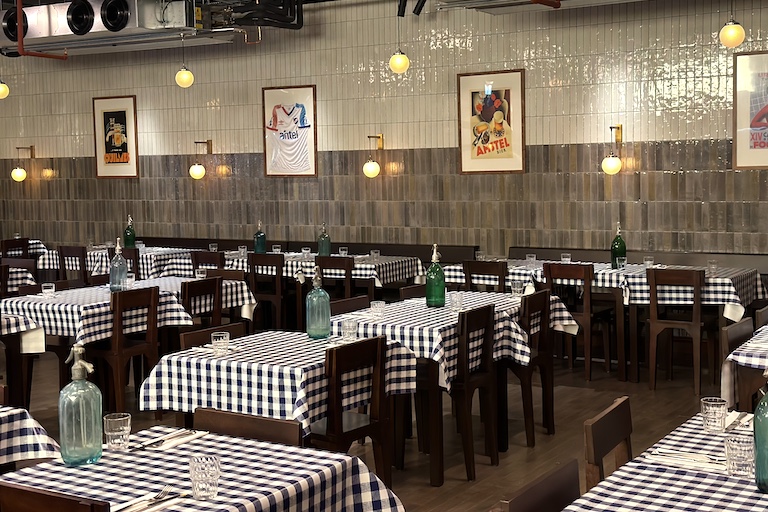 If you've been to the other Arcade Food Hall at Centre Point (where Plaza Khao Gaeng and others reside), then you'll know fully well that the hype around this second opening inside Battersea Power Station was entirely justified. Headed up once more by the restaurant luminaries JKS (the team behind places like Lyle's and Gymkhana), there's 24,000sf to explore, housing a cocktail bar, a taproom, 13 food stalls and three stand-alone venues, including a BAO and a new spot from the TĀTĀ Eatery founders.
Details: See more info here
–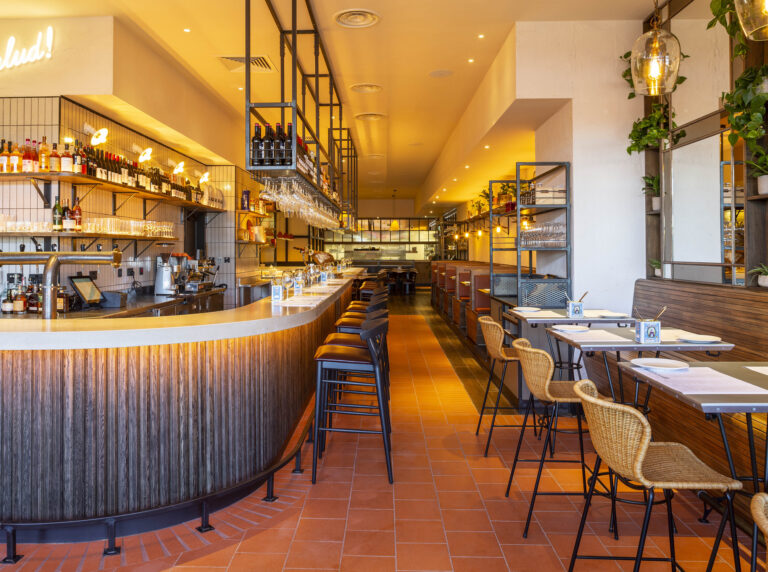 Tapas by the Thames. It's a good compromise if a holiday to Spain is out of reach. And like any good Spanish holiday, Brindisa starts of with a buzz of anticipation, follows on in a haze of tapas (here; croquettes, boards of hand-carved Iberian ham and crema catalanas) and G&Ts, and once it's all over, you're probably more than ready to get home and sink into back into the comfort of your own bed…
Details: 25 Circus Road West, SW11 8EZ | Book here | More of the best Spanish restaurants in London
–
Everyone enjoys dressing up and making an effort on the odd occasion. Kebabs are no different, and Le Bab's fancy, gourmet versions (at least compared to what you might be used to at 4am) are all about fillings like paneer on a bed of beetroot & coconut puree, and southern fried chicken with herb yoghurt, presented artfully on their house-made flatbread. Here at the Battersea Power Station branch, they even get the sit-down modern restaurant treatment, complete with cocktails and wine. Knives and forks are still very much optional though…
Details: Turbine Hall A, Battersea Power Station, Unit L1-019 Kirtling St, Nine Elms, London SW11 8DD | Book here | You can also check out Maison Bab in Covent Garden and Le Bab in Kingly Court
–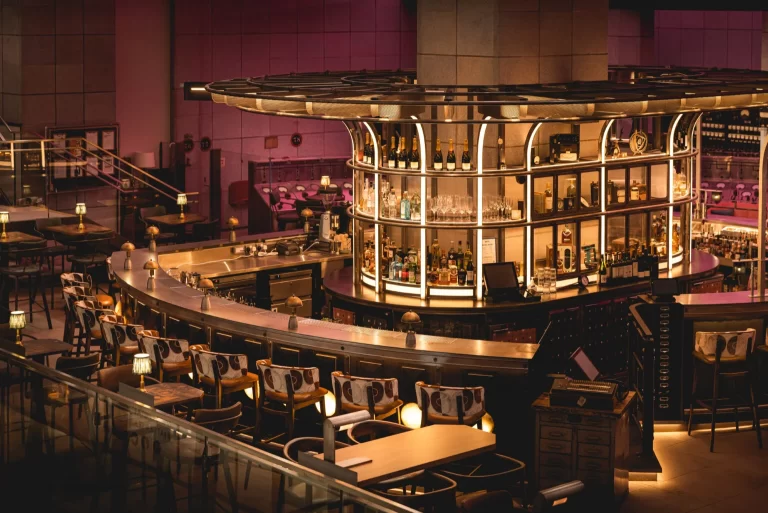 If anyone has the power to the turn the, erm, Power Station's 1950's control room into one of the coolest bars in the city, it's the Inception Group – see their other unusually-themed venues Cahoots and Mr Fogg's Apothecary for reference. The original control desks, buttons, dials and other functional features are all still in place here, and the bartenders – donning boiler suits and named 'engineers' here – mix up electric-themed cocktails (like a creamy rum and coffee creation dubbed the 'Battery Licker') from a commanding central bar. Unsurprisingly, it's a great place to switch off…
Details: Battersea Power Station Circus Road E, Nine Elms, London SW8 5BN | Book here
–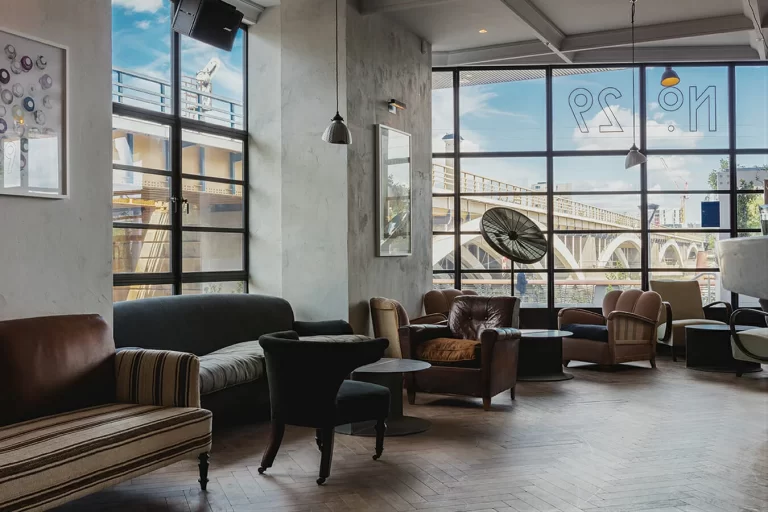 No 32 The Old Town, 197 Chiswick Fire Station, 601 Queen's Road, No. 29 Power Station. There's a running theme with these Darwin & Wallace establishments and we're not talking about a love of address names (although, yeah, that too…). Like the others, No 29 sticks to the all-day dining format; offering everything from a Sunday roast to classy dinner & drinks, in a chic industrial space fitted with art deco touches and its own terrace. 
Details: Unit 29 Circus West, Battersea Power Station, SW8 5BP | Book here
---
THINGS TO DO IN BATTERSEA POWER STATION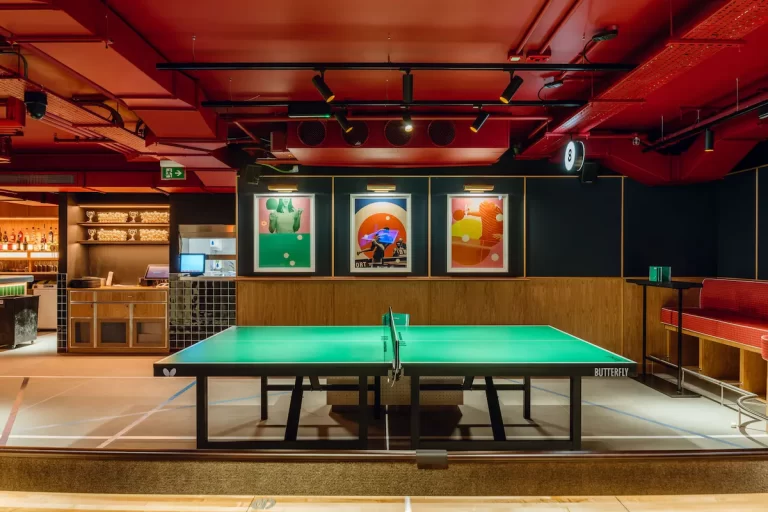 Unlike its graffiti-splashed siblings, Bounce Farringdon and Bounce Shoreditch, Bounce Battersea has donned a smart midcentury look in keeping with its retro surroundings. Alongside a dozen classic ping pong tables, you'll also find dedicated beer pong areas – plus a couple of well-stocked bars, if you prefer your pints without balls in them.
Details: Level One, Turbine Hall B, Battersea Power Station, London, SW8 5BN | Book here
–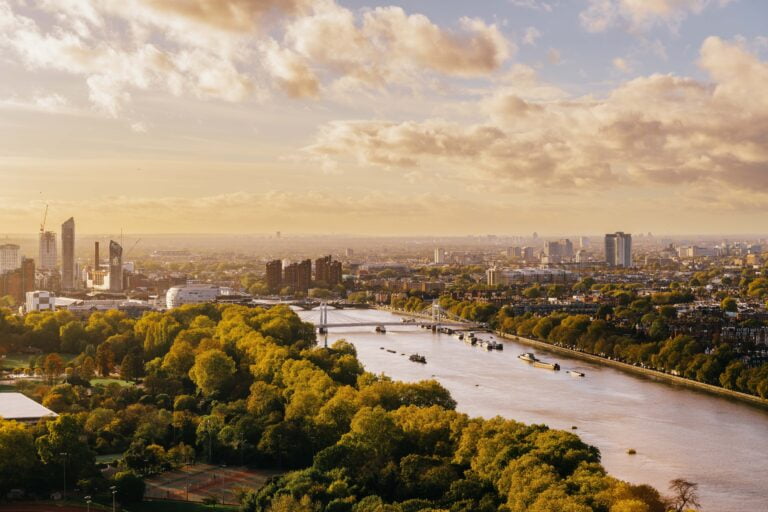 After ascending 109 metres to the top of one of the Battersea Power Station's chimneys you won't emerge coughing your lungs out, or covered in soot, instead you'll be presented with another angle from which to inspect the always-impressive London skyline…
Details: Battersea Power Station, Circus Rd W, Nine Elms, SW8 5BN | Book tickets | More London viewpoints
–
We imagine that when Battersea Park was created and asked what it wanted within its 200-acre green space, it must have said 'put me down for everything'. It's got mini golf, a boating lake, stunning city views, tennis courts, tree-top trails, a children's zoo, a pagoda… and a grade-II listed pumping station that's now a contemporary art gallery. Call it greedy, sure, but you can't accuse it of not having enough things to do…
Details: Battersea Park, Battersea, SW11 4NJ | Find out more | More of the best parks in London
–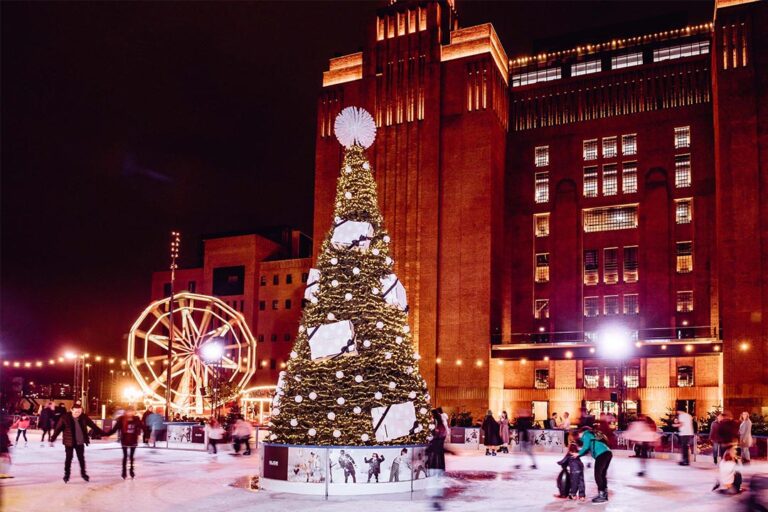 To truly call yourself an entertainment centre, you need a mega ice skating rink. Somerset House and Alexandra Palace knew the drill. They've done it. And every winter, Battersea Power Station will heed the call and do it too, where – around a 30ft Christmas tree and along with 300 others – you can strap on your skates and practise your figure eights. Then afterwards, depending on how that went, toast to your talent with a cup of mulled wine… 
Details: Circus Rd W, Nine Elms, SW8 5BN | Book here | See London's other pop-up ice rinks
–
And to truly call yourself a shopping centre you need, well, shops, and The Battersea Power Station has them in large supply. You've got an Ace & Tate location, a flash Nike outpost, high-end fashion shopfronts, the mid-range stuff, a bookshop, skin care stores and even a Genesis Studio, just in case you had the mad idea of driving out of here in a luxury sports car… In truth, if you've arrived with zero quid in the bank, the stark architectural splendour of the Turbine Halls – with the various displays and plaques documenting the building's history – are well worth a wander, shopping or not.
Details: Browse the retailers here.
–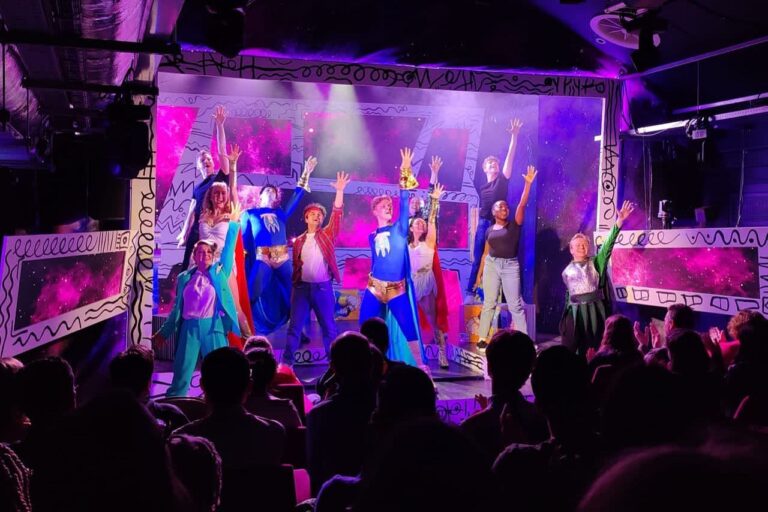 Paul Taylor-Mills (who, before this, was the artistic director at Andrew Lloyd Webber's The Other Palace) is the visionary behind the Turbine Theatre; an intimate 94-seat theatre that's a three minute walk from Battersea Power Station and located under the railway arches of Grosvenor Bridge. He uses his stage nous to book a wide mix – from festival transfers to romping musicals and new age revivals of old classics – and on show night the atmosphere is, to say, always electric…
Details: Arches Ln, Nine Elms, London SW11 8AB | See what's on
–
Roof East, Islington and here in Battersea, the team at Birdies have got the crazy golf formula right down to a T: a minefield of a course, nine visually stimulating but also highly frustrating (if you are a serious sportsperson) holes. It's all soundtracked to a playlist of only the best 90s and early 2000s hits, and once you've sunk the final ball? Retire to the on-site restaurant and well-stocked bar where you blame your putter/vent/brag about your performance with cocktails & burgers…
Details: 6 Arches Ln, Nine Elms, London SW11 8AB | More info | Here's where else you can crazy golf in London
–
The Cinema In the Power Station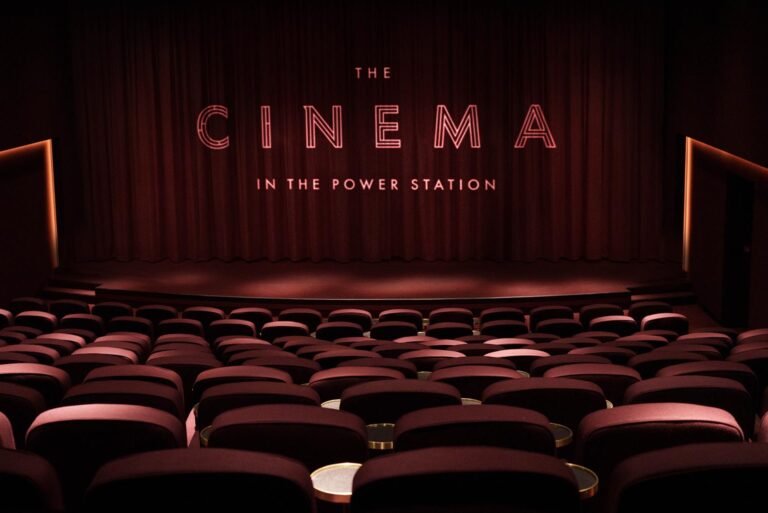 The title speaks for itself really, but just to add onto the fact that it's a very luxurious place to watch a blockbuster: your seats are cosy scarlet-coloured recliners, you can order champagne and cocktails, and the movies themselves are presented in 'state-of-the-art Dolby technology'. Alternatively, for an intimate, more boutique-y film-viewing experience (and if you'd rather sit on blue chairs…), you can try The Cinema In The Arches, close by. 
Details: 3rd Floor, Turbine Hall B, Battersea Power Station SW11 8DD | See what's on
–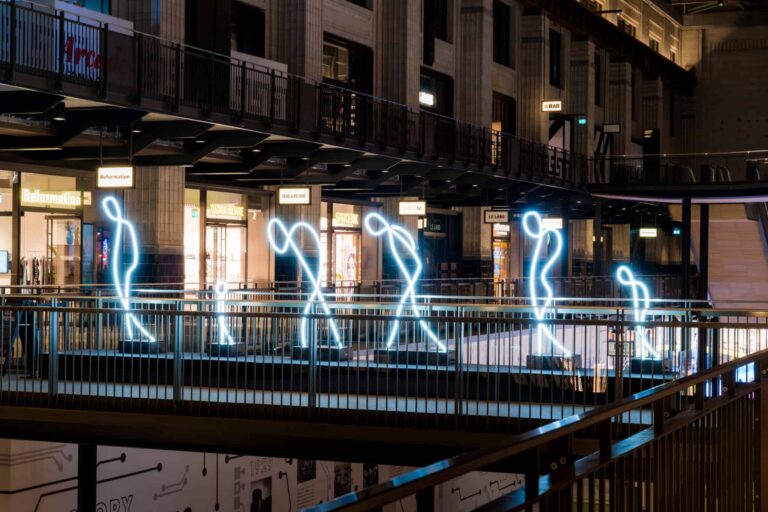 Another bright spark in the Power Station's portfolio is an actual light festival, which comes to us courtesy of Amsterdam's Light Art Collection. In the dark and dreary period known as January and February, the outside and inside of the building take on a multi-coloured LED perspective, via a handful of installations designed by well-known artists.  Should change any dim views of London in the winter…
Details: Find out more info here
---
Want to see more of London's most iconic spots? Check out our Unpredictable Guide to London Attractions