In 2008 Boris Johnson, speaking at a party celebrating Great Britain's receipt of the Olympic Flag, delivered a predictably unexpected monologue on the origins of table tennis…
"Ping-pong was invented on the dining tables of England in the 19th century, and it was called wiff-waff.
"And there, I think, you have the difference between us and the rest of the world.  Other nations looked at a dining table and saw an opportunity to have dinner…
… we looked at it and saw an opportunity to play wiff-waff."
BoJo later asked that the British public "Bring Ping-Pong Home!", which was considered to be a joke by everyone… except for entrepreneur Dov Penzik, who – no less than four years on – finally did just that, swinging open the doors to Bounce London.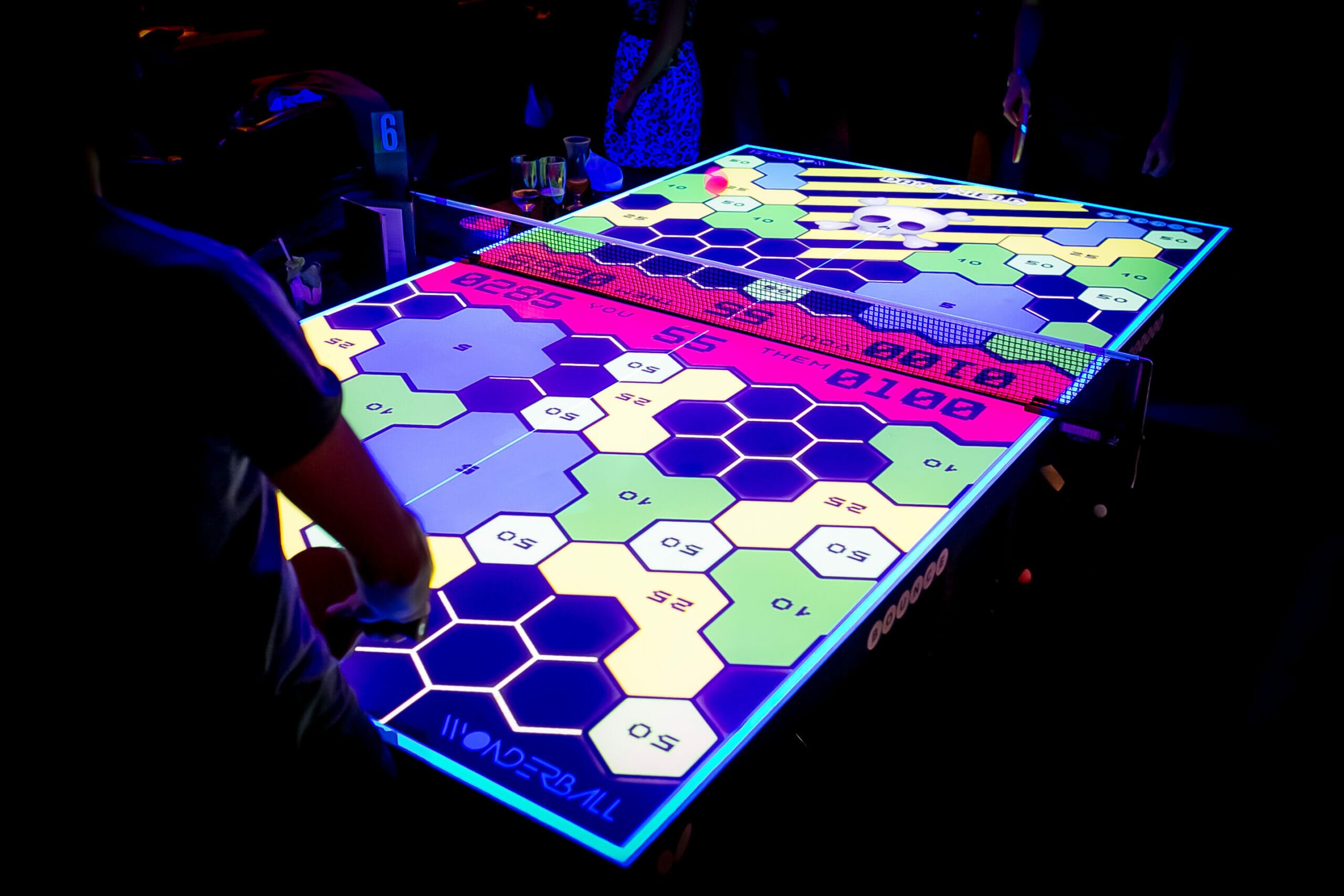 Originally billed as Europe's first 'Social Ping-Pong Club' (and now boasting siblings in the form of Bounce Shoreditch and Bounce Chicago) it offers a very different kind of night out, featuring "table tennis, cocktails, high-end dining and eclectic beats".
Set over 12,000 sq ft of a cool, subterranean, Russell Sage-designed space in Holborn – just 2 minutes' walk from both Farringdon and Chancery Lane tubes – it features subway tiling, a vintage bar, fluorescent murals and graffiti-daubed portraits. Not to mention an impressive 17 ping-pong tables; a 40 foot bar serving seasonally-inspired drinks; a DJ booth and a raised restaurant overlooking the action.
Tables at Bounce can be booked for as long as you want, and if you're planning a party you can even hire your own personal Games Guru to compère the evening and guide you through different minigames. For the tech whizzes, there's the Wonderball table (above) – which offers digitally enhanced ping pong. And throughout your matches you can hail down waiters to bring cocktails directly to your table, like the Up In Smoke (it involves peated scotch, peach liqueur and gingerbread syrup) – before sitting down to 13″ pizzas and loaded nachos.
In short, if table tennis was fun before the addition of cocktails, music and all of your friends – which it was – then Bounce has done more than bring it home… it's actually made it better.
Boris couldn't fail to disagree less.
NOTE: Bounce Farringdon is open Wednesday & Thursday (5pm-12am) and Friday & Saturday (12pm-1am). You can find out more, and book ahead, on their website HERE.
Bounce Farringdon | 121 Holborn, EC1N 2TD
---
 Like quirky, alternative drinking experiences? Check out our guide to the London's top activity bars